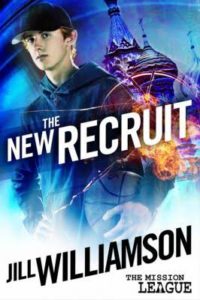 The New Recruit by Jill Williamson
This Christian teen spy novel is the first in a series about fourteen-year-old Spencer Garmon. Spencer's life is in disarray – he lives with his Grandmother ever since his parents died, and he has no interest in the Christian faith his Grandma is trying to surround him with. All he really wants to do is play basketball and earn a scholarship to escape this life, but his knack for trouble has a way of interfering with his plan. When he's approached about joining a secret spy organization comprised of Christian's, he's not only skeptical of the whole idea but most definitely – not interested.
However, three things help convince Spencer to give the summer spy program in Russia a try.
1 – There are some really cute girls going on the trip.
2 – An ultimatum from his Grandma after he's been in trouble one too many time – he can either join military school or the Christian spy organization.
3 – Spencer discovers a secret about his parents – they once also belonged to this organization.
This teen spy novel has a great, fun premise – what kid doesn't dream about being a secret agent? But I must say, this book had me at the lead character's voice. So fantastic! The author superbly captures a teen boy's thoughts and words, with the perfect blend of wit, sarcasm and coolness. Really one of the best voices for a boy that I've come across.
One note – this book does have a more evangelical point of view than I'm used to reading but overall, it's an enjoyable book.
McCracken and the Lost Island by Mark Adderley
This is the first book in the McCracken series by Mark Adderley. I've heard this series described as "Indiana Jones with a rosary" and that is a great description. This delightful book is perfect for middle school and high school boys who love adventurous novels. It is set in the 1930's with an interesting group of international characters including the English engineer/inventor McCracken, the lovely Ariadne – a communications expert with an interesting past relationship with McCracken, a French deep sea diver, a Russian pilot and a rich German Baron who gathers them all for an adventure to find a lost island. I thoroughly enjoyed the exciting plot which reminded me of the movie version of "Journey to the Center of the Earth". McCracken's strong faith and engineering genius makes this character a fantastic role model for teens.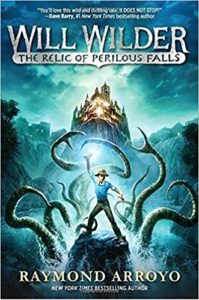 The Relic of Perilous Falls by Raymond Arroyo
If your child likes the Percy Jackson series they'll probably enjoy Raymond Arroyo's action-packed Will Wilder books. The Relic of Perilous Falls is the first book in this series about Will Wilder, a young boy with unique gifts. Will doesn't realize he has special powers but when he accidentally unleashes some demons in his hometown he learns that there is a secret society of believers that all have special powers to keep people safe from the dark side. There are many unique characters in this book that add a fun element – Will's Aunt, friends, siblings and parents all help to make this story fast moving and enjoyable.