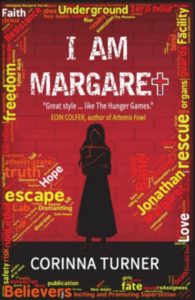 I Am Margaret by Corinna Turner
This is an amazing dystopian story about a teen named Margaret (Margo) and her boyfriend/fiancé Bane. They live in a world that is full of evil and only the most productive members of society are wanted or needed, the others are basically recycled and used for parts to help the more worthy citizens. Margo has always struggled with math and doesn't pass her sorting exam and is sent to a facility where she will ultimately be killed, but not if Bane has anything to say about the matter.
Unlike other dystopian novels this one is written from a Catholic point of view. At first this idea seemed a little odd to me but as I was reading I realized that if we ever did find ourselves living in an evil, deranged society, people of faith would band together and depend on their belief in God to get them through their ordeals. In the popular dystopian stories such as Divergent or Hunger Games, this element is of course missing, which is a huge flaw in those novels because Christians would delve deeper in their faith knowing that no matter what happens in this world we have the promise of eternal salvation.
Because I write YA and recommend novels for teens and their families, I feel I must warn that this book is not for everyone. It has some crude language, violence, as well as disturbing imagery and subject matter. However, it is so well written with intense action and incredible characters. (In fact, I admit to having a bit of a literary crush on Bane. 😊) Margo is strong, smart, fearless and her faith is unshakable. Bane, though a bit reckless is brave, selfless and devoted. This couple as well as many of the other characters are fantastic. But the best part of this book is the strong Christian message. The way the author showcases the importance, power and beauty of a strong faith is incredible.
Chasing Liberty by Theresa Linden
This dystopian Catholic YA novel by Theresa Linden is the first book in her Liberty series for older teens. This novel provides a fascinating look into a future world where religion has been eliminated. What I love about this book is the concept that God would still reach us and communicate with us even if we had never been told about Him.
The main character, Liberty, has grown up in a world void of families and faith. But she has been guided through her life by an inner voice she refers to as her "friend". Until she is given an opportunity to live outside this controlled environment, she wonders if this inner voice is something she has made up.
Dystopian stories are always an interesting premise to think about. I love the Christian viewpoint that goodness, love, and faith will continue no matter what we might face. This is a wonderful read with plenty of discussion opportunities for older teens.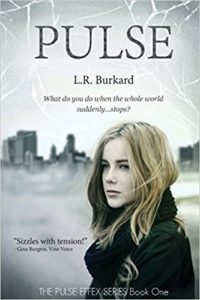 Pulse by L.R. Burkard
This book is technically a post-apocalyptic story and not a dystopian novel. What is the difference? My understanding is that a Dystopian novel is about a damaged society due to corrupt governments. Post-apocalyptic novels are about a damaged society that is caused by a war or devastating natural disaster.
To be completely honest, I've had a little trouble reviewing this Christian YA novel. The reason for my hesitation is that there are some biblical and faith ideas/views that I don't quite agree with. However, for older teens these parts can actually add to the fabulous discussion opportunities this book provides. In fact, that is what is so great about this book – it really makes you think, making it a fantastic book to read with your teens or for a book club.
The premise of the story is that there has been a cataclysmic event, an EMP – electromagnetic pulse – that has destroyed all electrical circuits and grids. Basically, nothing works. There is no power, no computers, no phones, no running water, no flushing toilets, even cars won't run.
The story follows three friends and how each of them and their families deal with this disaster. One lives in the country, one in the city and one in a suburb. Some are more prepared than others. Seeing how they each react really makes you contemplate how dependent we are on technology and if something like this actually did happened what could we do? What would we do? How would others act when food and water became scarce? How would you protect and provide for your family?
While the book is clean, minimal bad language and violence, there are some disturbing parts and the subject matter could be frightening for younger readers. It also did get a little political at times. Because of these elements I think it would be more appropriate for older teens. However, it's one of those books that keeps you pondering issues long after the book is finished.