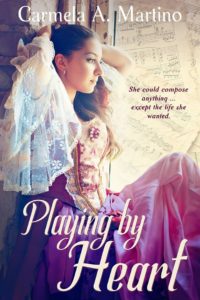 Playing By Heart by Carmela Martino
This beautifully written Young Adult novel centers around the strong faith of two sisters, Emilia and Maria, and their extraordinary talents. The book is set in 18th Century Milan, Italy and focuses on their relationships with their father, as well as their struggle to follow the paths they believe God wants them to take. Unfortunately, they lived in a time when young women were subject to their father's wishes. And their father hoped to showcase their incredible gifts to advance himself to nobility and was not interested in their desires.
This is the first book I've read by this author and loved her writing style. In fact, the moment I finished the book, I read her first novel Rosa Sola, which I also thoroughly enjoyed. Her beautiful descriptions bring her books to life. I found the passages describing Emilia's music particularly lovely. The author does a wonderful job of showing society and culture of 18th century Italy. This time period makes for a very interesting book, especially for young women, to see the choices and educational opportunities available to girls their age at that time in history.
This book highlights something that's near and dear to my heart – that we all have gifts from God and we should find ways to use these gifts to help others. I loved that these young women knew their talents were from God and they longed to use them in a positive way. I also really liked the underlying passages of jealousy. This is something we all can relate to, feeling envious of another's successes. How Emilia deals with this and works through it is a wonderful example for readers to emulate.
This historic fiction, inspired by two real sisters who lived in 18th Century Italy, would make a fantastic bookclub or classroom choice, full of many great topics for discussion.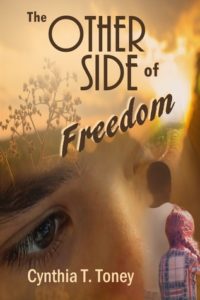 The Other Side of Freedom by Cynthia T. Toney
This book is set in the 1920's and told from the point of view of a middle school age boy – Salvatore. Toney effortlessly delved into the mind of a young boy who lived in Louisiana during the tumultuous Prohibition years, weaving together a fascinating tale of hardship, corruption and the importance of family and faith. This intriguing, coming of age story focuses on the difficult choices and decisions one Italian immigrant family must face while desperately trying to keep their family together.
I didn't know much about this interesting time in our history when Italian/Sicilian gangsters terrorized American communities, but was fascinated by this story and how these crime sprees affected law-abiding families of Italian descent. Besides being a captivating story, this book provides plenty of discussion topics including the repercussions that can arise when trying to do what is right, as well as the issues of: prohibition, segregation and immigration. Bravo to Cynthia T. Toney for creating yet another wonderful, thought-provoking teen novel.
Mission Libertad by Lizette Lantigua
Mission Libertad is the story of Luisito, a young teenage boy who escapes Communist Cuba in 1979 with his parents. This is such a wonderful book with so many interesting aspects to it. First of all, it is a fabulous historic fiction for middle school and high school age kids about a time in history that I haven't seen much written about. There is also an intriguing mystery aspect to the story that keeps the reader engaged and anxious to find out what will happen next. In addition, it has a beautiful religious element about this young Catholic who finally is able to explore and understand his faith. But my favorite part of the book is how the very likable main character experiences America for the first time. Lantigua does a masterful job of showing the heartbreak and devastation of a communist society through the eyes of this sweet and caring young man. Hearing about the difficulties of an oppressed society is one thing but seeing it through the eyes of this character is extremely powerful. Not only would this novel make a great tool for a meaningful discussion but it also shows teens how fortunate we are to live in America. Muy Bein!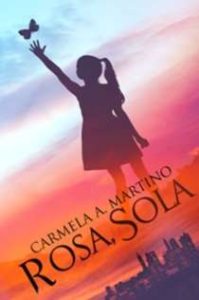 Rosa Sola by Carmela Martino
Rosa Sola is a beautiful story about an Italian immigrant family in the 1960's. Rosa is in the fourth grade and wants nothing more than a baby brother. She decides to pray for a brother until God blesses her family. Amazingly, her prayers are answered! All seems perfect when she finds out her mother is expecting a baby, she will no longer be the odd girl at school with no siblings. But when tragedy strikes her family, she has many hard lessons to learn.
This novel, for older elementary and middle school students, is a lovely story from a young girl's perspective about the difficulties of life, understanding other people's problems, and the importance of faith. My heart ached for this young girl who was forced to grow up quickly and face many tough lessons by herself when her parents were unable to be there for her. But during this difficult time, young Rosa learned much about her family, her faith, as well as her own strength and determination.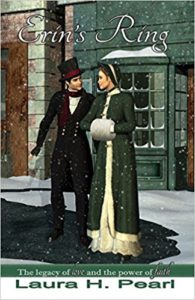 Erin's Ring by Laura H. Pearl
Such an enjoyable historic fiction book! I really liked how the book alternates between a modern day story and the history of Irish immigrants that came to America in the 1800's.
It begins when Molly – a modern day middle school girl, finds an engraved ring at her church. When she discovers it's a traditional Irish ring, she decides to research the town's rich Irish history for a school project. As she delves into her research, we are drawn into the world of the Irish immigrants that fled from Ireland during the Potato famine to find a better life here in America.
This book is set in Dover, New Hampshire where many young women journeyed here to work in the textile industry. The town became a place that Irish Catholics found a home but there was no Catholic church there for years. This is a fascinating look into the struggles of the Irish Catholic immigrants – many of which were single young men and women who came over to work and sent money back to their families.
The historical parts were quite interesting and thought-provoking and the storyline in the modern day chapters was very touching as well. A really wonderful story about the importance of family, friendship, and faith.