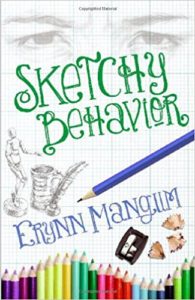 Sketchy Behavior by Erynn Mangum
This book will always hold a special place in my heart because this story helped me to be the writer I am today. Years ago when I had finished writing my first clean teen book and was searching unsuccessfully for a publisher, I came across this book in my local bookstore. It had all the elements I love in a great book – adventure, mystery, romance and humor. But it had another element that I didn't expect – faith. A subtle message that just became part of the story but added something truly meaningful to this fun story. I realized this was what my mystery was missing – a deeper meaning – a message of faith. Once I added that element to my story, suddenly everything changed and I found an interested publisher. But enough about me.
Sketchy Behavior is about a teen, Kate Carter, is about as ordinary as they come. But when she discovers a talent for sketching faces based on a description, she finds herself helping the police track down a serial killer. This seemingly good deed fills her unassuming, simple world with complications and danger. The premise might sound a little heavy but the author adds lots of humor to keep this story moving along in a delightful way.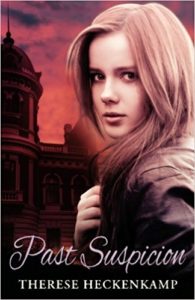 Past Suspicion by Therese Heckenkamp
As a mystery lover I was excited to start reading this Christian suspense novel. The only bad news is that I enjoyed it so much that I finished it much too quickly. The author drew me into the spell of this book immediately. Her ability to build suspense made me nervous and anxious from page one. Somehow this quaint small town and its residents felt spooky and odd, filled with secrets. This sense of eeriness was so palpable that I found myself extremely frustrated when the lead character trusted the new people in her life immediately. I wanted to scream at her not to be so trusting but of course she was a lonely, heart-broken, vulnerable young lady without the knowledge that she was the main character in a suspense novel. 😊 This story was spell-binding and I just had to keep reading to figure out what would happen. Which is always the problem with a good book – you can't stop reading but then you're disappointed when the book is finished too soon. Looking forward to reading another one of Therese Heckenkamp's books.