I recently had the great privilege to read advanced copies of six Catholic teen novels. All the books happen to be new installments in series written by the authors. I eagerly agreed to support my fellow authors and host blog stops on their book release tours. So, for the next six weeks, I will have a new weekly post – Tuesday Treats: New Releases. I hope you'll be able to find some new adventures to cozy up with.
Today I'm actually sharing about two books – a middle-grade adventure and a darling children's Christmas story.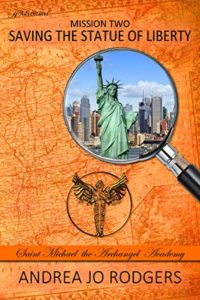 Saving The Statue of Liberty by Andrea Jo Rodgers
The kids from St. Michael the Archangel Academy are on their next mission – saving The Statue of Liberty. These books by Andrea Jo Rodgers are such a delight and are perfect for older elementary students. I love the adventure, the friendships, the patriotism, and all the history that surround these fun stories. This series of books reminds me of The Magic Treehouse books my children used to read.
Through some fantastical unknown ways, the kids of Team Liberty are able to transport to historical monuments and save them from the mischievous and villainous ways of Team Mischief. In this newest adventure, the four friends are in a race against time as they must decipher clues in order to protect The Statue of Liberty from being vandalized. These books are such a fun way to learn about history and national monuments and would make a great supplement to American history lessons.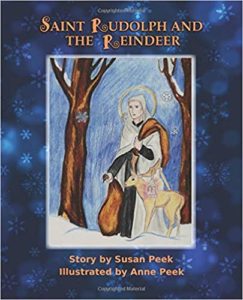 Saint Rudolph and the Reindeer by Susan Peek
Saint Rudolph and the Reindeer is a delightful new Christmas story that the whole family will adore.
The brilliantly creative Susan Peek has written a heartwarming tale that is destined to become a new family favorite. Taking her vast knowledge of saints, she has added a beautifully religious twist to transform a favorite children's Christmas story into a holiday treasure.
I have always loved Christmas. I, of course, treasure the true meaning of Christmas, the amazing story of our saviors' birth. But I admit, I also adore the secular aspects of the holiday. The lights, the trees, the music, the movies, and children's animated shows. When my kids were little, and I would read Christmas stories to them, I wanted them to understand the real meaning of Christmas. But with the worldly aspects of the holiday everywhere we went, I found it difficult to explain what the birth of Jesus and Santa had in common. One day, I came across an adorable little book that combined these two aspects. It told a tale of how Santa wanted to celebrate the birth of Jesus by giving gifts to others as the Wise Men did so long ago. This story became one of our family's favorites.
Well, I wish I had small children again because this book by Susan Peek captures that same idea using an incredible Saint and a little lost reindeer. This is such a sweet story. If you are unfamiliar with Susan Peek's books you really should check them out. She is an incredibly talented author who writes about the lives of Saints for children and teens. She takes little know saints and using their true-life experiences, creates exciting stories around them. I am so excited about this little Christmas gem and am sure it will be a new family treasure for many.