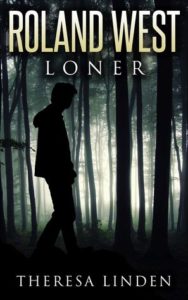 Roland West, Loner by Theresa Linden
This is the first book in a fantastic series about the West Brothers. This novel centers around the relationships between brothers and friends. Roland West would be a fantastic book for middle school and high school boys. Don't get me wrong – this story is so entirely engaging and well-written that anyone would enjoy but I don't come across a lot of YA novel's completely from a boy's perspective. Linden knows boys well and writes from this point of view perfectly.
I absolutely loved the development of the friendship between Roland and his neighbor, Peter. I also enjoyed the character of Caitlyn and the sweet relationships she had with both boys. Even though it's titled Roland West, Peter has his own very interesting story line and issues to overcome. The author fused the two boy's story lines together brilliantly through an adventure they embark on together.
There is a deeply religious aspect, about saints and relics, that was brought up in very intriguing way. This is a subject I've never seen addressed before in YA fiction and I think the readers will find it as interesting as I did. Linden does a wonderful job of drawing the reader into Roland's life. There were times I wanted to scream in frustration by how he was treated by his manipulative brothers. The best news of all is, there are several books in this fabulous series!
Life-Changing Love by Theresa Linden
This is the 2nd book in Linden's West Brothers Series. One of the unique aspects of this series is the varying POV's. In this book the chapters alternate between all three of the West brothers and their friend Caitlyn. These different perspectives add a lot of intrigue to the story.
One of the things I admire about Theresa Linden is that she is never afraid to tackle difficult topics and present them from a Catholic perspective. The way she highlights the vast differences between conservative Christian values and societal norms is extremely powerful. Because of this, her books are filled with incredible topics for discussion.
Life-Changing Love focuses on dating in our modern society. The book explores the differences between dating and courting and even broaches the difficult topics of pre-marital relations and teen pregnancy.
There is nothing graphic in this book, but the subject matter might be aimed more for slightly older, mature teens. This is a wonderful pro-life book with an emphasis on theology of the body.
I have read all the books in the West Brothers series and have enjoyed seeing their struggles, their growth, and their relationships grow and develop throughout the books.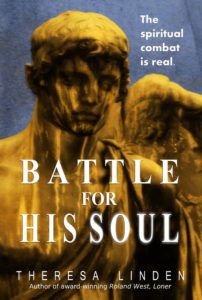 Battle For His Soul by Theresa Linden
Battle for His Soul is the third book in the West brother's series by Theresa Linden. This book focuses more on Jarret West – the brother who spent his life bullying his younger brother Roland, controlling his twin brother Keefe, and engaging in many dangerous and self-destructive behaviors.
This novel has a very interesting twist that the first two books in the series do not. Not only do we see the story from several different character's perspectives, but we also get to see this story unfold from a spiritual realm. We actually experience the fight between angels and demons that surrounds not only Jarret and his decisions but all the characters. It's a fascinating concept to think about what could be happening around us as we go about our lives.
Though this book is about a teen boy, it would e great for all older teens – there are plenty of female characters and an intriguing story that illustrates the struggles and temptations teens face and how they can protect themselves from those temptations. One thing I love about Linden's books is the interesting Catholic topics she includes, and this novel is no different with the idea of being called to religious vocation. What a wonderful chapter in the West boys saga.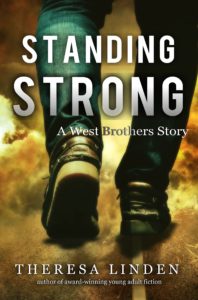 Standing Strong is Theresa Linden's best book yet.
Theresa Linden is an amazing talent in Catholic teen fiction. I'm a huge fan of her writing and her ability to completely draw the reader into the moment with her outstanding descriptions. Her newest novel, Standing Strong is the next chapter in her West Brothers series.
There are a few things that make this series for older teens, very special. First, these powerful books are all written from slightly different perspectives, whether from one of the three West brothers – Roland, Jarret or Keefe, from a friend – as in Life-Changing Love, or, as in Battle for His Soul – the demons and angels that are constantly battling around us. Standing Strong focuses on Jarret and Keefe West, the twin brothers who are struggling with very different aspects of their faith.
The other element that makes this series unique is that it is one of the few books I've found in the Catholic genre that is written for teen boys. Books for middle school age boys are quite prevalent but, gripping, character driven books for High School boys are more difficult to find. Don't misunderstand though, Linden does such an amazing job of writing from this perspective that any teenager would enjoy and be moved by these books.
Linden has perfectly captured the heart and soul of the tough Jarret West in this new novel. During the first book, Roland West, Loner, I couldn't stand his older brother Jarret but as the series has continued, Jarret really developed into a fascinating character. This character that I loathed, transformed into one that I found myself rooting for. He's made lots of mistakes, did many horrible things, treated people badly, but in the end, realized his mistakes and the importance of his faith. Standing Strong finds Jarret struggling to keep his new found faith focused and strong, while his twin brother Keefe searches for answers to his own calling.
When authors write a series, they hope that all the books will be intriguing and connect with their readers. Linden has not only mastered this goal with her West Brothers Series, but as she's continued with this powerful family saga, each book has been better than the last. Standing Strong is by far her most powerful and gripping book yet. I devoured this novel, needing to find out what happened next.
Theresa Linden is an amazing talent in Catholic teen fiction. The ease with which she draws the reader into each scene, with outstanding descriptions and her ability to capture the heart and soul of the tough Jarret West, make Standing Strong her most powerful and gripping book yet. I devoured this novel, needing to find out what happened next.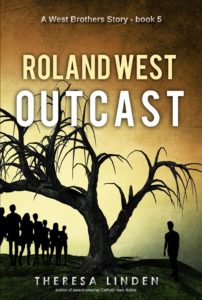 Roland West, Outcast by Theresa Linden
Wow! Theresa Linden is one my favorite authors and her West Brothers series of books is absolutely incredible. There are several things that I love about this series. I love how the author adds unique Catholic themes to the books. I love how she is unafraid to tackle difficult topics. And I love how she changes up the point of view. These stories have unfolded through many different viewpoints – Roland, Jarret, Keefe, Caitlyn, Peter, and even demons and angels!
Roland West, Outcast is told from Roland and Peter's perspectives. It is actually set during the same time period as Linden's novel, Standing Strong. This made for an extremely enjoyable read, to see the same scenes but from a different viewpoint. I'm always fascinated by this – how the story can change completely depending on who is telling the tale.
This book also provides some incredible insight into saints and martyrs. I love the line from one of the characters that a particular martyr "…had a lot of courage. All the way to the stake. I admire that. Makes me think there must be something to what she believed." So true. There are many things we can learn from these incredible faithful servants.
But, my favorite part of this particular book is the subject matter. This is one of the most powerful and impactful books for teens regarding morals that I've ever read. Roland West, Outcast is about how to accept and love people who are living in a way that goes against your beliefs. In our society, certain lifestyles that are in contrast to biblical teaching have become widely accepted. This book tackles this topic in a beautiful, faithful way.
There are so many incredible truths in this novel that everyone should hear and be reminded of – especially teens. In this world where we are told to accept everyone and everyone's beliefs it's so refreshing to have a book that addresses this from a scriptural perspective. We can be kind and caring but still stand by our beliefs and the church's teachings, which do not change just because the world wants it to. The church is here to change the world not be changed by the world.
People are so afraid of offending someone that we don't share the message that needs to be heard. When you truly care for someone as a friend the truth and the fate of their soul is more important than if you offend them. By having the courage to speak the truth you can lead people to Christ and to understand the Catholic church and its teachings, which come directly from Christ through Peter and the popes.
One last thing, I have to include this quote from Theresa Linden because I think it is so beautiful and powerful. "Sometimes you can't stay silent. No matter what others think. No matter who hates you for speaking. No matter the label they give you. No matter what friends you lose. Because the truth is important. The truth is a person. Jesus Christ."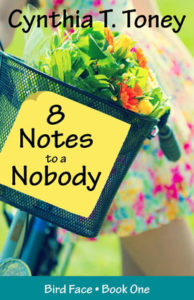 8 Notes to a Nobody by Cynthia T. Toney
This YA novel is about the difficulties of the middle school years. It's a beautiful story that deals honestly with many difficult subjects such as low self-esteem, depression, and other serious issues. Toney does an incredible job of tackling these hard topics in a hopeful and empowering way. I love how the main character, Wendy, finds the strength to take charge and change things for herself by following her 5 step plan to making friends. This is such a great, proactive idea that all teens could try. My favorite part of the story was seeing how things changed for Wendy over the summer as she prepared for high school. It was wonderful to see that even though heartache and tragedies occurred, things could change and get better, creating a positive ending for this deep book. This is a great book for any middle school student. And, you'll be thrilled to know that there are several more books in this series!
3 Things to Forget by Cynthia T. Toney
Cynthia T. Toney's writing is such a breath of fresh air and reminds me of enjoying a glass of lemonade on a beautiful summer day. Refreshing, sweet, and delightful.
3 Things to Forget is the beautiful conclusion to Cynthia T. Toney's heart-warming Bird Face series. To witness Wendy grow in her faith and mature into a lovely young lady through this series has been wonderful. What a treat it has been to follow Wendy on her journey through middle school and into high school. This character has faced many obstacles with exuberance, determination, kindness, and a strong faith. I think there are many positive lessons for young people throughout these books.
I especially love how the author brings unique characters and interests to all her stories. In this series, readers can easily relate to issues many students face but are also introduced to things they might not know as much about such as – Cajun-Americans, Alzheimer's, American sign-language, Jewish culture, blended families, and animal rescue organizations. Toney's writing is full of wonderful discussion opportunities to explore.
So, relax, pour a delicious glass of lemonade, and treat yourself to 3 Things to Forget.
(Review of the other two books in this series, 10 Steps to Girlfriend Status and 6 Dates to Disaster can be found under the Romance category.)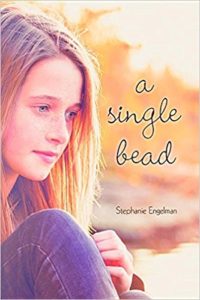 A Single Bead by Stephanie Engelman
This is a beautiful young adult novel that centers around a family in need and a special rosary that affects the lives around them. This engaging story touches on very real and difficult issues such as loss and depression while focusing on the power of prayer and the importance of family. I was intrigued with the main character, Katelyn, and how she was influenced not only by the crisis of faith in her own personal family but also by the very strong beliefs held by her large, extended family. The journey that Katelyn is thrown into surrounding her grandmother's rosary is mysterious, thought-provoking, and moving. What a joyful message for anyone, that our prayers can be so powerful and life-changing. A Single Bead would make a wonderful Confirmation gift.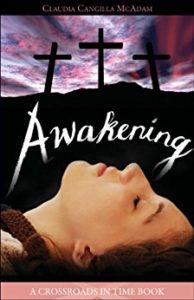 Awakening by Claudia Cangilla McAdam
Awakening is one of those books that is hard to set aside. While reading, I had trouble putting it down, wanting to know what would happen next, and found myself wanting to read just one more chapter after one more chapter. Even after I finished the book, my mind couldn't put it aside, thinking about this powerful and imaginative story long after I devoured it.
This compelling story is such a unique and moving way to view the Easter story that I think will appeal to teens. The author seamlessly adds entertaining, modern items that teens will relate to – tenuous friendships, unrequited crushes, complicated relationships with parents – with the Passion story, creating a hard to put down novel.
I love the many elements highlighting the time period, the historical details of Jewish and Roman culture, and experiencing firsthand what the disciples might have felt. Just when you think you know what will happen, some unique twists are thrown in to keep you wanting more, all while keeping to the facts of this Holy event.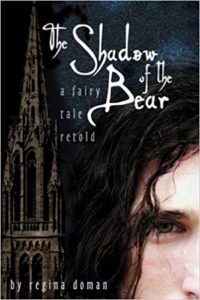 The Shadow of the Bear by Regina Doman
The Shadow of the Bear is a modern retelling of the Grimm fairy tale Snow White and Rose Red. This book is the first of the author's Fairy Tale Novels where she takes an old story and creates a fresh and entertaining tale for modern teens. This exciting novel – part mystery, adventure and fairy tale, is about sisters Blanche and Rose and how their lives are forever changed when a mysterious stranger named Bear happens upon their door, in the "wilderness" of New York City.
There are many things I enjoyed about this book including the very different personalities of the sisters and the incorporation of faith. I especially liked how the innocent sisters found themselves in several precarious situations, a mixture of unlikely predicaments and some very real and relevant dangers of today's teens. This book is loaded with fantastic topics for discussion – being taken advantage of, stealing, drinking, bullying, drugs, hazards of dating. I will offer a bit of a warning though – if you value your sleep, don't read this book close to bedtime because the second half of the novel is a real page turner and you won't be able to put it down. You've been forewarned.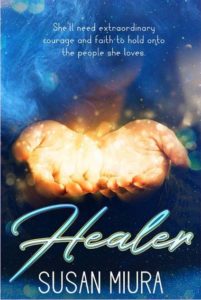 Healer by Susan Miura
This Christian YA novel is the story of Shilo Gianelli who has been granted an unusual gift from God – the ability to heal.
Shilo is your average teen, a high school soccer player with a cute boyfriend, an annoying sister, and a best friend who seems too busy for her. But an unusual encounter with a teen mom and her injured son suddenly sends her life spiraling out of control.
This is the first novel I've read by Miura and thoroughly enjoyed her writing – especially the voice of Shilo. Miura captured the sass and sarcasm of a teen girl perfectly. While some of Shilo's actions were frustrating, they totally made sense for a teen girl's emotional mind.
I really thought this was a fascinating idea and concept. I loved the fact that Shilo must learn that this power is a gift from God. She is the vessel for His healing power and cannot pick and choose who to heal. I appreciated the message that God has a plan and we don't always know the reason that some prayers are answered, and others are not. Healer is an enjoyable book with wonderful characters, exciting scenes, and a thought provoking message.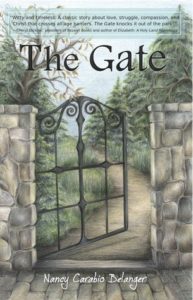 The Gate by Nancy Carabio Belanger
This YA novel is written from the perspective of the grown-up Joshua, looking back and remembering a life-changing time in his past. The way the story is written I assumed several key aspects of the story, but I just couldn't wait to see how it played out. I was so moved by the story of Josh and the elderly gentleman he reluctantly befriends, Pie.
The relationship between these two unlikely friends was incredibly touching. My heart went out to both of these characters – the snarky teen and the curmudgeony old man. The voice of the lead character, Josh, is fantastic, the smart aleck language – absolutely brilliant. I could just feel this young boy's angst and anger as he continued his struggle over the death of his father.
This is such a powerful book about healing and how God's love works within us and through those we meet. What an inspiring, thought-provoking novel.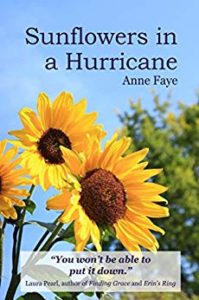 Sunflowers in a Hurricane by Anne Faye
What a wonderful story. I really loved this multigenerational tale of heartache and forgiveness. In fact, I enjoyed it maybe a bit too much because I kept putting off work I needed to get done, telling myself I'd just read one more chapter – over and over again.
Sunflowers in a Hurricane is told through three different characters. George, the elderly neighbor who is still grieving the wife he lost years before. Cheryl, the single mom who returns to the home town that she fled as a teenager amidst scandal and trauma. And Ruth, the middle-school age daughter who struggles to understand her mother's anger and overprotectiveness. Circumstances meld the lives of these three characters as they each deal with painful family issues.
This story is mostly told from the young teen's perspective which will connect with teen readers. However, I think it's wonderful for young readers to understand the inner thoughts and personal feelings of the elderly gentleman and the mom as well. To see that adults also struggle with issues and don't have everything figured out is a fabulous lesson. A thoroughly enjoyable book, with many fantastic discussion opportunities.
Catholic Reluctantly by Christian M. Frank
What a fantastic book! I'm so glad I stumbled across it. Not only is the story extremely engaging but the concept behind the book is equally intriguing – this series of books was written by a collaboration of authors.
The story is about a group of students at John Paul 2 Catholic High School. This is a new school. In fact, there are only 7 students. All the students had a unique voice and personality and the authors did a great job incorporating the characters and their different backgrounds, together. I also liked how the distinctions between the public school, the large Catholic school, this tiny new school, and the homeschool community were dealt with. And, being a fan of mysteries, I thoroughly enjoyed the mysteries that were woven throughout the story.
But, the best part of this book is the message of how hard it is to stand up for and live your faith in our society amid peer-pressure. This is a problem that is very relevant to all teens.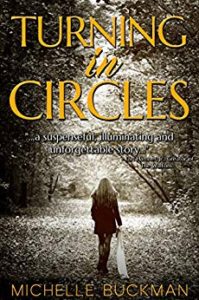 Turning in Circles by Michelle Buckman
This review was a little hard for me to write. While this was not my favorite book, my reviews are not for me but to share books with other people. This Southern novel for older teens is very well written and if you love a good family drama, this might be a great book for you.
It's just a personal preference, but I tend to steer away from heavy, emotionally charged stories – there is enough of that in real life. I prefer a little more light-heartedness. For example, while there is no denying the popularity and amazing writing and acting in the hit show "This is Us", I'd much prefer watching an old episode of "Castle". I know, I'm odd and in the minority here.
This story of two, extremely close, sisters and the drama that tears them apart is powerful and heart-wrenching. I do have to say, I was frustrated with the parents in this story. They were both so wrapped up in their own worlds that they did not see what was happening under their own roof. Although, this might be a realistic depiction of life. Also, at times the dialogue seemed like something from another era not modern day. But I've never lived in a southern ranching community so what do I know.
Overall, this book has beautiful descriptive prose and is a powerful, gripping story.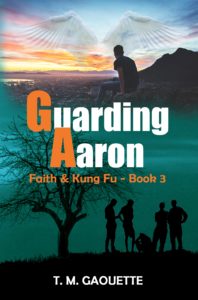 Guarding Aaron by T.M. Gaouette
Guarding Aaron is the third book in TM Gaouette's Kung Fu series. The series centers around Gabriel, a handsome teen who is dedicated to his faith, his mother, and his martial arts. In the first book of the series, he meets Tanner Rose, a Hollywood starlet and the daughter of his mother's friend.
Saving Faith, the second book in this series, and now Guarding Aaron continues the story of Gabriel, Tanner, and their friends. Gaouette does a wonderful job of creating relatable characters that you care about. Through the series, I have admired Gabriel, enjoyed the growth of Tanner and Christian, wanted to scream at Faith, and now wish I could hug Aaron.
Aaron is new to the series. His story, which runs parallel to what is happening with Tanner and Gabriel, is incredibly touching. Aaron is being bullied at school. Tired of being the victim, he has decided to take Kung fu classes. This is where he meets older teens Gabriel and Christian who are his instructors. The two storylines are woven together perfectly to make for a thoroughly engaging novel. There are even a few shocking twists that will keep you turning the pages. (One, in particular, had me gasping out loud.)
You don't need to have read the other books in the series to enjoy this book but I'm sure you will want to eventually so you can spend more time with these characters.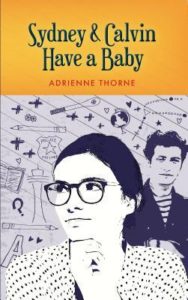 Sydney and Calvin Have a Baby by Adrienne Thorne
I wasn't sure what to expect from this story. This book is listed as a YA novel, but the subject matter might make some readers a little hesitant. I mean, high school students having a baby is not something you expect to find in Christian teen fiction. But this book surprised me. It was such a delight.
The basic premise of the story is traumatic and horrible – a teenage girl, who is a bit of a nerd and doesn't really fit in with the popular crowd, is date raped which results in a pregnancy. Her attacker, who had been drinking, dies in an accident right after the incident. Don't worry, I'm not giving anything away, this information is printed on the back of the book. (I should note, there are no graphic scenes at all.)
Knowing all that, you might think "delight" would not really be an appropriate word to describe this novel. But the book is written from the perspective of Calvin. It's a bit of an unusual style, and might not be for everyone, but it completely worked for me. His voice was so wonderful. Calvin is from England and his dry, clever comments reminded me of the charm of many of actor Hugh Grant's characters. I loved the British-isms throughout the book. Through Calvin's voice, this difficult story is filled with a clever sense of humor and beautiful heart-felt messages.
Poor Calvin has his own tragedy to work through and my heart broke for this fictional teen boy. Somehow Sydney and Calvin's traumatic tales turn into a beautiful story with powerful messages. There are some wonderful topics for older teens to explore, the dangers of drinking and driving, the sanctity of life, the hurtfulness of lying and gossiping, and standing up for what is right.
It was so sad, but probably accurate, on how many people thought Sydney would be able to go back to her life by getting rid of the problem. And I was a bit horrified that a character, who should have known better, was willing to help Sydney resolve the issue without her parent's permission. Again, this might be rather accurate, but was shocking to me. I happened to finish reading this book on the same day that hundreds of thousands of people marched in DC for the Right for Life, the timing was quite fitting. The messages in this story, that babies are a precious gift, that good things can come out of tragedies, and that faith is our stronghold, are so important and sadly are not heard often enough in our society.