I love to share Christian and Catholic books with readers and those are the kinds of books that I usually review. Once in a while though, there is a non-religious YA book that I read and really enjoy. But I do want to add a note of warning – while all these books are technically "clean teen", they are mainstream novels and there could be some parts or concepts that might not line up with Christian values.
Dash & Lily's Book of Dares by Rachel Cohn and David Levithan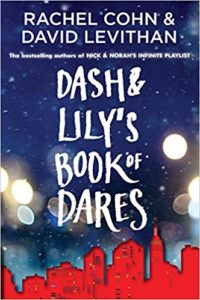 "I've left some clues for you.
If you want them, turn the page.
If you don't, put the book back on the shelf, please."
16-year-old Lily has left a red notebook full of challenges on her favorite bookstore shelf, waiting for just the right guy to come along and accept its dares. Dash, in a bad mood during the holidays, happens to be the first guy to pick up the notebook and rise to its challenges. 
What follows is a whirlwind romance as Dash and Lily trade dares, dreams, and desires in the notebook they pass back and forth at locations all across New York City. But can their in-person selves possibly connect as well as their notebook versions, or will their scavenger hunt end in a comic mismatch of disastrous proportions?
My Thoughts
This is one of my all-time favorite books. There is just something about this YA novel that tugs at my heart. The characters of Dash and Lily and their sweet blossoming relationship are so enjoyable. In fact, I read this book around Christmas almost every year. (I've always wanted to visit New York City during the holiday season, so the setting might have something to do with my love of this book.)
A Christmas break afternoon at a bookstore changes everything for Dash when he comes across a notebook with a dare. Intrigued, he answers with his own dare. And thus, starts the back and forth communication deciphering of clues, accepting challenges, and the beginnings of a unique relationship.
Warning: it does contain some same-sex relationships, although nothing graphic is described. There also seems to be a lack of respect for Christianity. You have been forewarned! So why, you may ask, do I like this book so much? While there are plenty of things that I wish were not in this book, I choose to overlook them because there are a few things that continue to draw me to it. First of all, the relationship blooming through clues, dares, and a notebook is such a fun, romantic notion. Second, the voice of Dash is fantastic. His witty, dry humor is perfection and makes me smile every time I read it. I wish I could create a character like that. And finally, the premise behind this book is intriguing. This book is written by two authors who didn't plan the story ahead of time. One would write a chapter then send it on to the other author who would add a new chapter then send it back. As an author, this concept of not knowing where the story is heading, is fascinating to me.
This Is Our Story by Ashley Elston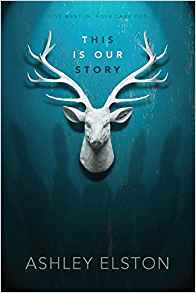 No one knows what happened that morning at River Point. Five boys went hunting. Four came back. The boys won't say who fired the shot that killed their friend, Grant; the evidence shows it could have been any one of them.
Kate Marino's senior year internship at the District Attorney's Office isn't exactly glamorous-more like an excuse to leave school early that looks good on college applications. Then the DA hands her boss, Mr. Stone, the biggest case her small town of Belle Terre has ever seen. The River Point Boys are all anyone can talk about. Despite their damning toxicology reports the morning of the accident, the DA wants the boys' case swept under the rug. He owes his political office to their powerful families.
Kate won't let that happen. Digging up secrets without revealing her own is a dangerous line to walk; Kate has personal reasons for seeking justice for Grant. As she investigates with Stone-the aging prosecutor relying on Kate to see and hear what he cannot-she realizes that nothing about the case-or the boys-is what it seems. Grant wasn't who she thought he was, and neither is Stone's prime suspect. As Kate gets dangerously close to the truth, it becomes clear that the early morning accident might not have been an accident at all-and if Kate doesn't uncover the true killer, more than one life could be on the line including her own. 
My Thoughts
This mystery had me intrigued from the beginning. There were a few twists that were fantastic and completely surprised me. I always love a teen sleuth.
Ex-mas by Kate Brian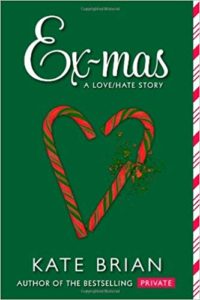 Two Exes. One holiday adventure.

Seventeen-year-old Lila Beckwith's parents just left for vacation, and Lila's all set to throw the holiday party of the season. But when her Christmas-obsessed little brother, Cooper, discovers that global warming is melting the North Pole, he and his best friend, Tyler, take off on a runaway mission to save Santa.
Lila has to get Cooper safely home before her parents get back on Christmas Eve. But the only person who can help her is Tyler's older brother, Beau — a.k.a. Lila's musician, anti-everything ex-boyfriend.
It'll take more than a Christmas miracle for Lila and Beau to overcome their differences and find their fugitive brothers. But could a journey destined for disaster help these polar opposites fall in love…all over again?
My Thoughts
This is a cute, fun romance. I really liked the voices of the main characters and there are some fantastic scenes between the two of them that I've read numerous times.
Buzz Kill by Beth Fantaskey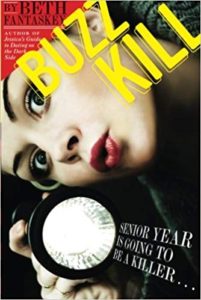 Putting the dead in deadline
To Bee or not to Bee? When the widely disliked Honeywell Stingers football coach is found murdered, 17-year-old Millie is determined to investigate. She is chasing a lead for the school newspaper—and looking to clear her father, the assistant coach, and prime suspect.
Millie's partner is gorgeous, smart—and keeping secrets
Millie joins forces with her mysterious classmate Chase who seems to want to help her even while covering up secrets of his own.
She's starting to get a reputation . . . without any of the benefits.
Drama—and bodies—pile up around Millie and she chases clues, snuggles Baxter the so-ugly-he's-adorable bassett hound, and storms out of the world's most awkward school dance/memorial mash-up. At least she gets to eat a lot of pie.
Best-selling author Beth Fantaskey's funny, fast-paced blend of Clueless and Nancy Drew is a suspenseful page-turner that is the best time a reader can have with buried weapons, chicken clocks, and a boy who only watches gloomy movies . . . but somehow makes Millie smile. Bee-lieve it.
My Thoughts
This is a very fun YA mystery. If you've read my books, it's probably no surprise that I love books that encompass mystery, humor and innocent romance. This book delivers on all those elements. The very short chapters add to the fast pace of this book.
When Lightning Strikes by Meg Cabot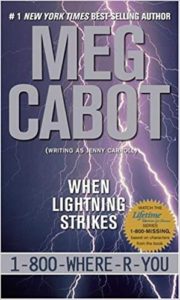 Just because her best friend wants to exercise, Jessica Mastriani agrees to walk the two miles home from their high school. Straight into a huge Indiana thunderstorm — and straight into trouble.Not that Jess has never been in trouble before. Her extracurricular activities, instead of cheerleading or 4-H, include fistfights with the football team and monthlong stints in detention — luckily, sitting right next to Rob, the sexiest senior around. But this trouble is serious.Because somehow on that long walk home, Jessica acquired a newfound talent. An amazing power that can be used for good…or for evil.
My Thoughts
One of the first YA novels I've read as an adult. I've always been a fan of Meg Cabot's witty writing style. This is one of her first books and I enjoyed the characters and intriguing premise.
One of us is Lying by Karen M. McManus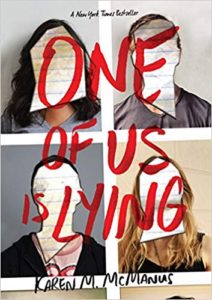 Pay close attention and you might solve this.
On Monday afternoon, five students at Bayview High walk into detention.
    Bronwyn, the brain, is Yale-bound and never breaks a rule. 
    Addy, the beauty, is the picture-perfect homecoming princess. 
    Nate, the criminal, is already on probation for dealing.
    Cooper, the athlete, is the all-star baseball pitcher.
    And Simon, the outcast, is the creator of Bayview High's notorious gossip app.
 
Only, Simon never makes it out of that classroom. Before the end of detention Simon's dead. And according to investigators, his death wasn't an accident. On Monday, he died. But on Tuesday, he'd planned to post juicy reveals about all four of his high-profile classmates, which makes all four of them suspects in his murder. Or are they the perfect patsies for a killer who's still on the loose? Everyone has secrets, right? What really matters is how far you would go to protect them.
My Thoughts
This whodunnit is a real page-turner with some great characters. I enjoyed the Breakfast Club twist of this teen murder-mystery. Warning: it does contain some relationships that do not match up with the morals of the books I usually review – same-sex relationship and teen promiscuity. While these topics are part of the story there is nothing graphic described.
Home for Christmas by Daphne James Huff, M.F. Lorson, and Kayla Tirrell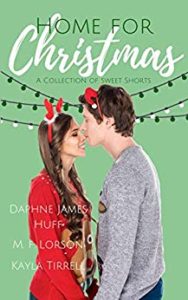 All across the country people are heading home for the holidays. Special presents are wrapped beneath the tree, mistletoe is hung, the smell of cookies is in the air, but what if you don't have someone special to share it all with?
Will the magic of Christmas reach these characters? Or will they end up being a bunch of lonely grinches?
Three up-and-coming young adult authors share their Christmas stories about hope and joy during the holiday season.
My Thoughts
This is a collection of Christmas romances that are short and sweet. Is there someone on your list that enjoys YA short stories? Someone who adores stories set around Christmas? A sucker for Hallmark holiday movies? Then this might be a great gift option.
This set of short stories are not Christian but they are clean and sweet. Each is a romance centered around an older teen girl at Christmas time. It was an enjoyable, quick read that might warm the insides of the romantic at heart on a cold December day.
The Rules for Disappearing by Ashley Elston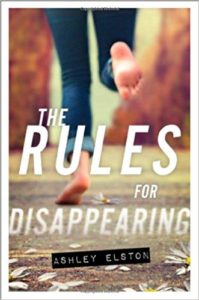 She's been six different people in six different places: Madeline in Ohio, Isabelle in Missouri, Olivia in Kentucky . . . But now that she's been transplanted to rural Louisiana, she has decided that this fake identity will be her last.
Witness Protection has taken nearly everything from her. But for now, they've given her a new name, Megan Rose Jones, and a horrible hair color. For the past eight months, Meg has begged her father to answer one question: What on earth did he do—or see—that landed them in this god-awful mess? Meg has just about had it with all of the Suits' rules—and her dad's silence. If he won't help, it's time she got some answers for herself.
But Meg isn't counting on Ethan Landry, an adorable Louisiana farm boy who's too smart for his own good. He knows Meg is hiding something big. And it just might get both of them killed. As they embark on a perilous journey to free her family once and for all, Meg discovers that there's only one rule that really matters—survival.
My Thoughts
Another great teen mystery by Ashley Elston. This is an exciting story about a teen stuck in Witness Protection. Meg is tired of all the new identities and locations – it's time to figure out what happened. With the help of her new boyfriend, she tries to end this life that is tearing her family apart. This story is fun, exciting, and clean with a really interesting premise.