Welcome to my monthly book review post!
In case you are new to my blog… every month I post about 3 YA books that I've read, each month in a new genre. So, if you're not interested in other teen books you can skip past this Book Review Post. I'll still be sending out quarterly posts marked UPDATES regarding news about my own work.
But for those of you who have kids, or grand-kids, or you yourself like teen books (like me!), each month I'll introduce some of my favorite Christian and Catholic YA books.
I've decided to provide more reviews because there are a few things I've learned since I had my first book published:
1 – So many of the teen books published by the big publishing companies contain messages that don't match the values of many families.
2 – There are a lot of fantastic, clean, faith based books out there. Books that are entertaining yet wholesome and reflect Christian values.
3 – These types of books can be really hard to find. So, I'd like to introduce you to a few new adventures.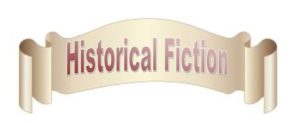 This is a genre that I thoroughly enjoy because I always learn so much about another time in history. Seeing these glimpses of the past through the eyes of fictional characters really brings the time periods to life. Today's books all transport readers through thoroughly engaging stories of young women who must fight for their faith, stand up for their beliefs, and find the path that God has led them to take.
A World Such as Heaven Intended by Amanda Lauer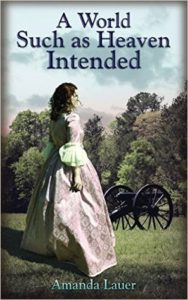 This is a sweeping love story set during the darkest time of our nation's history – the Civil War. Ever since I was a little girl and watched "Gone with the Wind", I've had a bit of a fascination with this era. Back then it was the beautiful gowns and huge plantation houses that I found fascinating. But since then I've visited several Civil War battlefields and the stories of the horror that unfolded on them, between fellow countrymen is unfathomable.
A World Such as Heaven Intended (such a beautiful title) is about Amara, a young lady living in Atlanta who decides to help her Uncle and the confederate soldiers at his makeshift hospital. One of her patients is a handsome young soldier named Nathan, who was forced into service for his country.
This book does a wonderful job of showing several difficult aspects to the war. Through Amara, we see the tragedy of the injuries and the unthinkable medical conditions at that time. Nathan shows us how the lines of good and bad could easily be blurred. It's easy now to look back at the Civil War and break it down to a discussion on slavery but it's not that simple. Seeing the conflict from the perspective of these two individuals highlighted that point.
I also loved the interaction between Amara and Nathan, especially in the second half of the book. Amara's strong will and Nathan's sarcasm made for some fantastic scenes that made me laugh out loud. This is a fabulous book that will sweep you away and provide some fantastic discussions.
Playing By Heart by Carmela Martino
This beautifully written Young Adult novel centers around the strong faith of two sisters, Emilia and Maria, and their extraordinary talents. The book is set in 18th Century Milan, Italy and focuses on their relationships with their father, as well as their struggle to follow the paths they believe God wants them to take. Unfortunately, they lived in a time when young women were subject to their father's wishes. And their father hoped to showcase their incredible gifts to advance himself to nobility and was not interested in their desires.
The beautiful descriptions bring this book to life. I found the passages describing Emilia's music particularly lovely. The author does a wonderful job of showing society and culture of 18th century Italy. This time period makes for a very interesting book, especially for young women, to see the choices and educational opportunities available to girls their age at that time in history.
Playing By Heart highlights something that's near and dear to my heart – that we all have gifts from God and we should find ways to use these gifts to help others. I loved that these young women knew their talents were from God and they longed to use them in a positive way. I also really appreciated the underlying passages of jealousy. This is something we all can relate to, feeling envious of another's successes. How Emilia deals with this and works through it is a wonderful example for readers to emulate.
This historic fiction, inspired by two real sisters who lived in 18th Century Italy, would make a fantastic bookclub or classroom choice, full of many great topics for discussion.
Erin's Ring by Laura H. Pearl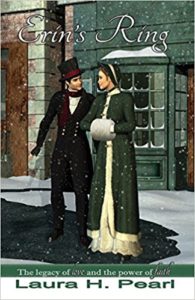 This was such an enjoyable book! I really liked how the novel alternated between a modern day story and the history of Irish immigrants that came to America in the 1800's.
It begins when Molly – a modern day middle school girl, finds an engraved ring at her church. When she discovers it's a traditional Irish ring, she decides to research the town's rich Irish history for a school project. As she delves into her research, we are drawn into the world of the Irish immigrants that fled Ireland during the Potato famine to find a better life here in America.
This book is set in Dover, New Hampshire where many young women journeyed to work in the textile industry. The town became a place where Irish Catholics found a home even though there was no Catholic church available. This story provides a fascinating look into the struggles of the Irish Catholic immigrants – many of which were single young men and women who came over to work and sent money back to Ireland to support their families.
The historical parts were quite interesting and thought-provoking and the storyline in the modern-day chapters was quite touching as well. Erin's Ring is a really wonderful story about the importance of family, friendship, and faith.
All these books can be found on Amazon. I've set links – just click on the highlighted titles. For those who don't use Amazon you can also check Barnes and Noble online or www.indiebound.org where you can search for books and the local bookstores that might carry them or order them directly from the website. You can also ask your local bookstore or library to order the books for you.
Next month I'll be reviewing three more Christian/Catholic teen novels. But if you'd like more reviews before then you can always check out my recommendation section on my website: YA Recommendations.
If you've come across this post on Facebook and would like to get my monthly reviews sent directly to your inbox, you can sign up on my website – www.LesleaWahl.com.
Until next month – Happy Reading!