Fun Facts, Playlists, Video, Awards, Short Stories, & Social Media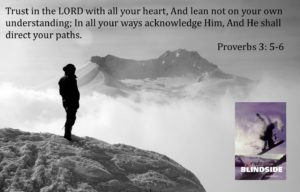 Catholic Press Association First Place Book Award
Gold Medal Readers' Favorites Award
There's More To The Story:
Did you know that Jake and Sophie's adventure continues through some short stories and a second novel?
 eXtreme Blindside is the sequel to The Perfect Blindside. You can find more information on their first adventurous mystery HERE.
In case you weren't aware, I have combined the characters from my award-winning YA mysteries, The Perfect Blindside and An Unexpected Role, in several short stories.
More Precious Than Gold can be found in the CatholicTeenBooks Anthology – Secrets: Visible and Invisible.  HERE
Unlikely Witnesses is a summer adventure that can be found in an ebook novella.  HERE
Shared Blessings is a short story set before The Perfect Blindside. This is a free download to new subscribers of my newsletter. If you already are part of my newsletter mailing list and haven't had a chance to read the story, send me a quick note through the link on the Contact Page.
For those who are curious, here is the chronological order of all the stories:
Shared Blessings – the winter of the characters sophomore year of high school
An Unexpected Role – the summer between their sophomore and junior years
The Perfect Blindside – the fall of their junior year of high school
Extreme Blindside – the winter of their junior year of high school
More Precious Than Gold – the summer between their junior and senior years
Unlikely Witnesses – the summer between their junior and senior years
More Ways To Follow:
Click here to see the official Book Trailer
Follow Jake on Instagram (blindside_jake) 
Follow me on Instagram (MinistryThruMystery)
Check out Sophie's photographs on her Pinterest Board
Explore The Perfect Blindside's Wiki site
Click here for interviews with Jake and Sophie by The Catholic Underground
Fun Facts
Ever since I wrote The Perfect Blindside, I knew I wanted more adventures for these characters and I envisioned it being set at an extreme sporting event.
I love finding obscure Colorado facts for Sophie.
The scene with Sophie and the tree well was based on an incident that happened to me as a child.
Playlist
Songs that help inspire my characters.
You Never Let Go by Matt Redman
Through It All by Colton Dixon
Fear No More by Building 429
Never Gonna Let You Go by Colbie Caillat