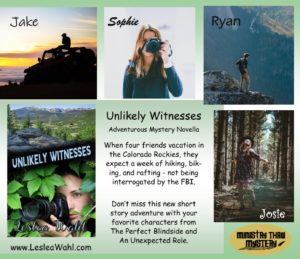 When four friends vacation together in the Colorado Rockies, they expect a week of hiking, biking, and rafting – not being interrogated by the FBI.
Unlikely Witnesses combines the characters of Leslea Wahl's award-winning YA mysteries, The Perfect Blindside and An Unexpected Role, in an all-new adventure.
Jake is a silver-medal-winning snowboarder. His famous face makes it hard to go anywhere unnoticed. Sophie, his devoted girlfriend, is an aspiring journalist whose camera is never far from her side.
Sophie's cousin Ryan, a high school baseball star, enjoys an ongoing prank war with his cousin. His girlfriend Josie adds excitement to all situations with her uncanny flair for the dramatic.
Between Josie's mishaps, Jake's celebrity status, and Sophie and Ryan's friendly feud their peaceful family vacation turns into a comedic adventure. But, when these four teens stumble upon a mystery, things become downright dangerous.
The fun and intrigue of this short story is paired with a reminder that if we live our lives as Christians, we never know when we might be a witness for Christ.
Unlikely Witnesses is one of several short stories with these characters. If you enjoy these characters you might be interested in Shared Blessings and More Precious Than Gold. For those who love these characters here is the chronological order of the stories:
Shared Blessings – the winter of their sophomore year of high school
An Unexpected Role – the summer between their sophomore and junior years
The Perfect Blindside – the fall of their junior year of high school
Extreme Blindside – the winter of their junior year of high school
More Precious Than Gold – the summer between their junior and senior years
Unlikely Witnesses – the summer between their junior and senior years
Purchase Now!
For more places to purchase this ebook check out the Goodreads Page and click on the Stores tab.