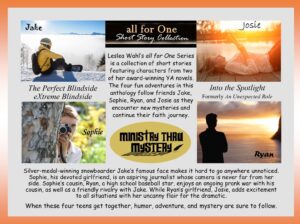 Leslea Wahl's all for One Series is a collection of short stories featuring characters from her award-winning YA novels, The Perfect Blindside and Into the Spotlight (formerly An Unexpected Role).
The four fun adventures in this anthology, follow friends Jake, Sophie, Ryan, and Josie as they encounter new mysteries and continue their faith journey.
Silver-medal-winning snowboarder Jake's famous face makes it hard to go anywhere unnoticed. Sophie, his devoted girlfriend, is an aspiring journalist whose camera is never far from her side. Sophie's cousin Ryan, a high school baseball star, enjoys an ongoing prank war with his cousin. While Ryan's girlfriend Josie adds excitement to all situations with her uncanny flair for the dramatic.
When these four teens get together, humor, adventure, and mystery are sure to follow.
Years ago, when I was waiting for my first novel, The Perfect Blindside, to be published, I started working on my second novel which became Into the Spotlight (formerly An Unexpected Role). My husband suggested that I should somehow link the two stories. That idea intrigued me, and I decided Sophie from The Perfect Blindside and Ryan from Into the Spotlight could be cousins. Not sure what I would ever do with this connection, I included two tiny hints in the new book.
A few years later, authors from the joint website I belong to—CatholicTeenBooks.com, decided to create an anthology. I thought this might be a great time to finally bring these characters together for a new adventure. I had so much fun writing that short story and over the years, new ideas for these characters have popped into my mind. I have finally combined all these stories together in my all for One series. The title is a reminder that God should be at the center of our lives—as everything we do is for Him.
Below is a list of all the stories and books in chronological order for your convenience. I hope you enjoy these characters' adventures as much as I do.
Blessings!
Leslea
One Blessing at a Time – the winter of their sophomore year of high school
Into the Spotlight (formerly An Unexpected Role)  – the summer between their sophomore and junior years of high school
The Perfect Blindside – the fall of their junior year of high school
Extreme Blindside – the winter of their junior year of high school
More Precious Than Gold – the summer between their junior and senior years
Unlikely Witnesses – the summer between their junior and senior years
Ultimate Blindside – the fall of their senior year of high school (Not available yet.)
The Master Plan – the spring break of their senior year of high school (Coming soon!)