The New Recruit by Jill Williamson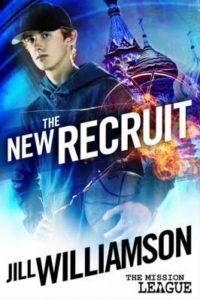 This Christian teen spy novel is the first in a series about fourteen-year-old Spencer Garmon. Spencer's life is in disarray – he lives with his Grandmother ever since his parents died, and he has no interest in the Christian faith his Grandma is trying to surround him with. All he really wants to do is play basketball and earn a scholarship to escape this life, but his knack for trouble has a way of interfering with his plan. When he's approached about joining a secret spy organization comprised of Christian's, he's not only skeptical of the whole idea but most definitely – not interested.
However, three things help convince Spencer to give the summer spy program in Russia a try.
1 – There are some really cute girls going on the trip.
2 – An ultimatum from his Grandma after he's been in trouble one too many time – he can either join military school or the Christian spy organization.
3 – Spencer discovers a secret about his parents – they once also belonged to this organization.
This teen spy novel has a great, fun premise – what kid doesn't dream about being a secret agent? But I must say, this book had me at the lead character's voice. So fantastic! The author superbly captures a teen boy's thoughts and words, with the perfect blend of wit, sarcasm and coolness. Really one of the best voices for a boy that I've come across.
One note – this book does have a more evangelical point of view than I'm used to reading but overall, it's an enjoyable book.
McCracken and the Lost Island by Mark Adderley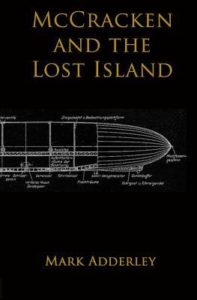 This is the first book in the McCracken series by Mark Adderley. I've heard this series described as "Indiana Jones with a rosary" and that is a great description. This delightful book is perfect for middle school and high school boys who love adventurous novels. It is set in the 1930's with an interesting group of international characters including the English engineer/inventor McCracken, the lovely Ariadne – a communications expert with an interesting past relationship with McCracken, a French deep sea diver, a Russian pilot and a rich German Baron who gathers them all for an adventure to find a lost island. I thoroughly enjoyed the exciting plot which reminded me of the movie version of "Journey to the Center of the Earth". McCracken's strong faith and engineering genius makes this character a fantastic role model for teens.
The Relic of Perilous Falls by Raymond Arroyo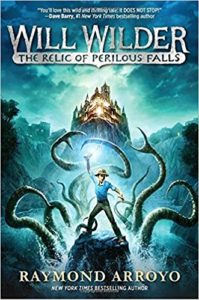 If your child likes the Percy Jackson series they'll probably enjoy Raymond Arroyo's action-packed Will Wilder books. The Relic of Perilous Falls is the first book in this series about Will Wilder, a young boy with unique gifts. Will doesn't realize he has special powers but when he accidentally unleashes some demons in his hometown he learns that there is a secret society of believers that all have special powers to keep people safe from the dark side. There are many unique characters in this book that add a fun element – Will's Aunt, friends, siblings and parents all help to make this story fast moving and enjoyable.
Saving Mount Rushmore by Andrea Jo Rodgers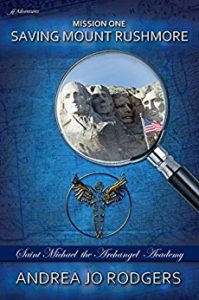 Looking for a fun adventure for your older elementary or middle school student? This book might just be what you're looking for. Saving Mount Rushmore is about a middle school boy, John, who's upset to have to spend the summer in South Dakota with an Aunt he barely knows. So much for the fun summer he'd hoped for, spent at the Jersey shore with his friends.
Soon after he arrives at his Aunt's ranch, he finds out that he'll be part of a special program at St. Michael the Archangel School. Summer school? Really?
But this is no ordinary school. This is a unique program where the students, who each possess special talents, act as secret agents performing good deeds for the country. But what special talent could John contribute? Maybe they made a mistake.
This was a thoroughly enjoyable, fast-moving adventure with some very likable characters that provided lessons in history, as well as positive messages regarding self-confidence, friendships, and faith. I look forward to more exciting stories in this series of books that empower kids and encourage them to think of the special gifts, talents and interests they all possess.
Saving The Statue of Liberty by Andrea Jo Rodgers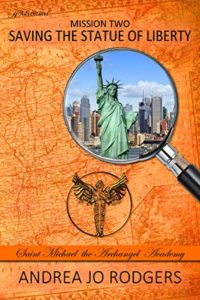 The kids from St. Michael the Archangel Academy are on to their next mission – saving The Statue of Liberty. These books by Andrea Jo Rodgers are such a delight and are perfect for older elementary students. I love the adventure, the friendships, the patriotism, and the bits of history that surround these fun stories.
This series of books reminds me of The Magic Treehouse books my children used to read. Through some fantastical unknown ways, the kids of Team Liberty are able to transport to historical monuments and save them from the mischievous and villainous ways of Team Mischief.
These books are such a fun way to learn about history and national monuments and would make a supplement to American history lessons.
Mindwar by Andrew Klavan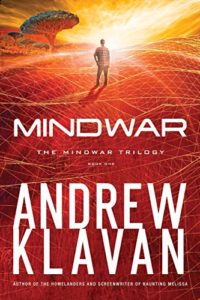 Rick Dial once had it all. He was a star athlete with a football scholarship to college, had a loving family and a devoted girlfriend.
Amazing how quickly things can change.
In a short few months, his father has deserted the family and a car accident has left Rick crippled and destroyed his future. Now he's stuck at home with an annoying little brother, a depressed mother and nothing to do but play video games.
But… he possesses a talent the US government needs. He is called upon to enter a virtual world in order to save the real world.
Author Andrew Klavan is a well-known, best-selling, Christian YA author. I can certainly understand why. Mindwar is one fast-paced, adrenaline inducing, action-packed thrill ride. This novel is part secret-agent thriller, part sci-fi adventure, and is the first book in the Mindwar trilogy.
While this is not a book that I normally would have picked up, I must say, I did enjoy it. The Christian themes are more subtle than in many Christian and Catholic novels, but that could appeal to some readers. I did like that Rick turned to God when he was in need and realized the importance of family.
The Last Thing I Remember by Andrew Klavan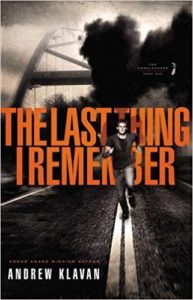 Wow. If you're about to read this book – hold on for a wild ride. This was such a fast-paced, edge of your seat, page-turner. In case, you hadn't figured it out yet – I loved this book. I've read one other book by Mr. Klavan, and enjoyed it as well, but this one was fantastic.
A great main character, who tries really hard to always do what is right. But when teen, Charlie West, wakes up strapped to a chair, bloodied and bruised, with no idea how he got there, well, you're just going to have to read the book to find out more.
This is the first in a series that if you enjoy mystery adventures, you will get through quickly.
This book was mainly about Charlie trying to figure out what happened to him, as he thinks back to the last day he remembers, we learn more about him, his family, the girl he has a crush on, and a troubled friend. The flashbacks work perfectly and the action keeps the story moving quickly. Great Christian teen fiction.
Prisoners of War by Sarah Gracia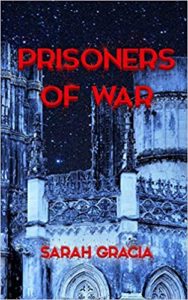 I'm not sure I've ever read anything quite like this debut novel before. This young author combines a creative storyline, Catholic theology, and mental illness into an interesting and compelling story. There is a lot going on in this book – humorous moments, witty dialogue, exciting escapes, dastardly villains, virtuous heroes, and an abundance of faith. In ways, this reminded me of a melodrama play with some over the top moments and quirky incidents. There were moments I wanted to jump in and participate with a YAY, BOO, HISS, or AWW. And then, on top of all that, there is a surprising element of this book – a very powerful message.
Ms. Gracia did a great job of drawing the reader into this futuristic story from the very first page. Prisoners of War is told through the alternating perspectives of Matt, Tara and Age. These young teens are all, in their own ways, strong, smart, and able to fend for themselves. I also loved how the characters had a deep faith and prayed throughout the story. You can tell this author loves her faith and wants to share it with the world. She included several facts about saints and concepts of theology that were fascinating and could make for some great discussion topics.
All that being said, the heart of this story is the mental health perspective. The author, as well as, the character of Tara, suffers from OCD. This is a term we hear thrown around a lot, but most people probably don't really know much about it. This book does a wonderful job of showing the reader how difficult it is to live with this condition.
The first chapter from Tara's perspective, Chapter 3, blew me away. To see the daily struggles of this character as she tried to just make it through her day at school, was eye-opening. One paragraph, in particular, jumped out at me.
"Do you ever feel like there are a bunch of wars in life, and we're all prisoners of war at some point? Whether it's literally a prisoner of the battlefield, a prisoner of OCD, or a prisoner of anger, we're all at war. We were all prisoners of war at some point."
The author actually came up with the idea for this story as she was dealing with her own OCD during high school. What an incredible way to deal with adversity, to put the pain and struggles on paper and share it with others.
Prisoners of War is a first novel. Writing a whole book is not easy, and I'm quite impressed with any young person who accomplishes this task. I hope Ms. Gracia will continue to hone her craft and deliver many more intriguing books in the future. I'm impressed with the strength of this young author to share so much of herself through this story, and I think this book has the potential to give inspiration to other young people who are facing struggles of their own.
Escape by Glenn Haggerty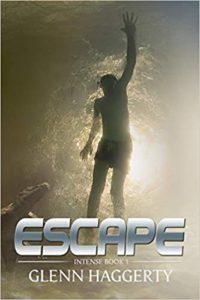 This fun, Christian, middle-grade, adventure is the first book in a series about a young teen named Tyler. Escape is actually more of a short prequel to the series, but it is a great book on its own. This is a fast read, jam-packed with action. Which might be a problem if you're hoping for a book that will take a while for your kids to read because they will get through this one quickly. But, they will most likely want to immediately read Tyler's next adventure.
Younger boys, especially will enjoy the story of thirteen-year-old Tyler. Tyler has made some bad decisions lately that have caused a lot of problems. But nothing compares to the danger he finds himself in on this particular day.
Right from the very first line the reader is drawn into the story. "I'd never seen a dead body before, but I was pretty sure the guy in the car trunk was dead."
While I love the adventure aspects, my favorite part of this book is the Christian messages. As Tyler fights for his life, his friendships, and his reputation, he begins to clearly see the bad choices he made. The lessons he learns are powerful reminders for everyone about telling the truth, being a good friend, and the importance of a loving family.
Spokes by Deanna Klingel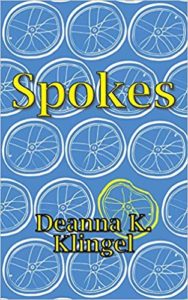 Spokes could be classified as an adventurous mystery, but the real heart of this story is the very special friendship that forms between the lead characters.
In the aftermath of a tragic accident, the lives of two very different teens. Kelsey, a homeschooled Catholic girl and Brendan, a Jewish boy who is dedicated to his faith, are intertwined. Their search for a mysterious sports car and a determination to compete in a triathlon leads these two on a summer adventure that will forever change them both. As the summer progresses and their training and search intensify, their friendship grows.
Besides the compelling storyline, there are several side stories that center around triathlon training, a group of friars, and the Special Olympics – all are quite interesting. I think this story could be the catalyst for some great conversations.
Greyson Gray Camp Legend by B.C. Tweedt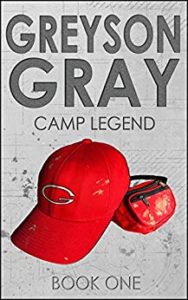 I've been curious about this book for quite a while. This book often beats out my own book in its  Amazon category, so I wondered what all the fuss was about. There is a lot to enjoy about this book but I also had a few hesitations.
Greyson Gray Camp Legend is the first is a series of books about middle school boy, Greyson Gray. Overall, this is a clean, middle-grade adventure. It is fun and fast-paced. I really enjoyed the character of Grayson and loved some of the supporting characters, especially fellow camper Jarryd and the boys' counselor Brandon. The author brilliantly captured the dialogue and friendly jabs of middle school boys.
So, what were my concerns? They aren't really concerns so much as observations. This book is listed as a Christian novel. It was a clean book and had Christian values throughout but didn't talk specifically about Christianity or mention bible verses. I don't remember the main character praying either. The violence in the book also bothered me a bit. Overall, it's not a lot of violence and what is there is not gory, I just feel like the author's descriptions were a little too, well, descriptive. There were also some deaths which, in middle-grade novels, seemed a little surprising. This book is listed on Amazon for 9 -12 year-olds, I think it would be better for 7th and 8th graders.
So, I guess it depends on what your children are exposed to, their maturity level, and the kind of books you are searching for. Overall, a very fun read.
Show Me A Sign by Susan Miura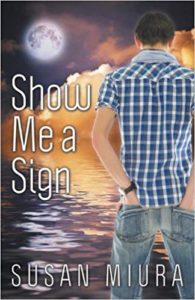 Looking for a fun mystery that is a quick read? Look no further than Susan Miura's Show Me A Sign. This was such a treat. I've read one other book by this author, Healer, so knew she had a knack for writing from a teen perspective, but I was still surprised by how much I loved this main character's internal thoughts. Nathan is such a quick-witted joy. The interactions he had with his elderly neighbor were hysterical, and the back and forth between him and his best friend was perfection.
High school student Nathan has finally worked up the courage to ask out the girl he likes. Haylie is beautiful, smart, sweet, and happens to be deaf. But when the object of Nathan's affection is kidnapped, Nathan finds himself being interrogated by the FBI. He immediately jumps headfirst into trying to clear his name and find out what happened to Haylie. Nathan pursues his investigation the only way an infatuated high school boy could – rather recklessly. Besides being a fun story, there was a fantastic message as well. That life is unpredictable, you never know what could happen. If there is someone you feel you need to share your faith with – then don't wait, do it. Show Me A Sign is one of the most enjoyable books I've read so far this year.
DRIVE! by Corinna Turner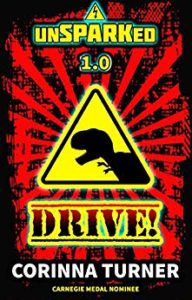 Corinna Turner has an uncanny ability to create unique worlds in her dystopian and fantasy novels. In Drive!, she takes the reader into a Jurassic Park type of society where dinosaurs, and the danger they pose, are quite real. This story is the first in her unSPARKed series, where we meet, Darryl, her brother Harry, their father, and his fiancé. Though the story is brief, it is jam-packed with intense action. The main character, Darryl, is one tough teen who can take care of herself. Unfortunately, the rest of this series is not yet available. I, for one, can't wait to read more.
BREACH! by Corinna Turner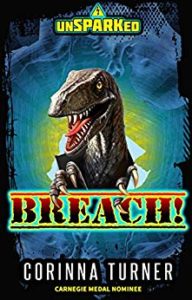 Corinna Turner has created a unique new series that YA readers will devour. Her Unsparked series can best be described as a faith-based Jurassic Park.
Breach! is actually a prequel to the previously released books Drive! and A Truly Rapturous Welcome. All these books are short little segments of a larger adventure. I find this unique format quite interesting.
In Breach! we meet the dinosaur hunter duo of Zechariah and Isaiah. These brothers have a dark and troubling past that we learn about throughout the book. But what drives this story is a new complication in their lives. What is so unique about this book is that Turner combines several genres that you don't expect to find together. There is adventurous suspense, dystopian fantasy, and a pro-life message. These aspects blend together perfectly to create a fascinating, fun, and life-affirming book.
A Truly Raptor-ous Welcome by Corinna Turner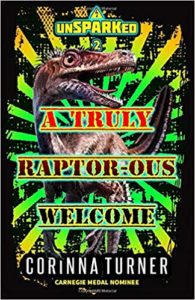 Corinna Turner is an expert at creating new, exciting worlds in her fictional books. Whether it be a dystopian future, a fantasy world, or a Jurassic-park type of environment, her descriptions brilliantly engulf the reader into her books.
A Rapturous Welcome is one of the stories in her Unsparked series. This exciting adventure follows two parallel storylines. The first revolves around Darryl and her family. Teenager Darryl has a deep faith but is tough as nails when it comes to dealing with dangerous dinosaurs. Her father recently married a city-girl who is having trouble adjusting to living in the wild, dangerous, dinosaur-filled country.
The other storyline revolves around Joshua, a young man who is alone in the world. He has been trained by his father and uncle to take on dangerous hunting jobs. This exciting story leaves you wanting more and yearning for the next installments that will be forthcoming.
Panic! by Corinna Turner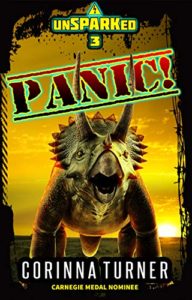 The unSPARKed series by Corinna Turner is an exciting, fast-paced series of novella length stories. Turner is a master at creating fantasy worlds. In unSPARKed the reader is immersed in a world where dinosaurs once again roam the continent and humans and dinos must coexist.
Panic is the newest segment in the unSPARKed series taking place immediately after the events in A Truly Rapturous Welcome. I have enjoyed all the stories in this series but this one is the most heart-pounding, action-filled segment yet. Through the series we have met Darryl, a no-nonsense teen, her brother Harry, and a hunter named Joshua. We get to know them each a little better and come to care for them even more. The author has an incredible series on her hands. I can't wait for the next installment.
Farmgirls Die in Cages by Corinna Turner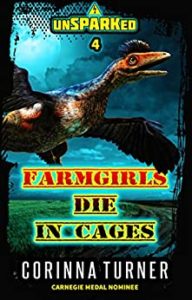 The next segment in Corinna Turner's unSPARKed series. This one takes place right where Panic left off. Darryl and her brother Harry are facing an uncertain future and the only person they can rely on is dino-hunter Joshua. Will this group of teens be able to figure out the mystery sounding Darryl's family? These exciting dinosaur-filled adventures are so difficult to put down. Each of the segments are short and quick to read and you just want to move quickly onto the next one, like binge-watching a favorite show. The story is really getting interesting and I can't wait to see what happens next!
A Very Jurassic Christmas by Corinna Turner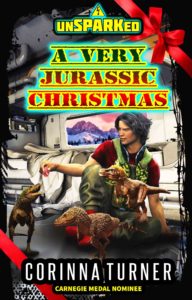 Corinna Turner's unSPARKed series continues with this newest Christmas installment. In case you are unfamiliar, this collection of short stories is set in a dystopian world where dinosaurs once again roam the earth. These unique installments are filled with adventure and Catholic faith. The first part of this tale was first published last Christmas in the Gifts: Visible & Invisible anthology brought to you by CatholicTeenBooks.com. This longer edition continues the parallel stories of dino-hunter Joshua and farmgirl Darryl. Joshua's Christmas plans have been altered when he and his uncle take on the dangerous rescue of a large dino mama and her chicks. Darryl learns a lesson of patience and humility when her Christmas plans also go awry. But when you live in a dino-world, you must always expect the unexpected.
Saint Michael Above the 38th Parallel by Shanti Guy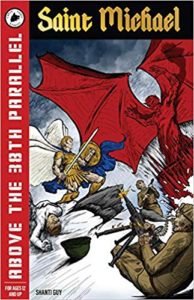 This is a graphic novel about the real story of a Marine during the Korean War who had an amazing encounter with Michael the Archangel. I hadn't heard of this event before but was fascinated by this miraculous encounter on the battlefield. I thought the author did a great job with the presentation of the story and the illustrations were great. I would like to point out that the author did take a little liberty in how he represented the Korean soldiers but maybe did so for the excitement of the story. Even though evil certainly may exist during times of war, many soldiers themselves are not evil but are following their orders. This thought and the premise of the story, that angels can make an appearance to help us when we are in need, provides some fantastic discussion opportunities. If you have a teen who loves comics and graphic novels, this might be a really great choice.
A Tragic Introduction Scott McCully Espionage Adventure by Jessica C. Joiner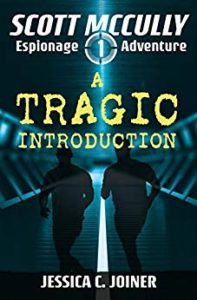 This is a fun adventure for teens. Scott McCully is a high school student at a military academy. When his parents don't show up for his football game, he discovers that things are not what they seem. This is the first book in a series about Scott. For all those kids who would love to become a secret agent themselves. Even though this is a YA book and the main characters are high school students, sometimes I felt through the dialogue and storyline, this was more of a middle-grade story. It was a little far-fetched and unbelievable but was a fun adventure. I really loved that Scott and his friend Matt, were strong Christians. Sometimes this element can be difficult to show in a story but I thought the author did a nice job in just making their faith part of the story. Their beliefs were not over the top or forced on anyone, but it showed that those values made these young men the good guys that they are.
Launch by Jason C. Joyner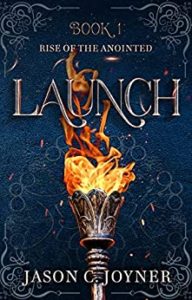 If your teen enjoys superhero movies and stories, this might be a great book for them. When my kids were teens, they loved movies about heroes with incredible powers who protected the world from the evil villains. Launch is such a story—a Christian teen version of Avengers or X-men.
The novel begins when a large group of teens is invited to an amazing weekend at a Silicon Valley campus to meet Simon Mazor, the rising star of a new social media empire. The weekend is heralded as an opportunity for young, bright minds to help change the world. Demarcus, Lily, Harry, and Sarah Jane are four of the invited guests who become fast friends. These four teens also happen to be extremely special in that they each have recently developed unique superpowers.
The conference starts out full of exciting promise for the teens, but as the weekend continues, it appears that something more sinister is at play. Aided by a mysterious, elderly gentleman, the teens learn that their incredible powers have been bestowed on them by God and that they have received their gifts for a particular reason and at that exact moment to help stop an evil plan of destruction.
The good news is that Launch is the first novel in the Rise of the Anointed series, which means there will be more adventures with these likable characters.
Time Crashers: Fire on the Mountain by Michael Brewer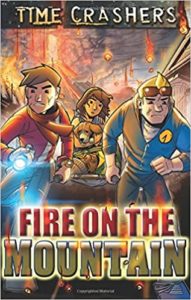 If you're searching for a fun adventure that will keep your kids entertained for hours, this book might be for you. When my children were younger, my husband had tracked down a few old copies of some choose-your-own-ending stories that he had read when he was a kid. They loved being able to change the story and would read those books over and over to discover all the possible options. So, when I recently came across this Christian book with the same premise, I was quite excited.
Fire on the Mountain is actually the 2nd book in this unique series – I somehow missed that little fact – but it didn't matter at all. The premise of the series was easy to understand. The father of one of the main characters is a scientist who has invented a time machine. When something goes wrong and he disappears, the three friends begin time-traveling in search for him.
This book finds them in ancient Pompeii – the day of the fateful Mt. Vesuvius eruption. The many choices that the reader can make gives this book an extra element of fun. Through the different pathways the reader learns about ancient Italy, gladiators, the persecution of early Christians, and the destruction of Pompeii. Besides the historical facts, there were Bible verses to learn and a few puzzles to decipher along the way. This fun story has lots to offer.
A Reluctant Assassin by J.C. Morrows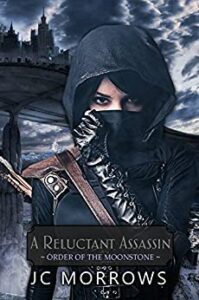 This YA book is basically a retelling of the Cinderella story—with a big twist—the rags to riches young lady at the ball is actually an assassin on a mission to kill the Prince. That description and the eye-catching cover drew me right in. I enjoyed the book quite a bit—the characters were likable the storyline was intriguing, although it wasn't exactly what I was expecting. The book is less of an action-packed suspense novel and more of a romantic adventure.
I really enjoyed how the story progressed through the points of view of both the male and female lead characters. This is always a nice way to get to know both characters.  However, there were a few times when it made this story feel a little disjointed, like I'd missed something. Also, I would've liked a more details about Kayden's background—but that may be revealed in the next book. There is also a short prequel that may answer some of my questions.
The series, Order of the Moonstone, is comprised of numerous books, which is good news because if you're anything like me—you'll want to keep reading since A Reluctant Assassin ends not only with a twist but also on a bit of a cliffhanger.
Avalanche: Off The Itinerary book 1 by M. Liz Boyle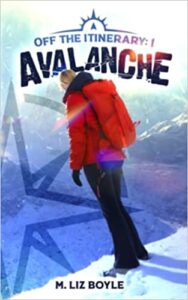 This Christian adventure story drew me right in with the opening line. "As I felt the wall of snow crash into me and sweep me down the mountain like an autumn leaf, I would have given almost anything to take back my decision to go along with this reckless idea." Well, I certainly needed to find out what happened next!
Avalanche is told from the perspective of Marlee Stanley who joins her two sisters and the sons of family friends on a secretive middle-of-the-night hike. Their fathers are mountaineers and have trained their children in mountain climbing and survival techniques, but when the teens encounter an avalanche, their skills are truly put to the test.
I enjoyed the many moments of faith, the growth in the characters, the mountaineering terms, and the survival tips that the author sprinkled into the story. I've already purchased the other two books in the Off The Itinerary series, Chased and Ablaze, and look forward to new adventures with these characters.
Chased: Off the Itinerary book 2 by M. Liz Boyle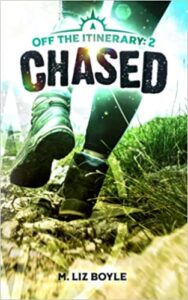 This is the second book in Boyle's Off the Itinerary series. I was swept away by Avalanche and left completely breathless by this sequel, Chased. These books are exactly the types of books I adore—exciting adventures with great characters and plenty of affirming faith.
When the two sets of siblings embark on another hiking trip, they are expecting a much calmer vacation than their encounter the year before with an avalanche. But trouble continues to find its way onto the path of these family friends. All seems to be right on track until the teens encounter a lone hiker. Soon their quiet trek in the woods is anything but peaceful.
There is enough background information for this book to be read alone, but getting to know the characters through the first adventure is quite enjoyable. This is a great series for teens that parents will also appreciate—enjoyable adventures with wholesome values. Okay—time to go start on the third book.
Ablaze: Off the Itinerary book 3 by M. Liz Boyle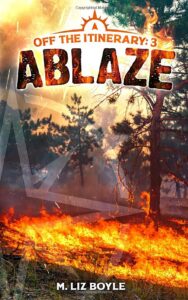 This was such an enjoyable series. Each faith-filled storyline was intriguing and informative – I really feel like I learned a lot of survival skills! The main characters have begun to feel like friends, and I was excited to join them on another adventure. I highly recommend this series for teens.