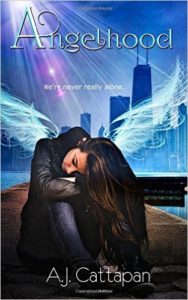 Angelhood by A.J. Cattapan
Angelhood by AJ Cattapan is a captivating YA novel that tackles an extremely difficult subject while putting an intriguing and heartfelt twist to it. Cattapan is a talented writer who has effortlessly created a story about teen suicide which is moving, positive, and uplifting. This hard to put down book encourages readers to think about the good in their lives and how much they'd miss it if they did the unthinkable and gave it up. The lead character is completely relatable and likeable, as readers we empathize with the despair she feels in her life as well as the painful realization of the damage her decisions have on others. The novel's intriguing premises and subplots are the perfect elements to generate great discussions. I only wish I had known someone else who had read it because I had so much I wanted to debate and talk about. This is a truly exceptional novel.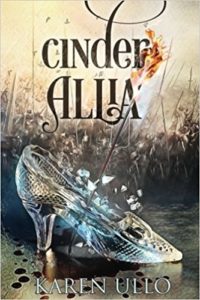 Cinder Allia by Karen Ullo
This retelling of the famous fairytale was such a delight. There were so many fantastic twists to this new version that made this story engaging and fast-moving.
What happens when our heroine's prince is killed in battle before he can rescue her from her cruel life? What any strong female would do, of course, solve the problem herself.
Armed with faith, a sword, and some unlikely allies she ventures out to find her new path in life. But will Allia be able to find love and happiness when faced with overwhelming odds including: deception at the palace, betrayal amid the noblemen, wicked lies, tragic heartache, and unfathomable cruelty?
I would recommend this book for older or mature teens. The language was stunning but quite ornate. A great read to expand a vocabulary but could be difficult for younger readers to follow. It was a clean read but there were some innuendos of mature situations. However, because of the more ornamented language, those aren't extremely obvious. Overall, a very enjoyable teen novel.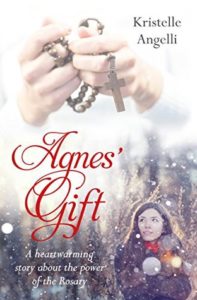 Agnes' Gift by Kristelle Angelli
I found this book to be quite unique. As a fictional story, there isn't really a huge plot but this book overflows with deep poignant messages. This young adult novel would be perfect for anyone wanting to deepen their Catholic faith or someone with questions regarding the Rosary. There are so many fantastic discussion points throughout the book that it would be a fabulous book for a bookclub, a youth group, or to read as a family.
The story centers around Jenna, a modern-day teen, who is struggling through some very tough family issues. And the one person in her life who was really there for her during those difficult times, her neighbor Agnes, recently died. Now Jenna finds herself, in more despair than ever, sitting alone on Christmas Eve.
Before Agnes passed away she left Jenna a Christmas gift. While Jenna contemplates the unopened package her guardian angel appears to her. He leads her on a miraculous journey to experience firsthand all the mysteries of the Rosary.
I thought this was a really beautiful way to explore the Rosary. Experiencing the moments in the lives of Jesus and Mary this way was very unique. Pondering how they and everyone around them might have felt during these mysteries of our faith was quite powerful.
My favorite was the second Luminous Mystery, the wedding feast in Cana. The portrayal of this scene made me think about the relationship between Mary and Jesus in a slightly different way and in turn how Mary cares for and understands all of us.
This is not a light read. There are many thoughts and mysteries to ponder and messages to dwell on but it's a wonderful book to help you grow in your faith.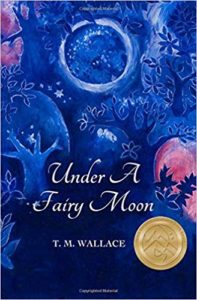 Under A Fairy Moon by T.M. Wallace
Under a Fairy Moon reminds me of a Madeleine L'Engle book. Others have compared it to C.S. Lewis and Lewis Carroll.  It was about a young girl who is whisked away into another world that she must save through an incredible adventure. I loved the writing style and understand why the book has received several awards. I'm also in awe of the creativity of the author. How an imagination can think of such unusual creatures and experiences is incredible.
I also enjoyed the main characters of Addy and Connor. I loved that the kids were the heroes and could solve the problems. While I'm not a huge fan of fantasy books, I think middle-grade kids who like the fantasy genre would enjoy this book. There are some good messages – right from wrong, treating people well, and finding courage.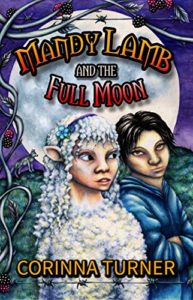 Mandy Lamb and the Full Moon by Corinna Turner
Mandy Lamb is a totally unique novel about friendship. This tale about the unusual friendship between Mandy, the world's first half girl/half lamb, and James another human hybrid with a dangerous secret, is like nothing I've ever read. I've been a fan of Corinna Turner and her I Am Margaret series for older teens, but this fantasy novel is for a younger crowd. Mandy and James are 12 and both have had a lot to deal with in young lives. Their unique struggles with fitting in is a topic that a lot of kids in this age group can relate to. I also really loved the parts that showed how important it is to have a strong faith. But what makes this novel really intriguing is the serious moral dilemmas that Turner introduces. This is one of the things I always enjoy about Turner's books, her ability to bring up important societal topics, that other people don't write about. In this book the subject of controlling and manipulating genetics is part of the story. However, since this book is written for older elementary and middle school students, the moral implications is just touched upon, leaving families the opportunity to delve into this subject matter as much as they would like. Another wonderful book by Corinna Turner.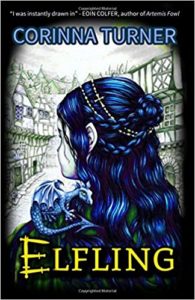 Elfling by Corinna Turner
Few authors are as blessed with creativity as Corinna Turner. Whether it be her incredible dystopian series – I am Margaret, her middle-grade novel – Mandy Lamb, her Jurassic-type short story Drive, or this YA fantasy novel, she always does a masterful job of creating new, unique worlds. The details she includes, such as new words, complicated technologies, and realistic histories, is impressive.
Elfling is the story of Serapia who after the death of her mother has been forced to fend for herself on the unforgiving streets. With her small dragonet along for the adventure, she embarks on a quest to find her father, only to learn that he is dying. This leads Serapia on a search for elves and healing powers.
There are some elements of sorcery, but it is made very clear that this is evil. I did think the middle of the story bogged down just a little through her long journey and the flashbacks of resurfacing memories. But I really liked the strong themes of good vs. bad and that Serapia prayed and believed in God. I think older teens who like fantasy novels will thoroughly enjoy this very imaginative story.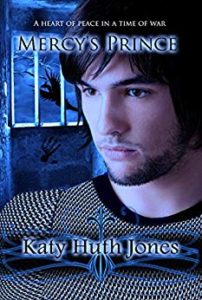 Mercy's Prince by Katy Huth Jones
I am not usually a fan of fantasy novels, sometimes there are just too many new concepts in the imaginary worlds that I find them distracting and just can't get into them. Mercy's Prince however was more like an adventure novel set in medieval times. Of course, the imaginary Hordes, dragons, and unique powers of the characters move it into the fantasy realm but these elements work so well in this story. In this first novel of the series, we meet the brave and heroic Prince Valerian and the lovely and powerful Mercy.
Mercy has grown up in a Brethren colony of pacifists. Valerian is the youngest son of the King of Levathia. I don't want to give much of the plat away, but this unlikely duo must work together to save their country from the destructive masses of the Horde.
There were many aspects to this book that I really enjoyed. Valerian was an incredible character – brave, strong, and devoted to his faith. There were plenty of battle scenes that will spark the interest of male readers. (The boys may not care about the last 2 or 3 chapters which winds up the love story.) Mercy is a strong female character and the relationship between the two leads will be something the female readers will enjoy.
The part of Christian fantasy that bothers me is that faith and God are often not the same faith and God that we believe in. I know some of the most incredible Christian authors use allegory in their fictional writing but it has always bothered me. This novel does not do that. Also, having grown up as a Mennonite, I come from a pacifist background, so really enjoyed the parts about Mercy's village and their beliefs.
I found the story very unpredictable. I read a lot of books so often get a sense of what may be coming next. But I was completely wrong numerous times. This story did not fall into many of the typical clichés and storylines that you run into. Mercy's Prince is a great book.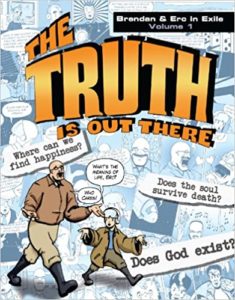 Brendan & Erc in Exile: The Truth is Out There by Amadeus
This book was such an unexpected surprise. I had no idea what to expect from an apologetic comic book. What does that even mean? But this is a gem for those teens, or even adults, who like philosophical debates. Brendan and Erc in Exile, written by a self-described contemplative priest, is unique and a clever way to share some truths of the faith.
Brendan and Erc are interplanetary mailmen. These co-workers begin a journey of philosophical and theological questions about the meaning of life. The different people these friends encounter as they travel through the galaxy, help them to uncover truths of the faith.
This is such a fun, yet deeply informative book. The unique format makes the deep topics completely understandable. I'm curious about Brendan and Erc's next adventure.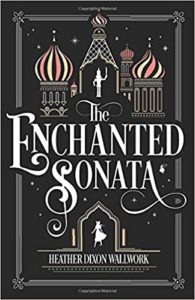 The Enchanted Sonata by Heather Dixon Wallwork
This teen novel adds a new twist to the classic story, The Nutcracker. Attending the Nutcracker ballet is a holiday tradition in my family, so I was immediately drawn to this book. The author did a wonderful job of using enough elements of the well-known story to satisfy the needs of those who are familiar with Clara and the Nutcracker Prince but adds enough new aspects and twists to keep the reader guessing and engaged. Faith does not play a large role in this fantasy, but there are a few moments of prayer included. This is a different type of Christmas novel, but I found it an enjoyable break from reality and thoroughly enchanting.