Angelhood by A.J. Cattapan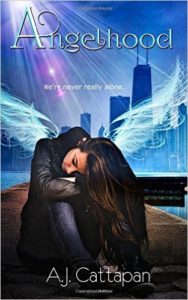 Angelhood by AJ Cattapan is a captivating YA novel that tackles an extremely difficult subject while putting an intriguing and heartfelt twist to it. Cattapan is a talented writer who has effortlessly created a story about teen suicide which is moving, positive, and uplifting. This hard to put down book encourages readers to think about the good in their lives and how much they'd miss it if they did the unthinkable and gave it up. The lead character is completely relatable and likeable, as readers we empathize with the despair she feels in her life as well as the painful realization of the damage her decisions have on others. The novel's intriguing premises and subplots are the perfect elements to generate great discussions. I only wish I had known someone else who had read it because I had so much I wanted to debate and talk about. This is a truly exceptional novel.
Cinder Allia by Karen Ullo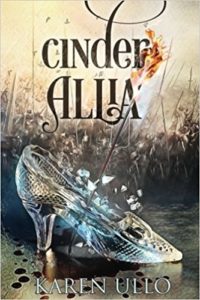 This retelling of the famous fairytale was such a delight. There were so many fantastic twists to this new version that made this story engaging and fast-moving.
What happens when our heroine's prince is killed in battle before he can rescue her from her cruel life? What any strong female would do, of course, solve the problem herself.
Armed with faith, a sword, and some unlikely allies she ventures out to find her new path in life. But will Allia be able to find love and happiness when faced with overwhelming odds including: deception at the palace, betrayal amid the noblemen, wicked lies, tragic heartache, and unfathomable cruelty?
I would recommend this book for older or mature teens. The language was stunning but quite ornate. A great read to expand a vocabulary but could be difficult for younger readers to follow. It was a clean read but there were some innuendos of mature situations. However, because of the more ornamented language, those aren't extremely obvious. Overall, a very enjoyable teen novel.
Agnes' Gift by Kristelle Angelli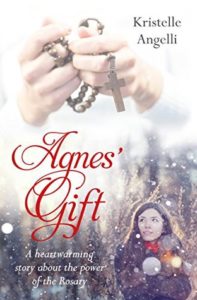 I found this book to be quite unique. As a fictional story, there isn't really a huge plot but this book overflows with deep poignant messages. This young adult novel would be perfect for anyone wanting to deepen their Catholic faith or someone with questions regarding the Rosary. There are so many fantastic discussion points throughout the book that it would be a fabulous book for a bookclub, a youth group, or to read as a family.
The story centers around Jenna, a modern-day teen, who is struggling through some very tough family issues. And the one person in her life who was really there for her during those difficult times, her neighbor Agnes, recently died. Now Jenna finds herself, in more despair than ever, sitting alone on Christmas Eve.
Before Agnes passed away she left Jenna a Christmas gift. While Jenna contemplates the unopened package her guardian angel appears to her. He leads her on a miraculous journey to experience firsthand all the mysteries of the Rosary.
I thought this was a really beautiful way to explore the Rosary. Experiencing the moments in the lives of Jesus and Mary this way was very unique. Pondering how they and everyone around them might have felt during these mysteries of our faith was quite powerful.
My favorite was the second Luminous Mystery, the wedding feast in Cana. The portrayal of this scene made me think about the relationship between Mary and Jesus in a slightly different way and in turn how Mary cares for and understands all of us.
This is not a light read. There are many thoughts and mysteries to ponder and messages to dwell on but it's a wonderful book to help you grow in your faith.
Under A Fairy Moon by T.M. Wallace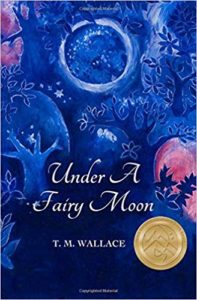 Under a Fairy Moon reminds me of a Madeleine L'Engle book. Others have compared it to C.S. Lewis and Lewis Carroll.  It was about a young girl who is whisked away into another world that she must save through an incredible adventure. I loved the writing style and understand why the book has received several awards. I'm also in awe of the creativity of the author. How an imagination can think of such unusual creatures and experiences is incredible.
I also enjoyed the main characters of Addy and Connor. I loved that the kids were the heroes and could solve the problems. While I'm not a huge fan of fantasy books, I think middle-grade kids who like the fantasy genre would enjoy this book. There are some good messages – right from wrong, treating people well, and finding courage.
Mandy Lamb and the Full Moon by Corinna Turner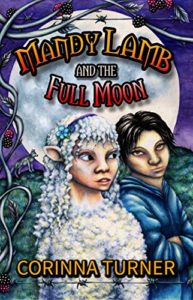 Mandy Lamb is a totally unique novel about friendship. This tale about the unusual friendship between Mandy, the world's first half girl/half lamb, and James another human hybrid with a dangerous secret, is like nothing I've ever read. I've been a fan of Corinna Turner and her I Am Margaret series for older teens, but this fantasy novel is for a younger crowd. Mandy and James are 12 and both have had a lot to deal with in young lives. Their unique struggles with fitting in is a topic that a lot of kids in this age group can relate to. I also really loved the parts that showed how important it is to have a strong faith. But what makes this novel really intriguing is the serious moral dilemmas that Turner introduces. This is one of the things I always enjoy about Turner's books, her ability to bring up important societal topics, that other people don't write about. In this book the subject of controlling and manipulating genetics is part of the story. However, since this book is written for older elementary and middle school students, the moral implications is just touched upon, leaving families the opportunity to delve into this subject matter as much as they would like. Another wonderful book by Corinna Turner.
Elfling by Corinna Turner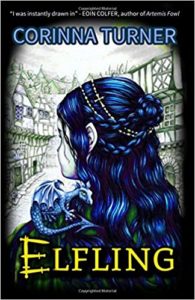 Few authors are as blessed with creativity as Corinna Turner. Whether it be her incredible dystopian series – I am Margaret, her middle-grade novel – Mandy Lamb, her Jurassic-type short story Drive, or this YA fantasy novel, she always does a masterful job of creating new, unique worlds. The details she includes, such as new words, complicated technologies, and realistic histories, is impressive.
Elfling is the story of Serapia who after the death of her mother has been forced to fend for herself on the unforgiving streets. With her small dragonet along for the adventure, she embarks on a quest to find her father, only to learn that he is dying. This leads Serapia on a search for elves and healing powers.
There are some elements of sorcery, but it is made very clear that this is evil. I did think the middle of the story bogged down just a little through her long journey and the flashbacks of resurfacing memories. But I really liked the strong themes of good vs. bad and that Serapia prayed and believed in God. I think older teens who like fantasy novels will thoroughly enjoy this very imaginative story.
Mercy's Prince by Katy Huth Jones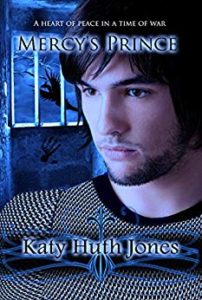 I am not usually a fan of fantasy novels, sometimes there are just too many new concepts in the imaginary worlds that I find them distracting and just can't get into them. Mercy's Prince however was more like an adventure novel set in medieval times. Of course, the imaginary Hordes, dragons, and unique powers of the characters move it into the fantasy realm but these elements work so well in this story. In this first novel of the series, we meet the brave and heroic Prince Valerian and the lovely and powerful Mercy.
Mercy has grown up in a Brethren colony of pacifists. Valerian is the youngest son of the King of Levathia. I don't want to give much of the plat away, but this unlikely duo must work together to save their country from the destructive masses of the Horde.
There were many aspects to this book that I really enjoyed. Valerian was an incredible character – brave, strong, and devoted to his faith. There were plenty of battle scenes that will spark the interest of male readers. (The boys may not care about the last 2 or 3 chapters which winds up the love story.) Mercy is a strong female character and the relationship between the two leads will be something the female readers will enjoy.
The part of Christian fantasy that bothers me is that faith and God are often not the same faith and God that we believe in. I know some of the most incredible Christian authors use allegory in their fictional writing but it has always bothered me. This novel does not do that. Also, having grown up as a Mennonite, I come from a pacifist background, so really enjoyed the parts about Mercy's village and their beliefs.
I found the story very unpredictable. I read a lot of books so often get a sense of what may be coming next. But I was completely wrong numerous times. This story did not fall into many of the typical clichés and storylines that you run into. Mercy's Prince is a great book.
Brendan & Erc in Exile: The Truth is Out There by Amadeus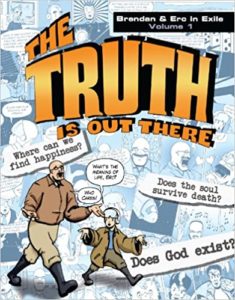 This book was such an unexpected surprise. I had no idea what to expect from an apologetic comic book. What does that even mean? But this is a gem for those teens, or even adults, who like philosophical debates. Brendan and Erc in Exile, written by a self-described contemplative priest, is unique and a clever way to share some truths of the faith.
Brendan and Erc are interplanetary mailmen. These co-workers begin a journey of philosophical and theological questions about the meaning of life. The different people these friends encounter as they travel through the galaxy, help them to uncover truths of the faith.
This is such a fun, yet deeply informative book. The unique format makes the deep topics completely understandable. I'm curious about Brendan and Erc's next adventure.
The Enchanted Sonata by Heather Dixon Wallwork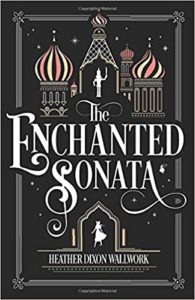 This teen novel adds a new twist to the classic story, The Nutcracker. Attending the Nutcracker ballet is a holiday tradition in my family, so I was immediately drawn to this book. The author did a wonderful job of using enough elements of the well-known story to satisfy the needs of those who are familiar with Clara and the Nutcracker Prince but adds enough new aspects and twists to keep the reader guessing and engaged. Faith does not play a large role in this fantasy, but there are a few moments of prayer included. This is a different type of Christmas novel, but I found it an enjoyable break from reality and thoroughly enchanting.
Champion of Valdeor by Sandralena Hanley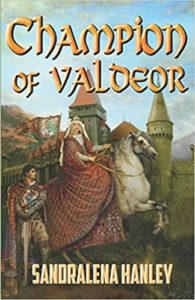 This fantasy story has a fairy-tale feel to it that swept me away. It is an epic adventure of good vs. evil that is perfect for any teen. A strong, smart female. A virtuous young man. Both characters have a deep faith.
This story revolves around Alloryn, a simple shepherd boy who is called to find the country's long-lost princess, Lauressa, in order to save the land from cruel leaders. While Alloryn is tasked with returning the princess to her throne, she is anything but a helpless heroine. Lauressa has been trained over the years to not only take care of herself but to be a wise, fair ruler for her kingdom.
There are many great scenes along the journey, but I particularly enjoyed a sequence toward the beginning where Alloryn's mentor uses chores and work to prepare the youth with the skills needed for his difficult mission. Alloryn learns his lessons well as he truly becomes the Champion of Valdeor.
This story is bursting with action but also has a wonderful relationship story. This couple is one that you are rooting for from the beginning. She's a princess from another time. He's a shepherd boy who becomes her champion. Together they must travel across the land, overcoming challenges, defeating villains, and facing tests of valor.
What a wonderful fantasy story for teens.
Be: The Journey of Rol by Ric Colegrove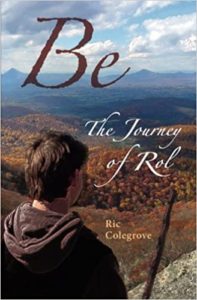 I don't remember the last time I had so much fun reading a book. The author has quite the imagination. This story reminded me of the journey in The Hobbit with the humor of The Princess Bride. This fantasy novel is filled with humorous passages, silly descriptions, and several laugh-out-loud moments. And a few clever moments of breaking the fourth wall (that's probably not even a thing in books but I don't know how else to describe it).
I mean, who can't appreciate these descriptions on Rol's map:
The Straits of Straight-up Pain, the Cave of We'll Have None of That, and the River of Aaaaaaaaaaaagh . . . Splash . . .Ohnooooo.
And here's one of my favorite lines:
"What we need—us, right now—is an adventure song or ballad . . . a Salad. About our adventures so far," Rol added excitedly as they continued walking.
Rol was such a great character. I loved his decision to be happy and not to worry about things, even when things go horribly wrong. When his mentor is taken by a horde of grumblegoblins—yep, you read that right, grumblegoblins, he makes the decision to embark on an epic journey, with the help of his trusty map.
Along the way, Rol meets two traveling companions who make the journey with him. The unique villages and situations they come across challenge the three new friends in many unexpected ways. The trio rely on their smarts, faith, determination, dumb luck to overcome all obstacles. This would be a fabulous story to read as a family. There are some wonderful discussion topics about friendships, courage, and self-discovery hidden amid the humorous gems.
Jenna's Journey by Karen Kelly Boyce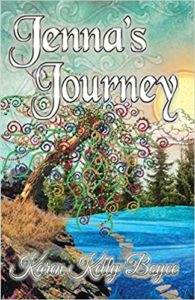 What a delightful, heart-breaking, thought-provoking, and surprising read!
When young Jenna suffers a devasting blow, her entire life is forever changed. As Jenna tries to deal with her new reality, her estranged aunt makes an appearance, throwing Jenna's world into even more chaos. Feeling completely alone and abandoned, Jenna has an unusual other-worldly experience that gives her renewed hope.
Despite the horrible situation, Jenna finds herself in, the beginning and end of this book felt almost a little cartoonish. I certainly don't mean that in a bad way because I loved these parts. I just mean that the characters and situations were a little over the top. This style really grabbed my attention and kept me turning the pages.
I was delightfully reading along, curious where the story would lead when the plot suddenly took a twist taking me by complete surprise. Jenna is swept away from reality to a dreamlike world, reminding me a bit of The Wizard of Oz. The insights and allegories during this unexpected journey were truly powerful. During Jenna's quest, as she strengthens and grows in character, beautiful truths about our Catholic faith and devotion to Mary, Our Blessed Mother, were revealed.
This middle-grade book might be small, but it has a lot of depth to it. As I finished the last page, I wished I had someone to chat with about the story. Jenna's Journey would make an excellent discussion book for a classroom or youth group.
Nephilim: Warrior of the Kizan Book 1 by Ann Margaret Lewis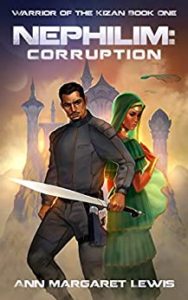 Nephilim: Warrior of Kizan has plenty of adventure and romance to appeal to a multitude of readers. The characters are not teenagers, they are a little older, but I think teens will enjoy this clean novel. This sci-fi book has a unique twist that I greatly appreciated. I've always been troubled with Christian fantasy worlds that have their own deity that is worshipped, even if it is a fictional representation of our one true Lord. This story, however, while set on another planet, has a biblical history and Christian characters who worship Christ, the same as their earthly relatives.
The story revolves around Tasia, the heir to the throne of her world. When she is kidnapped, the warrior Dakhar is sent to rescue her. Tasia ends up on earth where several humans assist her—these scenes were my favorite. I loved the interactions when the young adults Tasia meets discover she is from another planet. I only wish there had been a few more scenes between them in the second half of the story.
The world that the author created was very unique and well thought out. And there are some wonderful Christian messages throughout this adventurous story. A glossary is even provided, which was helpful because I kept getting some of the words confused. If you enjoy science fiction novels, this is one to check out.
The Gate Through the Old Elm Tree by Elizabeth Pietrantonio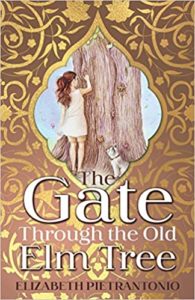 This novel is a retelling of one of my favorite books in the Bible—Esther. In recent years, I've been drawn to Esther 4:14 "Perhaps you were born for such a time as this."  What an powerful idea to contemplate. In fact, when difficult times arise, I often think of this verse. It somehow gives me comfort and fills me with determination.
In this book, Esther is a modern-day teen who finds herself magically transported, along with her dog, to ancient Persia. Almost immediately, she is taken hostage as a potential bride for King Xerxes. As Esther prepares to meet the King, it becomes apparent that she has an incredible opportunity to save the Jews from the evil advisor Haman. Her faith, along with several new friends (including some talking animals), help her with this mission.
I really enjoyed this story. Putting yourself into a Biblical story can be a great way to understand the passages a little better and make it relevant to your life. This entertaining book provides a lot of fantastic issues to contemplate. For instance, have you ever thought that maybe God chose you to live in this particular time period? Are you being called to right any wrongs? Do you have the courage to take a stand? The modern-day twist was an intriguing way to bring this amazing story about a courageous young woman to today's youth.
The Crown Jewels of Undlar by Roger Thomas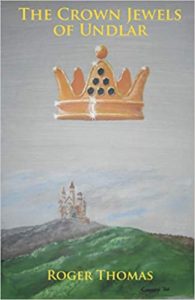 This story about six siblings who find themselves in a strange new land was very reminiscent of The Lion, The Witch, and The Wardrobe. I have read a few books by Roger Thomas and have been impressed with each one. His books are all unique—this one for the younger crowd is fantastic.
When Angela's parents put her in charge of her siblings for an afternoon, she has no idea what's in store. The mundane task quickly spirals out of control as her siblings begin bickering with one another. In an attempt to calm things, she brings them together to pray. Their prayer for an adventure becomes something they never expected—saving another world.
When the siblings awake from an unexpected slumber, they find themselves in a strange world where they are considered giants. They learn that this new place, Undlar, has been under attack. When the residents remember an ancient prophesy that spoke of giants who would save the citizens and find the six crown jewels, they, along with the animals of Undlar, look to the six children to save them.
This was an exciting, faith-based adventure. I especially loved how each child, even the youngest siblings, had an opportunity to discover one of the jewels using their own unique talents. This book is full of wonderful messages of working together, developing friendships, trusting one another, and the power of prayer—all combined together for a delightful tale.
The Mermaid and the Unicorn by Elizabeth Amy Hajek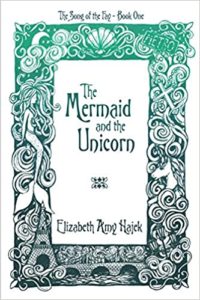 Daphne is thrilled to studying abroad in Paris. After being homeschooled most of her life, this young college student is eager to spread her wings. A semester of classes while boarding at a convent with a small group of students and teachers sounds like the perfect opportunity. But her time in the City of Lights turns into more than expected when Daphne makes the shocking discovery that some fairytale creatures may actually be real.
This was an enjoyable clean fantasy novel for teens. The author's vivid imagination combined faith, relationships, and mystical creatures into a sweet romantic adventure. The descriptions of Paris were lovely, Daphne's love interest was honorable, and the questions about vocation were quite compelling. I especially appreciated how devoted many of the characters were to their faith.
If you like your fantasy intermixed with a contemporary story, then this sweet book might be a great choice for you.
Mary's Son by Darryl Nyznyk
Mary's Son is a fantasy tale that combines Jesus and Santa. That may sound odd, but this is a sweet story with a beautiful message. This Christmas tale has the old-fashioned feel of Miracle on 34th Street – one of my favorite holiday movies – maybe that is why I enjoyed this book so much.
This book revolves around an elderly gentleman, Nicholas, who, with powers given to him by God, is able to show two teens from opposites sides of town the real meaning of Christmas. Spoiled and self-centered Sarah is the only child of the wealthiest widower in town. Angry and defensive Jared is the oldest child of a poor family who is still reeling from the abandonment of their father.
Both teens are heading down a destructive path until Nicholas arrives and takes them on a journey – one they will never forget. One that will not only reveal what Christmas is truly about but will ultimately change their lives forever.
Moonboy by Karina Fabian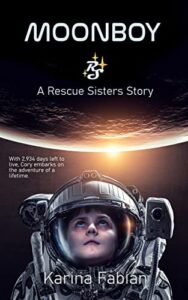 Moonboy is a very short story and part of the author's Rescue Sisters series. Several years ago, I read, and thoroughly enjoyed, one other book in this series about a group of nuns who travel around the universe helping people. If you like fantasy and science fiction novels, this author is one to check out. The unique worlds she creates are not only fascinating but also entertaining. While most of her novels have adult characters, older teens would find them engaging as well. Since I normally review teen novels, I was excited to discover this short story about a teen boy. Cory Taylor, however, is no ordinary teen. Cory was born on the moon and, due to the differences in atmosphere, is unable to safely leave the moon. But all he wants is to experience a grand adventure, like that of his favorite fictional character.
However, when he concocts a plan to do just that, things go awry, and he finds himself stuck on an isolated part of the moon with several nuns and a priest. While not what he had hoped for, his botched escape gives him the adventure of a lifetime. This short story brings up some interesting topics that could lead to some fantastic discussions about science, technology, and faith. I really enjoyed this character and hope there might be a full-length book featuring him one day.
Heavens Hunter by Marie Keiser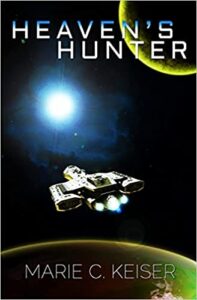 I haven't read many Christian sci-fi stories, so I was excited to check this one out. And I'm so glad I did. Detective Randall Yung of the Galactic Fleet only wants to serve his government and keep the galaxy safe, despite the fact that his wealthy, powerful family does not view his career choices as worthy. However, when his newest assignment makes him question everything he's ever been told, his world is turned inside out. Could the government really have been changing history and keeping facts from their citizens? Could it be possible that the dangerous rebellion initiated by Catholic groups is something other than what he'd been taught?
As Randall delves into the past to answer lingering questions, the truths he discovers will put him into even greater danger, threatening his reputation, his job, and even his life. I enjoyed the main character, although I would have loved to get into his head a little more. While I appreciate his stoic and regimented personality, I would've loved to see more of his personal angst and turmoil. The book's message of standing up for what is right is a message for our times. It can be much easier to just go along with the status quo. Thank goodness for those who remain steadfast in discovering and defending honor and truth. May more of us strive to be like Randall Yung. Great debut novel.
Cloak of the Light by Chuck Black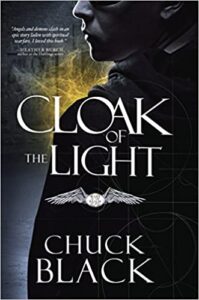 This was one of those books that I couldn't put down. This speculative YA novel has so much going for it—adventure, action, faith, and a blossoming romance. While some of the beginning chapters felt a little drawn out, as the backstory was presented, I kept turning the pages, anxious to discover what would happen next.
Drew Carter has had a lot of tragic setbacks in his life. Thankfully, between his devoted mother, his protective mentor, and his steadfast best friend, he has been able to make it through those devasting challenges. But there is one thing he does not have in his life—faith. He fails to understand how others can cling to their unfounded beliefs—especially Sydney, the one girl he's never been able to get out of his mind.
When Drew helps his friend Ben look into their college professor's disappearance, his life is altered forever. He suddenly sees things that others do not—evil invaders that are threatening society. In order to save the world from these unseen enemies, Drew must somehow prove that he is not crazy.
I really adored the main character. His persevering spirit, kind heart, determination to fight for justice, and mad survival skills make him a hero you can't help but root for. Beware, though, this is the first book in a series and, if you're anything like me, you will immediately want to start the chapter of Drew's story.
Speculative stories are always fascinating. Imagining the spirit world around us, the battles that circle around us, keeping us safe, is worth thinking about.
The Calling by Nathan Thomas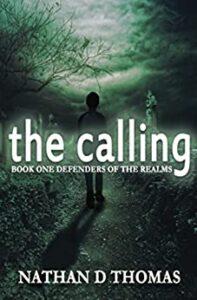 This is a speculative story – the author's idea of what might be happening around us in a spiritual realm. If you enjoy speculative fantasy, you'll probably really like this enjoyable read.
Teenager Eli is devastated. His beloved grandfather has just passed away. While everyone gathers after the funeral, Eli goes off alone – needing time to deal with his grief. In a moment of quiet contemplation, he chooses to honor his grandfather's wishes and truly turn his life over to Christ. This momentous decision changes everything. Suddenly Eli finds himself in a spiritual realm. If he has the courage to answer his calling, he will begin his mission of defeating evil and defending the faith in both the spiritual and the earthly realms.
This first book in the series is an action-packed adventure focusing on Eli's training. In order to become a Defender of the Realm, this young teen must first complete several challenges. As Eli works to prove himself worthy of this Holy mission, his newfound faith and internal strength are put to the test.
Heart's Relief by Ruth Apollonio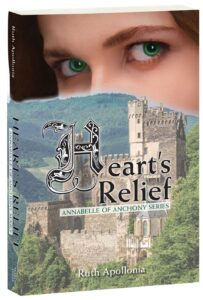 Heart's Relief is the second book in the Annabelle of Anchony series by Ruth Apollonio. What a joy to reconnect with the memorable characters from the first book. I also enjoyed getting to know Annabelle's family as this new, intriguing adventure unfolded. While the story is thoroughly engaging, what truly sets this fantasy series apart is Apollonio's poetic writing style. I was thoroughly swept away by the story as the skillfully written small scenes, like brush strokes of a painting, created a beautiful work of art.