a.k.a. genius by Marilee Haynes
I loved this book! What a delightful middle grade book about finding yourself and fitting in. The story follows Gabe, a middle school student – smack dab in the middle of those difficult awkward years. Oh, and he just found out he's a genius.
I've never read the Diary of a Wimpy Kid books but this novel reminded me of the movies. A young boy making his way through the difficult years of middle school, in a humorous story with colorful characters. I was about halfway through the book when I was out of town and unable to read for a few days but I couldn't get Gabe, his friends and their predicaments out of my mind.
Haynes is a fabulous writer who expertly captures Gabe's voice. Though this book is fun it also has some powerful moments and inspiring messages. Warning: you many need to keep some tissues nearby to wipe away the tears of laughter and sadness.
I highly recommend this funny and touching book.
The Destiny of Sunshine Ranch by T.M. Gaouette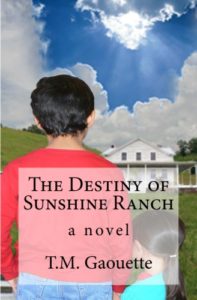 The Destiny of Sunshine Ranch by T.M. Gaouette is a lovely, heart-warming story. I've never read a book that focused on foster families and was extremely moved by this touching novel. This is a story that stays with you long after it's over. In fact, I finished the book a few weeks ago and haven't stopped thinking about the characters since.
The author creates an array of interesting characters that are flawed yet understandable and memorable. I think this book would be great for all kids to read, showcasing the power of love and family – no matter what that family might look like. As a mother, it was heart-breaking to hear the stories of these fictional children and how they ended up in the foster system. These characters were fortunate though and were placed with a family that loved and encouraged them.
I thought the author did a wonderful job of showing the trust and abandonment issues these children carried with them. This middle-grade novel is full of heart-wrenching realities, faith-filled moments, and a powerful hopeful message. I think it would be a fantastic book to read with your children. This is a story they can learn a lot from and to help them understand there are many children out there that might not be as fortunate as they are.
7 Riddles to Nowhere by A.J. Cattapan
A.J. Cattapan has done it again – created a beautifully written hard-to-put-down story. Seven Riddles to Nowhere is a wonderfully charming book perfect for older elementary students, middle schoolers, or for anyone who enjoys a great story. The main character Kam finds himself on a mission to save his beloved Catholic school from closing. This goal leads him on an adventure through Chicago deciphering riddles at beautiful churches while avoiding the school's bully along the way.
The characters of Kam and his supportive friends are so enjoyable I couldn't help but root for them as they made their way from church to church. Cattapan did an amazing job of not only bringing her characters to life but also describing Chicago in a way that the city practically became another character in the book. I also loved the element of the faith based riddles the kids had to solve.
This is a fantastic story of self-sacrifice for the good of others that delivers a beautiful message – kids can make a difference.
Roland West, Loner by Theresa Linden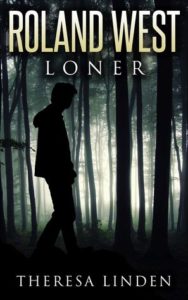 Roland West, Loner is a Catholic YA novel centered around the relationships between brothers and friends. This book is especially great for Middle School and High School boys. Linden knows boys well and writes from this perspective perfectly.
I absolutely loved the development of the friendship between Roland and his neighbor Peter. I also enjoyed the character of Caitlyn and the sweet relationships she had with both boys. Even though it's titled Roland West, Peter had his own very interesting storyline and issues to overcome. The author fused the two boys' storylines together brilliantly through an adventure they embark on together.
There is a deeply religious part of the story, about saints and relics that was brought up in a very intriguing way. This is a subject I've never seen addressed before in YA fiction and I think the readers will find it as interesting as I did. Linden does a wonderful job of drawing the reader into Roland's life. At times I wanted to scream in frustration with how he was treated by his manipulative brothers.
The best news is that this is the first in a series of books for teens about Roland and his brothers.
Ten Commandments for Kissing Gloria Jean by Britt Leigh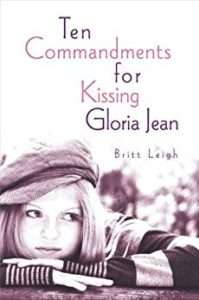 I grew up in a household that didn't really discuss uncomfortable topics very much. So maybe that is why I found the first part of this book a bit cringe-worthy. In fact, I put it down a few times thinking, there was no way I could recommend a book that mentioned so many awkward topics.
This middle-grade novel is about a girl named Gloria Jean who is obsessed with thoughts of kissing a boy. She doesn't have a specific boy in mind but really is curious and wants to experience her first kiss. She comes up with rules and questions about how this moment might happen and what to do if it does happen. Also, at the same time her public-school class is covering sex education, she also is attending Confirmation classes at church. On top of it all, she has just learned she has celiac disease and the last thing she wants is to be different in any way.
You can imagine the multitude of uncomfortable topics that are brought up in this book. The author does a really wonderful job discussing these topics from a middle school girl perspective. She did such a great job in fact that memories of those awkward years came flooding back. That's when I realized the beauty of this book. Middle school kids, full of developing hormones, have so many questions about their bodies and members of the opposite sex. Because these topics are tough to talk about, kids often are left to seek answers from friends (who usually don't have very accurate answers or provide exaggerated information) or nowadays – on the internet (not necessarily a place you went them searching such topics).
This book shows what public schools teach in sex education alongside what the church teaches through Theology of the Body. What a stark contrast. While this book might not be for everyone, if you have a child questioning some topics, or are wondering how to broach such topics, or you're concerned about the way your child's school teaches these topics, this might be a fabulous book to read. The lessons this character learns are beautiful. Gloria Jean discovers so much about herself, about true friendships, the perils of peer pressure, respect of herself, and who she wants to be. All this is why I ended up thoroughly enjoying this book that at times was uncomfortable to read. Certain topics are tough to discuss, specifically because of that, it's wonderful to have a book that presents them from a faith-based perspective.
The Locket's Secret by K. Kelley Heyne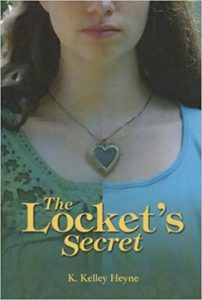 The Locket's Secret is a sweet yet powerful story about dealing with tragedy. This wonderful book for middle-grade students focuses on the importance of family. The story follows Carrie as she and her family are moving across the country to a new home. This homeschooled teen is having a hard time dealing with leaving her home and friends, as well as the recent tragic loss of a younger sister. Her coping mechanism is to withdraw into an imaginary world to help manage the grief.
I thought this was a beautiful story that shows how profoundly difficult it is to handle a loss of a loved one. Carrie struggles but eventually learns that family is her strength. This would be a great book to read as a family as it offers plenty of great discussion opportunities. I also liked that the family is a homeschooling family. While I know a lot of families that choose to homeschool, I haven't seen that included in many books.
Carabelle by Renee Lichtenhan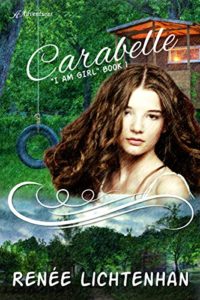 Carabelle is a beautiful middle-grade story about forgiveness. There are so many wonderful messages within this story, such as the danger of making assumptions. This book is a great reminder to readers that we have no way of knowing what is really going on in someone's life or understand the reason behind someone's actions. I especially loved how the story showed that the act of forgiveness has the power to free and heal no matter how horrible a situation.
The last day of school finds Carabelle looking forward to a lazy summer of hanging out at the pool with her best friend – three blissful months far away from the school bully. But a tragic event turns her world upside down, leaving her feeling abandoned and alone. Through interactions with some surprising individuals, Carabelle finds that she can overcome her tragedy and that even in the darkest of times, there is good in the world.
Violet by Renee Lichtenhan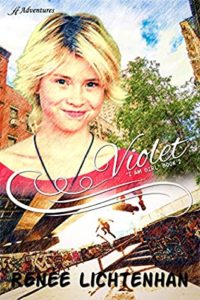 Violet was such a joy to read. I really couldn't put this one down. From the start, I was completely engaged in Violet's story and had to find out what would happen next. There is a lot going on in the middle-grade book that would be great for teens of all ages.
Violet is the second book in the I Am Girl series by Renee Lichtenhan. I thoroughly enjoyed the first novel, Carabelle, and now am a huge fan of this second installment as well. Each book is an entirely different storyline, but all are faith-based novels featuring strong female characters.
Violet seems to lead the perfect life – her father is a Senator, she lives in a beautiful brownstone in New York, and she attends a prestigious private school. But there are two things in Violet's life that don't fit in that perfect mold. Her autistic brother, Oliver, and her secret passion for skateboarding.
I loved how the author wove this story together, showing that God really does work in mysterious ways. He leads us on unexpected paths as we touch the lives of those we meet. We often don't see how God uses us to help others, but this book showed how one decision can start the spiral effect of grace.
This novel has some fantastic characters from very different walks of life. I enjoyed how these characters learned a lot about themselves and serving others. I also loved the spiritual elements. There are so many interesting issues and topics in this story that would make for fantastic discussions in a book club, classroom, or as a family.
A Hidden Miracle by Gerilyn Herold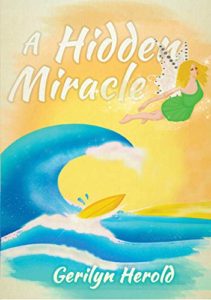 A Hidden Miracle is a modern-day speculative fantasy novel about what is happening on a spiritual realm around a teen surfer who is battling a deadly disease and a loss of faith.
The story is told from the perspective of a fairy named Gabriella. Her job is to assist angels by delivering needed gifts to humans. Gabriella and the boy fairy she adores are assigned to help surfing star, Jaden Marino who is battling cancer. However, Jaden's loss of faith makes their job extra challenging. When an accident changes everything, Gabriella struggles with how far to bend the rules in order to deliver a miracle before it is too late.
I really enjoyed this middle-grade story. The glimpse into the surfing world was quite interesting. The descriptions are beautiful, and there are some fantastic supporting characters among the angels, fairies, humans, and evil spirits. Although, I am not sure I will ever look at insects quite the same ever again! With beautiful descriptions, a thought-provoking storyline, and a glimpse into the exciting world of competitive surfing, this book will keep readers captivated.
Dear God, I Don't Get It by Patti Maguire Armstrong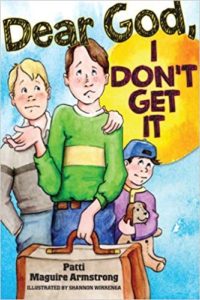 This is a cute book for younger middle-grade kids. It's about Aaron, a 6th-grade boy whose family must move to another state. Aaron doesn't want to leave his friends and prays that his family will be able to stay put. When his prayers aren't answered, he begins to question God.
I enjoyed this character, his brothers, and the classmates he encounters at his new school. He learns some valuable lessons about telling the truth, being yourself, and understanding God's will. This would be a great book for any youngsters who are struggling to face a new situation.
Leap of Faith by Kimberly Brubaker Bradley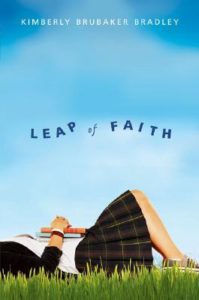 Leap of Faith a middle-grade story of self-discovery. Abby is a middle school student who is sent to a Catholic school after an incident she was involved in at her public school. In an act of desperation, she lashes out at a fellow student when no one believes her side of an ongoing situation.
My heart ached for this character. Abby's parents are both career-oriented and have little time for their daughter. She is hurt and angry with her parents and comes up with a fantastic way to get back at them. To become Catholic. Her parents are agnostic at best and do not understand their daughter's desire to join the church. While starting the journey for the wrong reasons, Abby begins to feel peace at church and she slowly realizes some wonderful lessons about faith, family, friendship, and forgiveness.
8 Notes to a Nobody by Cynthia T. Toney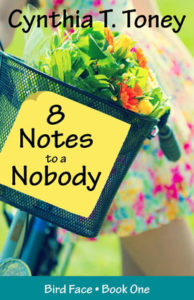 This YA novel is about the difficulties of the middle school years. It's a beautiful story that deals honestly with many difficult subjects such as low self-esteem, depression, and other serious issues. Toney does an incredible job of tackling these hard topics in a hopeful and empowering way. I love how the main character, Wendy, finds the strength to take charge and change things for herself by following her 5 step plan to making friends. This is such a great, proactive idea that all teens could try. My favorite part of the story was seeing how things changed for Wendy over the summer as she prepared for high school. It was wonderful to see that even though heartache and tragedies occurred, things could change and get better, creating a positive ending for this deep book. This is a great book for any middle school student. And, you'll be thrilled to know that there are several more books in this series!
The Saintly Outlaw by Paul McCusker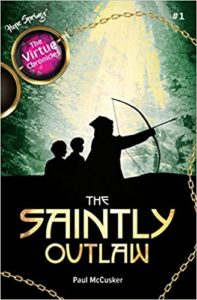 The Saintly Outlaw is a middle-grade story about the legendary Robin Hood. This is the first novel in The Virtue Chronicles which is a faith-based, time-traveling adventure series. These types of books are always fascinating to kids and this one adds an extra element – faith. This series is brought to you by the Augustine Institute and I have a feeling it will be a huge success.
Andrew has been intrigued by the mysterious Eve for a while. The day she asks him to follow her to the back of the antique store, she frequents, all things change. Andrew suddenly finds himself in the time and world of Robin Hood.
This swashbuckling tale will be one kid will love. A bit of history, a sprinkling of faith, and a touch of magic combine to create a great story. One note of warning, there is a bit of violence that matches with the time but still is appropriate for middle-grade readers.
Robin Hood has been a tale that has intrigued many through the years. I mean, who doesn't root for the hero who looks out for the little guy. I personally loved the animated version when I was little. This new version with modern friends Eve and Andrew will bring the story to life and creates new young heroes.
The Treasure with a Face by Janeen Zaio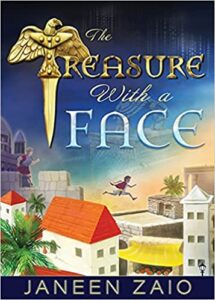 The Treasure with a Face is a fun, middle-grade story with a fantastic main character. From the very first page, I knew Eli was someone I would enjoy going on an adventure with, and that is exactly what I did. Living in the middle east during the time of Jesus was not an easy time to be alive. Especially if you are a boy who longs to hunt for treasure but is stuck living and working for a difficult uncle. When Eli finally gets the chance for adventure, it is not at all what he expected. As he journeys to Jerusalem by order of his uncle, he hopes for a chance to meet Jesus. While the adventures he encounters along the way give him a taste of a life he longs for, he really hopes that Jesus will be able to give him the needed clue to find the treasure that the Jewish people have been searching for. But when he discovers that he's too late and that Jesus has been killed, will all be lost, or will he discover that the greatest treasure is something that he never could have imagined?
Anything But Groovy by Amanda Lauer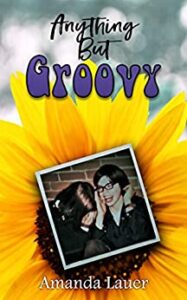 I've been a fan of author Amanda Lauer for quite a while. Her captivating writing completely immersed me in the Civil War through her Heaven Intended series. In Anything But Groovy, Lauer brings her writing talents to a more contemporary story. She expertly captures the details of the 70s in this coming-of-age novel with an intriguing Freaky Friday type of storyline.
No matter what era we grow up in, there are certain issues that all teens must deal with—families, friendships, and bullying. While technology and circumstances change, relationship fundamentals remain the same. I thought this glimpse into a parent's childhood was such a clever way to explore the walking-a-mile-in-another's-shoes theme. This book might be a fun one for mothers and daughters to enjoy together while sharing the differences and similarities of their own childhoods.
Moon Over Manifest by Clare Vanderpool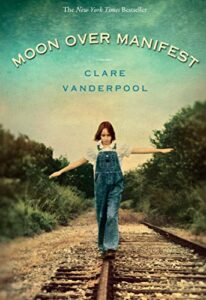 This Newbery Medal-winning novel is a delightful, engaging story. Set during the depression in a small Kansas town, this redemptive tale features a unique cast of characters, witty dialogue, and a young feisty heroine.
Abilene Tucker is less than thrilled when she arrives in Manifest, Kansas, where she knows no one. Unsure why her father sent her there, she begins to search for answers. As she interacts with the townsfolks, she uncovers some clues to a mystery from the past. However, the more she uncovers about the town of Manifest, the more questions arise about her own background.
Author Clare Vanderpool is a gifted storyteller. The novel is filled with history, humor, and heartfelt moments that blend together perfectly. I loved how the story was revealed through newspaper clippings, shared memories, and Abilene's growing friendships. While this middle-grade story is not specifically a Christian novel, it is a wonderful, inspiring, and clean novel that readers will love.
The Door to the Dragon's Throat by Frank Peretti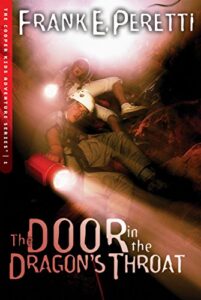 The Door to the Dragon's Throat is an exciting, suspenseful, and at times, scary adventure about a family of scientists. The Door to the Dragon's Throat is the first book in The Cooper Kids Adventure series. Dr. Cooper is a well-known archeologist who is called when others fail to understand an unexplained event. Ever since his wife died, his children, Jay and Lila, accompany him on each mission.
While the children in this story are middle-school age, the book might not be appropriate for that age-group due to the subject matter and the level of intensity. This story deals with demons that are trying to break free from their captivity to bring destruction to the earth. This obviously might be something that parents would not want their children to read. Each family will need to make that determination on their own.
There is a very strong Christian message that flows throughout the book. I loved that the main characters never worried about what they might find during their dangerous quest. They knew that their God was mightier than anything they might encounter. This strong faith was a wonderful part of this quick, adventurous read.
Author Frank Peretti is a well-known Evangelical Christian author. I've read one other book of his that was written for adults, so was curious when I saw that he had written a series for teens. I already knew he was a terrific storyteller but didn't know he was such a fabulous story-reader. As the narrator of the audio version of this book, he really brought the story to life. I personally think his narration might have been my favorite part of the story.
Samantha Sanderson at the Movies by Robin Caroll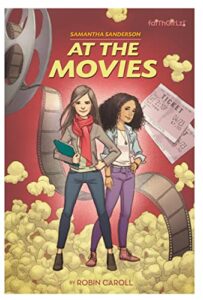 This is the first book in a fun series about a middle-school investigative reporter. Samantha longs to follow the career path of her journalist mother while also greatly admiring her detective father. When Sam discovers a bomb at the local movie theater, she jumps at the chance to cover the story for her school's journalism class blog. While Samantha tries to use the skills and techniques that her mom has taught her over the years, she increasingly makes her dad's job more difficult.
Sam soon discovers that navigating the challenges of middle school, friendships, cute boys, and tensions at home becomes even more difficult when you're attempting to prove your journalistic skills and solve an important case. But if anyone can do it, Samantha Sanderson can.
I thoroughly enjoyed the story, the underlying messages, and the supporting characters. I especially loved how Samantha's strong faith kept her grounded and focused on what was important—at least most of the time.