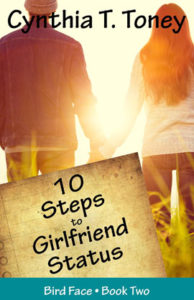 Ten Steps to Girlfriend Status is actually the second book in Cynthia Toney's Birdface series, but you don't have to read the first book to enjoy this wonderful YA novel. I actually read this one first but found the characters so intriguing I had to pick up the first book, 8 Notes to a Nobody, to find out more about the characters. I loved that this novel was about a regular girl who faces real issues – misunderstandings with friends, complexities of blended families, difficulties with aging loved ones and complicated feelings of a new relationship. Toney expertly blends all of this around an intriguing family mystery which makes the story even more compelling. This is the kind of book so many parents search for – a thoroughly enjoyable wholesome story with issues that teen readers can relate to.
A Cajun family secret, two very different boys, and a fight to keep a grandmother's love—who would've guessed that looking through old photo albums could get Wendy into so much trouble?
Wendy Robichaud is on schedule to have everything she wants at the start of high school: two loyal best friends, a complete and happy family, and a hunky boyfriend she's had a crush on since eighth grade—until she and Mrs. Villaturo look at old photo albums together. That's when Mrs. V sees her dead husband and hints at a 1960s family scandal down in Cajun country. Faster than you can say "crawdad," Wendy digs into the scandal and into trouble. She risks losing boyfriend David by befriending Mrs. V's deaf grandson, alienates stepsister Alice by having a boyfriend in the first place, and upsets her friend Gayle without knowing why. Will Wendy be able to prevent Mrs. V from being taken thousands of miles away? And will she lose all the friends she's fought so hard to gain?
This story uses humor and hope to address issues of adapting to a blended family, having a loved one suffering from Alzheimer's, and struggling through that first innocent romantic relationship.