I recently had the great privilege to read advanced copies of six Catholic teen novels. All the books happen to be new installments in series written by the authors. I eagerly agreed to support my fellow authors and host blog stops on their book release tours. So, for the next six weeks, I will have a new weekly post – Tuesday Treats: New Releases. I hope you'll be able to find some new adventures to cozy up with.
Today's new release actually comes out today! Happy Book Birthday!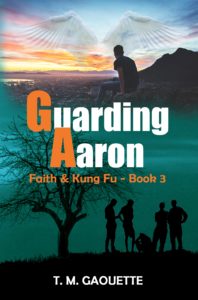 Guarding Aaron by T.M. Gaouette
Guarding Aaron is the third book in T.M. Gaouette's Faith & Kung Fu series. The series centers around Gabriel, a handsome teen who is dedicated to his faith, his mother, and his martial arts. In the first book of the series, Freeing Tanner Rose, Gabriel meets Tanner Rose, a Hollywood starlet and the daughter of his mother's friend. 
Saving Faith, the second book in this series, and now Guarding Aaron continue the story of Gabriel, Tanner, and their friends. Gaouette does a wonderful job of creating relatable characters that you care about. Through the series, I have admired Gabriel, enjoyed the growth of Tanner and Christian, wanted to scream at Faith, and now wish I could hug Aaron.
Aaron is new to the series. His story, which runs parallel to what is happening with Tanner and Gabriel, is incredibly touching. Aaron is being bullied at school. Tired of being the victim, he has decided to take kung fu classes. This is where he meets older teens Gabriel and Christian who are his instructors. The two storylines are woven together perfectly to make for a thoroughly engaging novel. There are even a few shocking twists that will keep you turning the pages. (One, in particular, had me gasping out loud.)
You don't need to have read the other books in the series to enjoy this book, but I'm sure you will want to eventually so you can spend more time with these characters.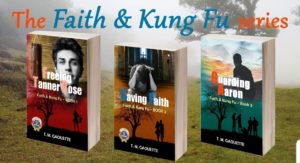 For more information on all of T.M. Gaouette's books, please visit her website.