Welcome to Leslea's October update.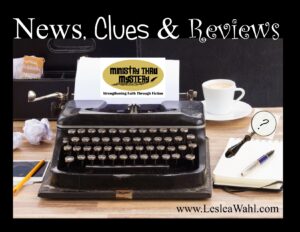 An online puzzle and giveaway, news, tips, and book reviews!
Each bimonthly update provides news about my writing, faith-based book recommendations for the whole family, and, to bring out your inner detective, I include an online puzzle.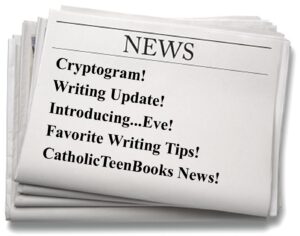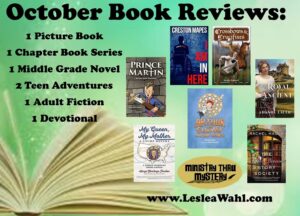 Clues:
This month's puzzle is a difficult one. Anyone up for the challenge?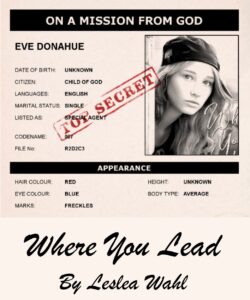 Solve the cryptogram to discover the catalyst for Eve's search for hidden gold around the monuments of Washington DC. Send me your results and I'll send you one of my books—your choice!
Click HERE to find this month's puzzle.
News:
1. Quick Writing Update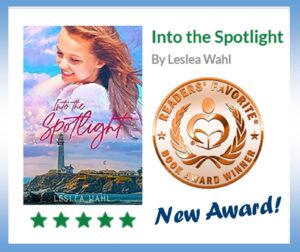 Into the Spotlight has won a Readers Favorite Award!
September found me busy working on Blindside #3.
I'm excited to be taking a picture book class starting this month to polish up a picture book that I've been working on for quite a while. This book will be a special tribute to my Mom who passed away almost a year ago.
And during the month of November, I'll once again be participating in NaNoWriMo (National Novel Writing Month), as I work on the third novel in my Finding Faith series.
2. Introducing… Eve: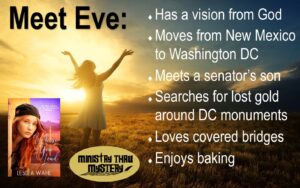 3. CatholicTeenBooks.com News

Catholic Teen Books has a new member! Author Sarah Robsdottir has joined our team!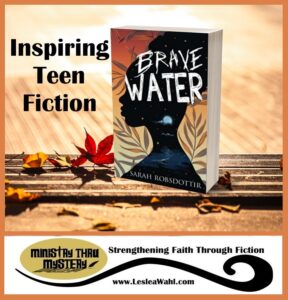 Girls are disappearing on their way to the spring…
Will fear stop Talitha, the sole water gatherer for her hut, from searching for her friend—even if it means scaling the walls of the mine owners' compound, where locals are shot on sight?
And will terror block Moses' path—or can this teenage hunter battle an underground human trafficking ring with ties to the cities on the other side of Great Mountain?
Join Talitha and Moses on their journey, one marked with violent drug lords, crippling jealousy, blinding anger, but also…tremendous beauty. And, the flutters of first love.
4. Favorite Writing Tips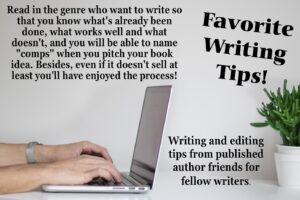 Reviews
Arthur the Clumsy Altar Server by Theresa Kiser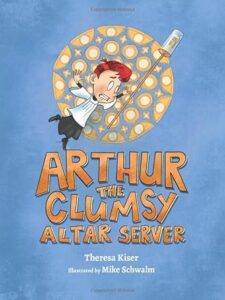 This is an adorable picture book about a boy who longs to serve the Church as an altar server. The only problem is that Arthur is extremely clumsy. What would happen if he messed up this important job? Children will enjoy the engaging illustrations and mishaps of young Arthur, but will also learn that no matter our faults we can serve the Lord with joyful hearts. I was happy to see that clumsy Arthur has more adventures available.
Prince Martin Wins His Sword by Brandon Hale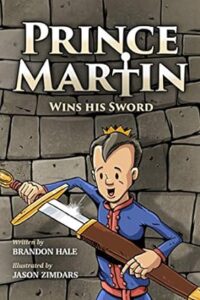 This is a rhyming chapter book about a young prince who longs to have a sword of his own. However, before he can earn his sword, he must learn a lesson about doing the right thing. This is a cute story with some wonderful messages of values and integrity.
Crossbows and Crucifixes by Henry Garnett
This historical fiction for middle-grade students and older focuses on the persecution of Catholics in England during the late 1500s. The book follows fifteen-year-old Nicholas Thorpe as he is thrust from his idyllic youth into the perilous dangers of adulthood when he discovers the truth about what is happening to those of the Catholic faith. This devastating period in history is brought to life through this exciting adventure.
The political intricacies and various royal figures involved can make this a confusing era to understand, but the author does a good job of providing enough facts for those who may want to research the topic further and keeping it simple enough so the story is not lost in the complexity of the warring factions.
Nicholas' story flowed nicely through the colorful characters and enticing descriptions of the English countryside. The violence against Catholics was horrific to read about, but the author expertly brought the travesties to light without graphic detail, making this book appropriate for middle-grade readers.
I Am in Here by Creston Mapes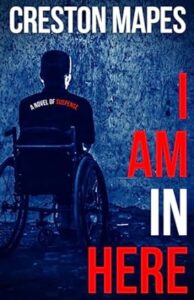 This suspenseful Christian drama is told from two perspectives, teenager Hale and his father. Hale is a unique, unforgettable character whose very existence adds to the emotional intensity of this book. You see, Hale is unable to speak or move and many around him believe his brain is so damaged that he is unaware of everything around him. But they are wrong. Hale sees and understands everything but is unable to communicate with anyone.
A series of tragic events has led to Hale's family's financial and spiritual ruin. When the shady men that Hale's father has borrowed money from to pay the insurmountable medical bills, demand full payment, Hale's dad panics and concocts a plan that puts his whole family into further danger. Hale is the only one who understands the levels of peril that are closing in on the family. If he could only let them know.
This book was quite intense. I listened to it in one sitting as I was on a long drive. And I was so glad because I was riveted to the story as Hale's father made one mistake after another and my frustration continued to build as Hale desperately tried to communicate. This was a unique story and the various aspects of the story will stay with me for quite a while.
Royal and Ancient by Amanda Lauer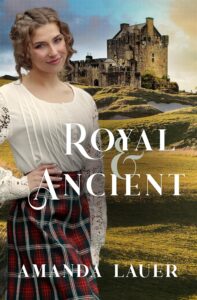 Lauer has done a masterful job of intertwining romance, intrigue, history, and faith into her new epic story. The premise is intriguing – a modern teen is somehow mysteriously transported back to Scotland in the 1600's. YA historical romance and Amanda Lauer have always been a winning combination. But add an element of time-travel and suddenly this want-to-read book becomes an immediate must-read.
When modern-teen Bronwyn gains consciousness on the golf course, she has no idea her life is about to change in the most dramatic way possible. What does a girl do when she finds herself in a foreign country, hundreds of years in the past? Luckily the handsome Iain and his loving family come to the rescue as she tries to decipher what happened to her and why. Is God calling her to somehow change history? Did she have to travel to a different century to find the love of her life? Or was this unusual event meant to deepen her faith?
The story of Bronwyn and Iain is a true page-turner. The characters are fabulous – Bronwyn's thoughts had me laughing. And Iain, well what's there not to like about the Scottish hunk with a heart of gold? I especially loved how Bronwyn grows in her faith through the story. While she doesn't know why she's suddenly in this unbelievable predicament, she believes God has put her there for some reason.
The story has all the elements that I love in a story – romance, humor, mystery, great characters, and intrigue. Join Bronwyn in this fascinating story as she navigates sixteenth century Scotland, clan turmoil, family drama, and her growing feelings for the handsome Scottish man who saved her life.
The Fifth Avenue Story Society by Rachael Hauck
This book was recommended to me and I'm glad I picked it up. The story begins when five New Yorkers, Jett, Lexa, Coral, Chuck, and Ed, all receive a mysterious note to join the Fifth Avenue Story Society. Intrigue makes them show up but their growing friendships keep them attending.
The chapters follow each member as we get to know them and the difficulties that they each are facing. It took me a little while to get into but soon I was engaged in the characters lives and curious as to who brought them together in the first place.
Each of the characters' storylines are intriguing and contain some twists that I didn't anticipate. While this book had some amazing romance, there was a lot of depth to it that I'd hate to pigeon-hole it into that one category. This is a story of redemption, second chances, answered prayers.
My Queen, My Mother by Marge Fenelon
This book is a beautiful living novena to Our Blessed Mother Mary. With each chapter, the reader travels to a different American Marian shrine to learn new spiritual insights. I love that his book combines faith and travel as the author relays some awe-inspiring stories, meaningful devotions, and places to add to your travel destination wish list.
Until next time, happy reading!