Welcome! Did you know that a FREE short story, monthly book reviews, and my quarterly updates can be sent directly to your inbox if you sign up for my newsletter? Join today so you don't miss a single review!
This month I'm celebrating Christmas with books for the whole family. The three YA choices include two anthologies that will introduce you to numerous authors. One is filled with Christmas stories that encourage the real reason for the season. The other might be perfect for a Hallmark movie lover. And the third is an incredible historical fiction that takes you on an exciting journey with the Three Wise Men. This month I also have several book recommendations for the younger kids in the family AND a treat or two for Mom and Dad.
Before we begin…
In case you are new to my blog, besides writing YA novels, I love reviewing them as well. Every month I post about 3 YA books that I've read, each month in a new genre. So, if you're not interested in other teen books you can skip past this Book Review Post. I'll still be sending out quarterly posts marked UPDATES regarding news about my own work.
But for those of you who have kids, or grandkids, or you yourself like teen books (like me!), each month I'll introduce some of my favorite Christian and Catholic YA books.
I've decided to provide more reviews because there are a few things I've learned since I had my first book published:
1 – So many of the teen books published by the big publishing companies contain messages that don't match the values of many families.
2 – There are a lot of fantastic, clean, faith-based books out there. Books that are entertaining yet wholesome and reflect Christian values.
3 – These types of books can be really hard to find. So, I'd like to introduce you to a few new adventures.
Let's get started!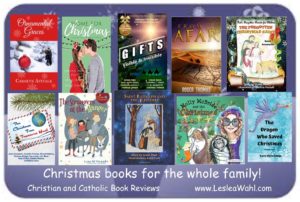 YA Novels
Gifts: Visible and Invisible by CatholicTeenBooks authors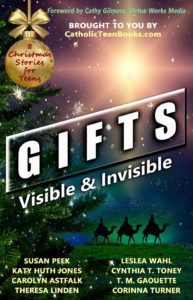 This is the second anthology by authors at CatholicTeenBooks.com. Gifts is a collection of eight Christmas-y stories which introduces readers to different author's unique styles and may help make Christmas a little bit more meaningful. I am so blessed to be part of this incredible group of authors.
Our Christmas anthology is full of inspiring Christmas stories. Contemporary, historical, dystopian, and saintly stories fill this second anthology. All the stories are about a gift of some sort, and all have an element of helping others.
Signs of Christmas by Cynthia T. Toney is set during the depression in a small Louisiana town. It features one of the characters from Toney's historical fiction – The Other Side of Freedom.
The Outlaw's Friend by Susan Peek –Set during a harsh winter in the 1920s, this story about a modern-day priest on the road to sainthood, is a little bit more contemporary than her usual novels.
Operation Gift Drop by Theresa Linden is a dystopian story that includes my favorite character from her Chasing Liberty series. This exciting story gives the reader some insight into this fascinating series.
A Very Jurassic Christmas Eve by Corinna Turner is part of her unSPARKED Jurassic stories. This short story, full of excitement and danger, is another installment into the lives of two intriguing characters.
Just Jesus, by T.M. Gaouette, has a wonderful message about the dangers of judging others. A mysterious gift and a frustrating new student propel the intrigue of this contemporary story.
In the Steps of a Saint by Katy Huth Jones – Katy is the author of Treachery and Truth, about the real-life story of Good King Wenceslas. This short story explores the words of this beloved Christmas carol.
A Perfect Christmas by Carolyn Astfalk is an introduction to characters that will soon appear again in a new YA novel. The main character is a delight, and I can't wait for her full-length adventure.
Christmas Angel by Leslea Wahl – My contribution is loosely based on a true story that a friend had told me about. I was so touched by the event and thought it would make a perfect Christmas short story.
Check out our VIDEO.
From Afar by Roger Thomas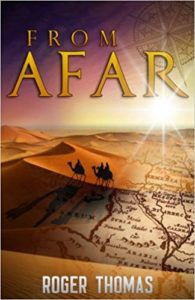 I absolutely loved this fascinating fictional look into the Three Wise Men. While we all know of these three mysterious men, there is little that is actually known about them. The author takes us on a fictional journey into how these men knew about the birth of a King and why they were even interested in this Jewish king. I was expecting an interesting story but was blown away by this exciting, adventurous tale that I couldn't put down. Everyone in the family will enjoy this one – even the dads!
Historical fiction is always so interesting. Getting a glimpse into another time period is a wonderful learning tool. From Afar really brought to light the environment into which Jesus was born. Such as the evil corruption of Herod and the communities that worshiped pagan gods. Even though this is a work of fiction, it offers possible explanations to questions in the story that I didn't even know I had.
These three brilliant men and colleagues have each been searching for something. One has spent his career in the military looking for pure strength and harmony. One has been studying all the different religions of the world searching for the light of the divine in man. And one has been studying ancient scriptures and writings searching for truth and constancy. These unsettled quests and their study of the constellations leads them on their epic journey.
The characters were fantastic. The three wise men were all so unique. Melchior, the elder, gentle teacher. The brilliant Balthazar. And my favorite – the brave and youthful Gaspar. There were also two fantastic supporting characters, a soldier and a young boy that really helped keep the story moving. And, even though they only show up at the end of the story, I absolutely loved how Mary and Joseph were portrayed.
I will never think of the Three Wise Men in the same way ever again. Fantastic book.
Home For Christmas by Daphne James Huff, M.F. Lorson, and Kayla Tirrell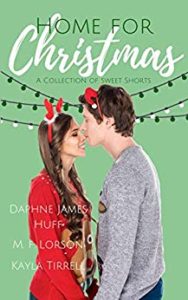 This is a collection of Christmas romances that are short and sweet. Is there someone on your list that enjoys YA short stories? Someone who adores stories set around Christmas? A sucker for Hallmark holiday movies? Then this might be a great gift option.
This set of short stories are not Christian, but they are clean and sweet. Each tale is a romance centered around an older teen girl at Christmas time. It was an enjoyable, quick read that might warm the insides of the romantic at heart on a cold December day.
Children's Books
The Strangers at the Manger by Lisa Hendey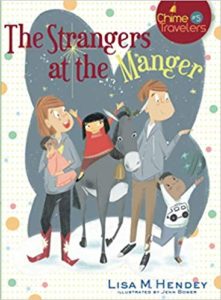 This book is part of Lisa Hendey's Chime Travelers series. This adventure follows twins Katie and Patrick as they magically travel to the night Jesus was born. This is a fun way for kids to think more deeply about the Holy Family and their story. I love how the author not only informs readers about biblical events and saints through these stories, but she always offers a lesson as well that readers can take to heart and learn from.
Molly McBride and the Christmas Pageant by Jeanie Egolf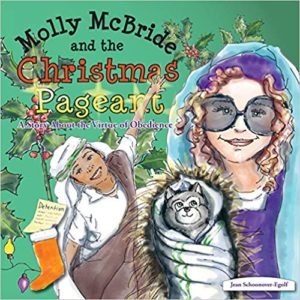 I have thoroughly enjoyed each of the books in this collection by Jeanie Egolf. Molly McBride is a delightful Kindergartner whose energetic spirit makes for entertaining stories that reflect important virtues. Molly's newest adventure, Molly McBride and the Christmas Pageant, is full of wonderful lessons about obedience and caring for others. This would be an excellent addition to any family's Christmas story collection.
Saint Rudolph and the Reindeer by Susan Peek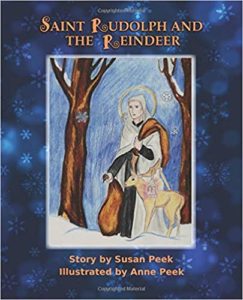 This is a heartwarming tale that is destined to become a new family favorite. Taking her vast knowledge of saints, Susan Peek has added a beautifully religious twist to transform a favorite children's Christmas story into a holiday treasure. If you are unfamiliar with the author's books you really should check them out. She is an incredibly talented author who writes about the lives of Saints for children and teens. Susan loves to take little known saints and using their true-life experiences, create exciting stories around them. I am so excited about this little Christmas story and am sure it will be a new family treasure for many.
The Forgotten Christmas Saint by Susan Peek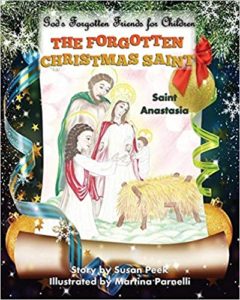 This picture book by Susan Peek is a beautiful story about Saint Anastasia whose feast day is Christmas day. This was a fascinating story about a saint I knew nothing about. But now I know that she is the patron saint of martyrs. Anastasia's fascinating life is told through a conversational text and lovely illustrations. Like most saints, she had a difficult, tragic life but this story of her steadfast faith is truly inspiring.
The Dragon Who Saved Christmas by Katy Huth Jones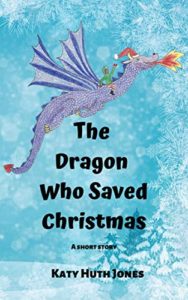 This kindle-only story is a little different choice. It is about a dragon who saves Christmas by using his unique skills to help Santa. While not a Christian story it does have a sweet message about using your gifts to help others. Katy Huth Jones is the author of several excellent Christian YA novels and is also a contributor to the CatholicTeenBooks Gifts anthology. This children's story is one she created for a grandchild. So, if you have a dragon enthusiast in the family and are looking for a cute little kindle story, this could be a fun option for you.
And something for the adult in your life.
Ornamental Graces by Carolyn Astfalk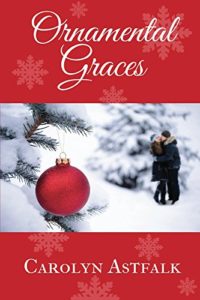 What a wonderful Christian Romance. The story of Dan and Emily is about the journey these two must take in order to find a real, faith-based relationship. I love how real this story is. This is Carolyn's expertise – creating authentic characters with genuine issues. This story has plenty of sweet romantic moments, but it also has all the grit and problems of real life. Let's face it, mistakes from the past can affect our future. It's difficult to let go of the pain and the guilt from the poor decisions we make. The only way to really get over these past wounds is to turn to Christ, to let Him wrap us in forgiveness and for us to truly believe we are forgiven. Wonderful job.
The Christmas Tree Treasure Hunt by Deanna Klingel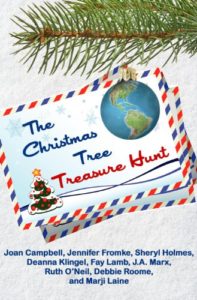 The moment I heard about this book from my friend Deanna Klingel, I was fascinated. The story is actually a collaborative project. Each chapter is written by a different Christian author. That unique aspect, along with the words "treasure hunt", had me intrigued. This is the story of a young college-age woman who has been trying to move on with her life after a series of heart-breaking events in her life that have left her utterly alone. A mysterious package and accompanying letters sets her off on a Christmas-time adventure to discover truths that she had never known. Older teens and adults will enjoy this tale of self-discovery and overcoming trauma.
All these books can be found on Amazon. I've set links – just click on the highlighted titles. For those who don't use Amazon you can also check Barnes and Noble online or www.indiebound.org where you can search for books and the local bookstores that might carry them or order them directly from the website. You can also ask your local bookstore or library to order the books for you.
Next month I'll be reviewing three more Christian/Catholic teen novels. But if you'd like more reviews before then you can always check out my recommendation section on my website: YA Recommendations.
If you've come across this post on Facebook and would like to get my monthly reviews sent directly to your inbox, you can sign up on my website – www.LesleaWahl.com.
Until next month – Happy Reading!