Welcome to my monthly book review! A FREE short story, monthly book reviews, and quarterly updates can be sent directly to your inbox if you sign up for my newsletter. Don't miss a single review!
This month's theme is Fame. These books all deal with the issues and perils of fame. So many times, young people admire celebrities and long to be famous, but often they only see the glamor and none of the problems that are associated with fame. Each of these books addresses these issues and specifically focus on how challenging it is for a person of faith to stay true to their values when in the public eye.
Before we begin…
In case you are new to my blog, besides writing YA novels, I love reviewing them as well. Every month I post about 3 YA books that I've read each month in a new genre. I also send out quarterly posts marked UPDATES regarding news about my own work.
But for those of you who have kids, or grandkids, or you yourself like teen books (like me!), each month, I'll introduce some of my favorite Christian and Catholic YA books.
I've decided to provide more reviews because there are a few things I've learned since I had my first book published:
1 – So many of the teen books published by the big publishing companies contain messages that don't match the values of many families.
2 – There are a lot of fantastic, clean, faith-based books out there – books that are entertaining yet wholesome and reflect Christian values.
3 – These types of books can be difficult to find. So, I'd like to introduce you to a few new adventures.
eXtreme Blindside by Leslea Wahl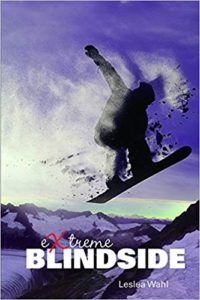 eXtreme Blindside is my newest novel, which is finally releasing this month. This is the sequel to my first novel, The Perfect Blindside. In case you are unfamiliar, the Blindside series follows teenage snowboarding superstar, Jake, and aspiring journalist, Sophie.
At the age of 16, when Jake shocks the nation by winning a silver medal in the Olympics, his life drastically changes by instant fame. While both novels are adventurous mysteries, they also deal with the effects of fame. In the first book, The Perfect Blindside, Jake struggles with his new celebrity status. However, his move to Silver Springs, Colorado, and meeting Sophie help bring him back down to earth and to focus on what is truly important. While Jake has grown as a character, in the sequel, eXtreme Blindside, we see the continued perils and temptations of fame. This newest book in the series also touches on the importance of telling the truth, doing what is right, and the subject of chastity.
Life is good for Jake and Sophie. After the incident at Silver Springs mine last year, things are getting back to normal. Or as normal as things get when you're an Olympic snowboarder or getting your first big break as a journalist! But when strange accidents start happening on the slopes at the premiere extreme winter sports competition, Jake becomes suspicious. And it's only a matter of time before he and Sophie are tackling another mystery together – one that may prove more dangerous than the Mountain Madness Games themselves. Can this couple unravel the clues before Jake becomes the next victim? 
Things are about to get EXTREME.
Guarding Aaron by T.M. Gaouette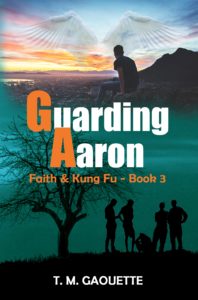 Guarding Aaron is the third book in TM Gaouette's Kung Fu series. The series centers around Gabriel, a handsome teen who is dedicated to his faith, his mother, and his martial arts. In the first book of the series, he meets Tanner Rose, a Hollywood starlet and the daughter of his mother's friend.
Guarding Aaron continues the story of Gabriel, Tanner, and their friends. Gaouette does a wonderful job of creating relatable characters that you start to care about. Through the series, I have enjoyed the growth of Tanner and Christian, wanted to scream at Faith, and now wish I could hug Aaron.
Aaron is new to the series. His story, which runs parallel to what is happening with Tanner and Gabriel, is incredibly touching. Aaron is being bullied at school and, tired of being the victim, has decided to take Kung fu classes. This is where he meets older teens Gabriel and Christian, who are his instructors. The two storylines are woven together perfectly to make for a thoroughly engaging novel. There are even a few shocking twists that will keep you turning the pages. (One, in particular, had me gasping out loud.)
You don't need to have read the other books in the series to enjoy this book, but I'm sure you will want to so you can spend more time with these characters.
Premiere by Melody Carlson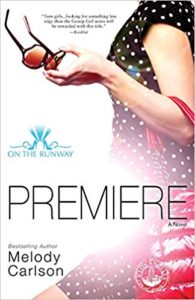 This was a fun story full of insights into the world of reality television. The story follows two sisters, Paige and Erin Forrester, who live in the Hollywood area. Their mother is a producer for a local news channel. While helping their mother with an assignment, the sisters are "discovered" and offered a reality television show about fashion.
This book is a few years old. It was published in 2010, but the story is still fun and relevant. The book focuses on the perils of fame, how reality television does not really reflect reality, the importance of family, and doing what is right.
Erin happens to be the only Christian in her family. I liked that she and her friends are involved in their youth group and church. Erin hopes to use her interest in filmmaking for good and to somehow make a difference in Hollywood by creating wholesome entertainment. Oh, how I wish there were more people in Hollywood with this desire. Although recently, there have been more Christian films made, which is a wonderfully positive sign.
This is a light-hearted, fun story with lots of teen drama. It shows teens making very bad choices and how these choices are not bringing them the fulfillment or happiness they seek. If you're looking for a clean, entertaining story with a good message, this might be one for you.
All these books can be found on Amazon. I've set links – just click on the highlighted titles. For those who don't use Amazon you can also check Barnes and Noble online or www.indiebound.org where you can search for books and the local bookstores that might carry them or order them directly from the website. You can also ask your local bookstore or library to order the books for you.
Next month I'll be reviewing three more Christian/Catholic teen novels. But if you'd like more reviews before then you can always check out my recommendation section on my website: YA Recommendations.
If you've come across this post on Facebook and would like to get my monthly reviews sent directly to your inbox, you can sign up on my website – www.LesleaWahl.com.
Until next month – Happy Reading!