I Am Margaret by Corinna Turner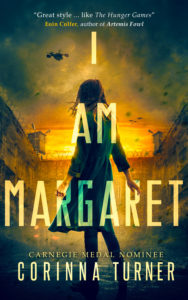 This is an amazing dystopian story about a teen named Margaret (Margo) and her boyfriend/fiancé Bane. They live in a world that is full of evil and only the most productive members of society are wanted or needed, the others are basically recycled and used for parts to help the more worthy citizens. Margo has always struggled with math and doesn't pass her sorting exam and is sent to a facility where she will ultimately be killed, but not if Bane has anything to say about the matter.
Unlike other dystopian novels this one is written from a Catholic point of view. At first this idea seemed a little odd to me but as I was reading I realized that if we ever did find ourselves living in an evil, deranged society, people of faith would band together and depend on their belief in God to get them through their ordeals. In the popular dystopian stories such as Divergent or Hunger Games, this element is of course missing, which is a huge flaw in those novels because Christians would delve deeper in their faith knowing that no matter what happens in this world we have the promise of eternal salvation.
Because I write YA and recommend novels for teens and their families, I feel I must warn that this book is not for everyone. It has some crude language, violence, as well as disturbing imagery and subject matter. However, it is so well written with intense action and incredible characters. (In fact, I admit to having a bit of a literary crush on Bane. ?) Margo is strong, smart, fearless and her faith is unshakable. Bane, though a bit reckless is brave, selfless and devoted. This couple as well as many of the other characters are fantastic. But the best part of this book is the strong Christian message. The way the author showcases the importance, power and beauty of a strong faith is incredible.
Chasing Liberty by Theresa Linden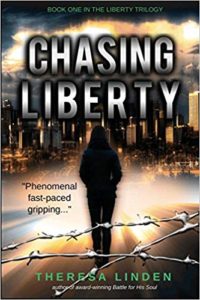 This dystopian Catholic YA novel by Theresa Linden is the first book in her Liberty series for older teens. This novel provides a fascinating look into a future world where religion has been eliminated. What I love about this book is the concept that God would still reach us and communicate with us even if we had never been told about Him.
The main character, Liberty, has grown up in a world void of families and faith. But she has been guided through her life by an inner voice she refers to as her "friend". Until she is given an opportunity to live outside this controlled environment, she wonders if this inner voice is something she has made up.
Dystopian stories are always an interesting premise to think about. I love the Christian viewpoint that goodness, love, and faith will continue no matter what we might face. This is a wonderful read with plenty of discussion opportunities for older teens.
Pulse by L.R. Burkard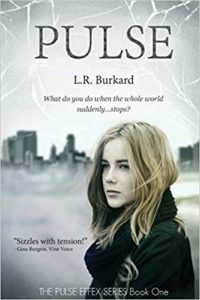 This book is technically a post-apocalyptic story and not a dystopian novel. What is the difference? My understanding is that a Dystopian novel is about a damaged society due to corrupt governments. Post-apocalyptic novels are about a damaged society that is caused by a war or devastating natural disaster.
To be completely honest, I've had a little trouble reviewing this Christian YA novel. The reason for my hesitation is that there are some biblical and faith ideas/views that I don't quite agree with. However, for older teens these parts can actually add to the fabulous discussion opportunities this book provides. In fact, that is what is so great about this book – it really makes you think, making it a fantastic book to read with your teens or for a book club.
The premise of the story is that there has been a cataclysmic event, an EMP – electromagnetic pulse – that has destroyed all electrical circuits and grids. Basically, nothing works. There is no power, no computers, no phones, no running water, no flushing toilets, even cars won't run.
The story follows three friends and how each of them and their families deal with this disaster. One lives in the country, one in the city and one in a suburb. Some are more prepared than others. Seeing how they each react really makes you contemplate how dependent we are on technology and if something like this actually did happened what could we do? What would we do? How would others act when food and water became scarce? How would you protect and provide for your family?
While the book is clean, minimal bad language and violence, there are some disturbing parts and the subject matter could be frightening for younger readers. It also did get a little political at times. Because of these elements I think it would be more appropriate for older teens. However, it's one of those books that keeps you pondering issues long after the book is finished.
Brothers by Corinna Turner
A short story but more powerful than most novels. Corinna Turner has given us another glimpse into the dystopian world of her I Am Margaret series – and this small novella is incredible. Touching, moving, heart-breaking, and action-packed. Perfection.
Unclaimed by Erin McCole Cupp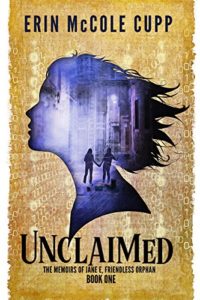 This book is a retelling of the classic novel Jane Eyre by Charlotte Bronte. This YA version adds an exciting twist – it's told from a futuristic viewpoint. Unclaimed is the second book that I've read by this author and thoroughly enjoy her writing style.
Before we get started, I have a confession to make. I've actually never read Jane Eyre. I know. How did I possibly miss that beloved classic? I'm not sure but it is indeed true.
Brace yourselves. I have another confession to make. Instead of now reading Jane Eyre in order to determine how similar this modern novel compares to the Bronte original, I actually just read the Wikipedia summary. I probably lose some street-cred as a book reviewer but for the sake of saving time, so I can get to more books on my way-too-long "To Read" list, I went with the less time-consuming option.
Thanks to Wikipedia, from what I can tell, this story follows the storyline of Jane Eyre even as a clever futuristic remake. But don't worry, if you are like me and have not read the original, there is no need to panic – this book, the first in a trilogy about Jane E., is a standalone delight.
I really liked the future details the author has imagined. The main character, Jane E, who is technically classified as an unclaimed embryo, is fabulous. This character who has no family and is alone in the world was so wonderful. I was rooting for her from the very first page and cared more and more for her through each challenge she faced. Great book!
The Gifting by K.E. Ganshert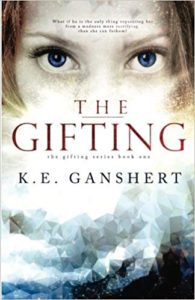 Looking for a hard-to-put-down Dystopian novel? The Gifting might be the book for you. This Christian novel is the first book in a series and be forewarned – it will be hard to stop reading after the first book. This novel grabbed my attention because I'm always interested in books about spiritual gifts and the idea of a prophetic gift was intriguing.
This YA novel, while very modern day-ish, is set in a future where religion is all but banned. Science is the answer and has proven faith to be false and irrelevant. To ensure healthy babies, this "advanced" society tests all pregnant women for any imperfections in order to cleanse people of any abnormalities. When teenager Tess begins seeing things that others do not, the only reasonable conclusion is that she has some sort of psychosis – which would be extremely dangerous and life-threatening to admit.
Dystopian stories are always interesting and make you think about where we are headed as a society and how our actions today could alter things in the future. While this book's futuristic concepts are fascinating and terrifying – the author also brings up some serious issues that teens today can relate to – cliques, bullying, drugs and even the dangers of exploring the occult. Great book for older teens.
The Resistance by J. Rodes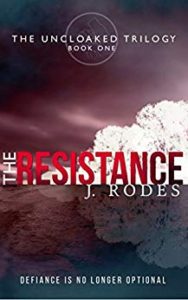 The Resistance is the first book in a dystopian series set in the not too distant future that honestly doesn't seem too farfetched. When the Progressive Reform Presidential candidate is elected, religious worshipers begin to be persecuted. Eventually, all religion is banned, and things quickly go from bad to worse. A mob mentality rules and if people do not prove their loyalty to the new government, resistance camps and public executions are created to persuade them to become party members.
This book is obviously for older teens. There are some disturbing concepts and scenes – although nothing overly graphic. The main character's voice is fantastic. Braxton is a rebellious, hot-headed preacher's son who doesn't really understand his father's unwillingness to pretend to work with the government. He blames his father's steadfastness in his beliefs for the suffering their family faces.
The similarities to World War II Germany were striking. I've read a lot of books about that time period, and I'm always left wondering how the Holocaust could happen. How did the regular German citizen go along with such evil? Were they scared to voice opposition? Brainwashed? Unaware? This story delves into that mentality and shows how such things could happen.
The Light by Jacqueline Brown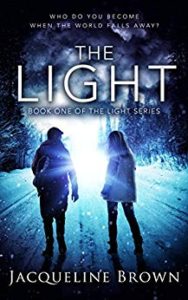 The Light is a contemporary post-apocalyptic story about college student Bria and the life-altering events she encounters. As Bria and her friends are driving down a highway late at night, a flash of light changes everything. Immediately, the car stops working, the cell phones are useless, and everything electronic fails to work.
Stranded on this dark road, trying to figure out what they should do, Bria and her friends are approached by two people their own age. This duo, a brother and sister, invite the stranded travelers to join them on their long trek home.
The characters soon learn that an attack on the country and a massive EMP, electromagnetic pulse, has changed life as they know it. This family and group of friends must somehow learn to survive in this new reality. Not only does Bria have to deal with an unexpected future, but the events also cause her to reevaluate the past. This suspenseful book does deal with some sensitive topics, so is recommended for older teens.
A few years ago, my family experienced an EMP event from a lightning storm. All the electronics in our house and even one of the vehicles were affected. It took months to get everything repaired and replaced. Ever since then, I've thought about what would happen if a massive EMP occurred, and the electricity in the entire city or country was destroyed. Think about a world with no electricity. No lights, no heat, no cars, no running water. All of that would mean, no grocery stores, no banks, no water supply. How would people survive? How would people react? How quickly would chaos turn to violence? This premise is quite frightening but makes a great backdrop for a novel.
The Destiny of One by Sarah Holman
This Christian Sci-Fi novel is an intriguing tale with messages that today's teen can completely relate to – finding your calling in life. What is the destiny that God has specifically created you to fulfill?
This was an enjoyable read about a teen age girl, Maria, who is feeling restless and trying to decide if she should head to college. She has a wonderful, supportive family but she just feels unsettled. When her family takes a trip to Earth – yes, she lives on Mars – her destiny begins to unfold. Political unrest, Christian persecution, an overthrown leader, and a daring escape fill this first book in the futuristic adventure series.
I enjoyed the conservative main character who relied completely on God to get her through challenging situations. I'm curious what the second book, The Destiny of a Few, will bring. I suspect more action and intense situations will be in Maria's future.