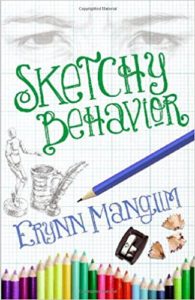 Sketchy Behavior by Erynn Mangum
This book will always hold a special place in my heart because this story helped me to be the writer I am today. Years ago when I had finished writing my first clean teen book and was searching unsuccessfully for a publisher, I came across this book in my local bookstore. It had all the elements I love in a great book – adventure, mystery, romance and humor. But it had another element that I didn't expect – faith. A subtle message that just became part of the story but added something truly meaningful to this fun story. I realized this was what my mystery was missing – a deeper meaning – a message of faith. Once I added that element to my story, suddenly everything changed and I found an interested publisher. But enough about me.
Sketchy Behavior is about a teen, Kate Carter, is about as ordinary as they come. But when she discovers a talent for sketching faces based on a description, she finds herself helping the police track down a serial killer. This seemingly good deed fills her unassuming, simple world with complications and danger. The premise might sound a little heavy but the author adds lots of humor to keep this story moving along in a delightful way.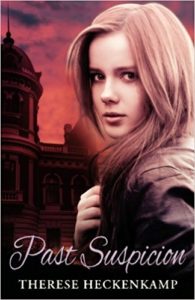 Past Suspicion by Therese Heckenkamp
As a mystery lover I was excited to start reading this Christian suspense novel. The only bad news is that I enjoyed it so much that I finished it much too quickly. The author drew me into the spell of this book immediately. Her ability to build suspense made me nervous and anxious from page one. Somehow this quaint small town and its residents felt spooky and odd, filled with secrets. This sense of eeriness was so palpable that I found myself extremely frustrated when the lead character trusted the new people in her life immediately. I wanted to scream at her not to be so trusting but of course she was a lonely, heart-broken, vulnerable young lady without the knowledge that she was the main character in a suspense novel. 😊 This story was spell-binding and I just had to keep reading to figure out what would happen. Which is always the problem with a good book – you can't stop reading but then you're disappointed when the book is finished too soon. Looking forward to reading another one of Therese Heckenkamp's books.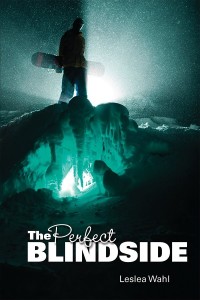 The Perfect Blindside by Leslea Wahl
He's an egotistical snowboarder with a silver medal.
She's a judgmental honors student with a flair for photography.
Slashed tires…. False accusations…. A coded message…. When all they can see is each other's flaws, how can Jake and Sophie work together to figure out what's really been happening at the abandoned silver mine?
Follow Sophie and Jake into secret tunnels as they unravel the mystery and challenge each other to become who God wants them to be.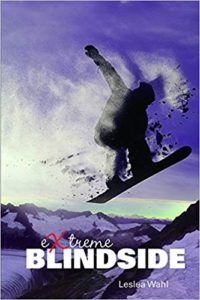 Extreme Blindside by Leslea Wahl
After winning silver, teen snowboarder Jake Taylor is struggling with sudden fame when he s offered a gig he can't refuse: becoming a spokesperson for a state-of-the-art athletic training facility. Training for its first competition, Jake relies on his faith to help him find ways to use his fame to help others… when athletes mysteriously start getting sabotaged one by one. Time is running out for Jake and his girlfriend, Sophie, to figure out what is going on before he is also sabotaged… or worse.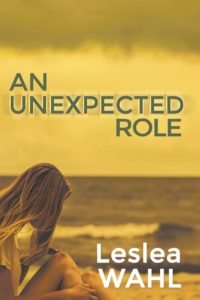 An Unexpected Role by Leslea Wahl
The devastation of a ruined summer.
The gift of a second chance.
Can Josie learn the lessons she needs in order to discover her true self?
After a humiliating event and overwhelming peer pressure, 16-year-old Josie flees her home to spend the summer with her Aunt on a South Carolina island. Her fresh start turns into the summer of her dreams as friendships grow, romance blossoms, and a series of thefts surround her with excitement. However, when tragedy strikes someone close to her, Josie realizes there are more important things than her reputation. As she sets out to solve the mystery she has become entangled in, she not only realizes the importance of relying on her faith but along the way also discovers who God wants her to be.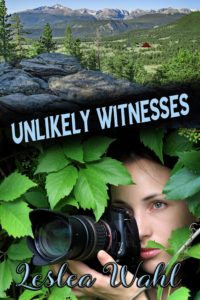 Unlikely Witnesses by Leslea Wahl
When four friends vacation together in the Colorado Rockies, they expect a week of hiking, biking, and rafting – not being interrogated by the FBI.
Unlikely Witnesses combines the characters of Leslea Wahl's award-winning YA mysteries, The Perfect Blindside and An Unexpected Role, in an all-new adventure.
Jake is a silver-medal-winning snowboarder. His famous face makes it hard to go anywhere unnoticed. Sophie, his devoted girlfriend, is an aspiring journalist whose camera is never far from her side.
Sophie's cousin Ryan, a high school baseball star, enjoys an ongoing prank war with his cousin. His girlfriend Josie adds excitement to all situations with her uncanny flair for the dramatic.
Between Josie's mishaps, Jake's celebrity status, and Sophie and Ryan's friendly feud their peaceful family vacation turns into a comedic adventure. But, when these four teens stumble upon a mystery, things become downright dangerous.
The fun and intrigue of this short story is paired with a reminder that if we live our lives as Christians, we never know when we might be a witness for Christ.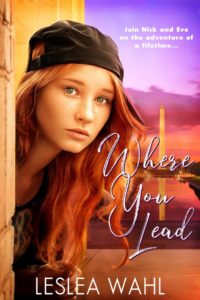 Where You Lead by Leslea Wahl
A vision from God leads to the adventure of a lifetime.
Sixteen-year-old Eve Donahue's lonely existence changes in an instant when visions of a mysterious stranger haunt her. Certain God is calling her for a mission, she bravely says yes and begins her quest to meet this young man.
Thousands of miles away, Nick Hammond has been dealing with his own unusual experience, an unwavering certainness to convince his father to run for political office.
When these two unlikely teens finally meet, their belief that God has called them to work together sets them on a journey of faith to untangle a web of deception involving international trade agreements, lost confederate gold, and a blossoming romance. As they follow century old clues, they realize God can call us all in big and small ways. We just need to listen and say, "Yes Lord, I will go where You lead."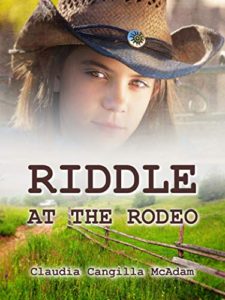 Riddle at the Rodeo by Claudia McAdam
This is a delightful middle-grade mystery – a Catholic Nancy Drew. This book is the kind of Christian book that I love, where the character's faith comes out in a natural way. I always think these types of "Catholic-light" books are extremely important because they portray the characters as just regular kids and that faith is a natural part of their lives.
In Riddle at the Rodeo, the main character, Kirsten, is asked to help solve a mystery. The mystery is fun and intriguing, but I really appreciate how this character feels bad about the white lies she has told and for the way she has treated her brother. These feelings cause her to take a detour during her adventure to go to confession. These small incidents are exactly the things kids have to deal with every day. Having characters that can show them how to deal with these issues in a faith-based way, is such a fantastic message for kids.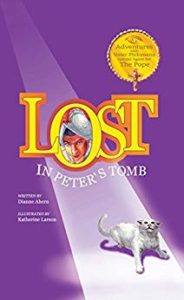 Lost in Peter's Tomb by Dianne Ahern
This is a delightful mystery for families. I debated whether to include this story in my review since it is written more for elementary age students, but I think young middle-grade readers would also enjoy it. This book would be perfect for a family with multiple aged children who enjoy reading together. The illustrations and short chapters make this one that even younger siblings would appreciate.
A family trip to Rome sounds exciting, but instead of touring the country with their parents, Riley and his younger sister must spend time with their Aunt. Riley is less than thrilled because Aunt Philomena is a nun and lives in a convent! Who could have fun there? But when Aunt Philomena gets a phone call, things change. It turns out she is a special agent for the Pope and has been called by the Holy Father to help solve a mystery at the Vatican.
Thus, begins their adventure. During their time at the Vatican, they meet one of the Swiss Guards and find out all kinds of interesting things about the building, the artwork, the artifacts, and the lineage of Popes. This was a fun story with some great history and theology elements.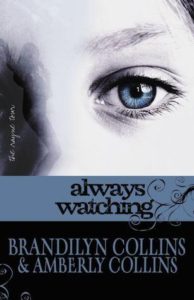 Always Watching (The Rayne Tour #1) by Brandilyn and Amberly Collins
This is a fantastic suspenseful murder mystery. First of all, I love the concept behind this book. It is written by a mother and daughter author team. My own daughter is a fantastic writer and I can't help but think how much fun it would be to write a book together. (Of course, this idea probably appeals to me much more than it would for her!)
The book is also about a mother-daughter team. Shaley and her mother Rayne do not live an ordinary life. Rayne is a rock star and their life revolves around fame, concerts, touring, and paparazzi.  On the band's latest tour, one of the team, and someone Shaley is very close to, is murdered. But things get worse when it appears to be an inside job. Could one of the band or crew really be the murderer?
This book is such a fast-paced page-turner. I whipped through the story, compelled to finding out what would happen next. While it is a murder mystery, and there is a little gore, it is not over the top. The rock star aspect will be interesting to teens. I really liked how the authors included faith in the story. When Shaley is scared and not sure who she can trust, someone shares with her that God will always be there for her watching over her.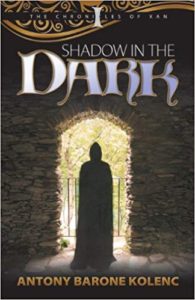 Shadow in the Dark by Antony Barone Kolenc
Shadow in the Dark is an exciting middle-grade adventure set in a medieval village. The story is about a boy who is injured and loses his memory. With the help of a group of Benedictine monks, Xan (short for Alexander) begins to heal and discover his identity. But, in the process, he uncovers a sinister plot that not only involves his past but places him in danger.
This short novel has a lot to offer. Adventure, mystery, history, and faith. I think older elementary and middle school boys will enjoy this swashbuckling tale. There are plenty of things modern-day readers will relate to, friends sharing scary tales of dark shadows, peer pressure, standing up for what is right, and discovering ones faith. Enjoyable read.