I've added some additional true stories and memoirs to this page so not all these books are about Saints, but they are all about inspiring Christians – possible Saints in the making!
The King's Prey: St. Dymphna of Ireland by Susan Peek
Susan Peek is one of my favorite Catholic authors. She has a series of books about saints – titled God's Forgotten Friends – Stories of little known saints.  One of the tag lines she uses is – the saints weren't boring why should their stories be? And that sums up her novels really well. She uses the facts and writes them into exciting adventures about some saints you might not have heard of.
The King's Prey is Susan Peek's best book yet! She has taken this story about a little known saint and created a heart-pounding adventure. Saint Dymphna who was an Irish Princess in 628 who had to flee from her deranged father. This story shows the treacherous chase across Ireland as Princess Dymphna escapes from her father. There is actually not a lot of facts about St. Dymphna except that she fled across Ireland from her father with the help of several people from her father's court and a local priest.
While it's about a Princess, don't let that fool you – it's also a great book for boys. Since not much information is available about those who helped Dymphna, Susan has used her imagination and created a story about two estranged brothers, with a heart-breaking past, to add even more excitement to this fascinating real story. The combination of perfectly timed humor, riveting chase scenes, and swashbuckling fights makes for a must read book.
One note – St. Dymphna is the patron saint of those afflicted with mental and emotional disorders. Her story makes for great discussions but also might not be appropriate for younger children.
St. Magnus, The Last Viking by Susan Peek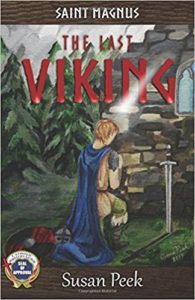 St. Magnus is one of three books in Susan Peek's series – Gods forgotten friends. First of all, where were these books when my own kids were learning about saints? This is just such a great idea, sharing the stories of little known saints in exciting novels based on their lives.
Susan Peek did a masterful job of bringing to life this saint from the early 1100's, and giving the reader an exciting look into the Viking way of life. Ms. Peek has woven the facts surrounding St. Magnus into a wonderful story that makes him real and relatable while dropping the reader in the middle of a dramatic period of history. I especially loved Magnus, his brother Aerling, and their relationship.
This teen book is equal parts geography, history, and theology lessons in a thoroughly engaging fictional story. I found it so compelling and interesting that when I finished the book I began researching St. Magnus wanting to know even more about this saint that I'd never heard of. I think any teen would enjoy this book but boys especially will love the adventure, danger and action that drives this novel. What a fantastic idea for a series, I look forward to discovering more of God's forgotten friends.
Treachery and Truth by Katy Huth Jones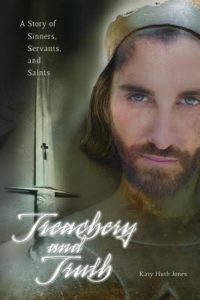 Treachery and Truth is the fascinating true story of Good King Wenceslas. I, of course, knew the name thanks to the Christmas carol but I honestly never thought about the inspiration for this classic song but I'm sure glad someone did. Katy Huth Jones writes a beautiful story about this beloved Czech duke, who was a faithful Christian during a time filled with pagan gods, betrayal and war.
The story is cleverly written through the eyes of the Duke's faithful servant, which was an intriguing way to tell this story. Though it's a work of fiction, the story is based on the facts known about this historic figure and draws the reader into his fascinating life. It was inspiring to see this young hero's faith and goodness that affected so many around him. I read this novel during Advent but it's a fabulous book any time of the year. I look forward to reading more from this author.
A Soldier Surrenders: The Conversion of Saint Camillus de Lellis by Susan Peek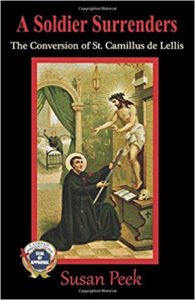 I am a huge fan of Susan Peek's books. This is the third book of hers that I've read and once again I found the story extremely difficult to put down. This author has an uncanny knack for making little-known saints from previous centuries, relatable to modern teens. Her witty dialogue, fast-paced action, and compelling characters make these books perfect for teens and adults.
Camillus de Lellis may have been an unlikely candidate to become a priest and saint with his mercenary background full of gambling, drinking and fighting, but these characteristics make him a fantastic example that anyone can be called by God to do amazing things.
Crusader King: A Novel of Baldwin IV and the Crusades by Susan Peek.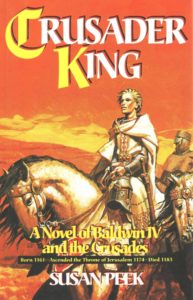 If you haven't read one of Susan Peek's books, you're really missing out. She has a series of teen novels based on little known saints with the tag-line, "God's Forgotten Friends: Because the saints weren't boring, and neither should their stories be". This encompasses her books perfectly. I've read all four of her books and have thoroughly enjoyed each of them. She writes fast-paced, action-packed novels that are incredibly engaging as well as informative. While they are written with modern language, which makes them easy to read and relatable to teens, these fact-based tales transport the reader back in time.
I'd never heard of Baldwin IV. But what an amazing person he was. He became the ruler of Jerusalem at the young age of 13. He was a devout Catholic trying to protect his kingdom during the tumultuous Crusades from foreign enemies, as well as some closer to home, all while battling a horrific disease. Not only did I learn a lot about this period in history but was captivated by Baldwin's personal struggles and inspired by his unwavering faith. Another amazing novel by this very talented writer.
To the Heights: A Novel Based on the Life of Blessed Pier Giorgio Frassati by Brian Kennelly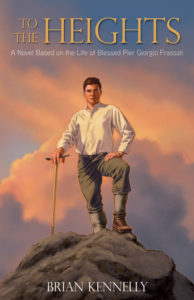 What an incredible look into the life of an incredible man. Pier Giorgio Frassati is a somewhat newer saint, having lived in the early part of the 20th Century. Because of this, there is a lot known and documented about this Saint. I thought the writer did a good job of keeping to the facts but making it feel more like a story than a dry biography. The reader is able to get a wonderful sense of Pier Giorgio through this book, which at times almost felt like a collection of inspiring short stories.
Frassati was an Italian man, born into a wealthy family. He was well educated and is now the Patron Saint of Catholic teens. And I can see why. This young man loved his faith and spent his short life caring for others.
I had known just a little about Frassati through my son and his youth group. But there were so many things I learned and was touched by:
His incredible faith and devotion to the poor. Even at an early age Pier Giorgio went out of his way to assist others and make them feel special.
His family's indifference to these things. I was amazed at the constant struggle he had in focusing on his faith without his family's support.
His strong friendships, especially with this sister. This was a young man who had many friends and loved their comradery. And the special relationship he had with his sister was touching.
He touched so many people in very powerful yet simple ways. This is the big lesson from this book. We all have this ability to help those in need, pray for others, and be kind to everyone we meet. Often saints seem to be people who did really incredible things, but this book is a great example of how everyone can really make a difference.
On a side note, as mentioned earlier, his family did not have a strong faith but through his death and finding out how many people he had touched, they did grow in their faith. His sister, in fact, was one of the reasons he became a saint. She devoted much of her time to telling others about her brother. I found it fascinating that his beautification was actually put on hold by the Vatican due to some false stories about him. After she travelled to Rome to clear his name, his path to sainthood continued.
A treasure for Catholic families.
God's Smuggler by Brother Andrew and Elizabeth Sherrill
This story is the personal experience of a Dutch man who risked everything to smuggle Bibles into Communist countries during the Cold War era. I found this true story about this Protestant missionary to be quite fascinating. This unassuming Dutchman brought hope and encouragement to Christian communities throughout Eastern bloc countries that had no access to Bibles. Brother Andrew saw a need, felt a calling, and put the rest into God's hands.
This is the kind of story that really makes you think about completely depending on God. Andrew truly believed that if it was God's will, it would somehow happen. Many times, as he smuggled Bibles across borders, guards somehow overlooked the books or inexplicably didn't check his car. It was beautiful to read how so many Christians kept their faith even when their governments banned Bibles, closed up churches, and made being a Christian extremely difficult. This true account, which seemed to be written for middle-grade readers, was far from dry or dull. This was an inspiring story about completely trusting in God.
Saint Clare of Assisi: Runaway Rich Girl by Kim Hee-ju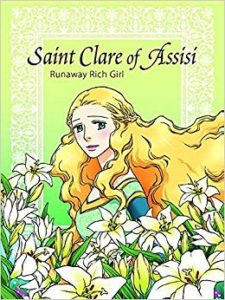 This graphic novel might be a great choice if you have a reluctant reader. This is the story of Saint Clare of Assisi. Saint Clare was born to a rich family and was expected to marry someone that her father chose for her. But Clare chooses a different path for her life when becomes intrigued by the strange ways of a man from her village—Saint Francis of Assisi. She is so moved by Frances' faith, his commitment to caring for others, and his dedication to living a life of poverty that she decides to follow his path. Through this quick read, I learned a lot about Saint Clare, her order of sisters, and Saint Francis. Clare gave up all her earthly possessions so she could follow Christ's example and live simply. Her story is a beautiful example of following God's will.
Saints Chronicles Collection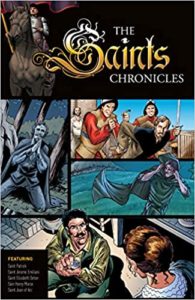 I thought this graphic novel/comic book was a wonderful way to introduce teens to several saints they might not know much about. The stories are quick, easy to follow, and highlight the amazing faith of these five individuals: St. Patrick, St. Jerome Emiliani, St. Elizabeth Ann Seton, St. Henry Morse, and St. Joan of Arc. Sometimes reading a whole book on a saint or historical figure can be a little overwhelming for teens so this might be a great option.
Abba Moses by Andrew Votipka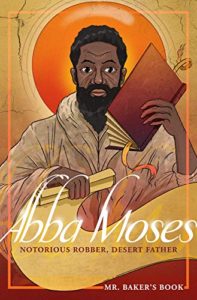 What a delightful book! I didn't know what to expect but enjoyed every moment. It reminded me a bit of The Magic Tree House books or Lisa Hendey's Chime Travelers series. This book is probably written for elementary-aged children, but I could see middle school students thoroughly enjoying it as well, either on their own or with their families.
When a new Religious Ed teacher shows up, Theo, Chris, and Laura assume he will be as dull as their previous Sunday School teachers. But Mr. Baker soon proves he is anything but boring. With the help of his magical book, he takes the kids on an adventure back in time to meet Moses. Not that Moses, but the bandit Moses from the 4th Century who terrorized Egyptian communities. How did this brute of a man become a saint? Well, join with the kids to find out.
This book was so much fun—full of humor, history, and adventure. I truly hope this will become the first book in a series because I would love to join these characters on more Biblical adventures! This fantastic story is a treasure for the whole family!
Barking at the Choir by Gregory Boyle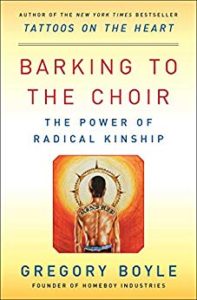 This book is sort of a memoir by Father Gregory Boyle who runs Homeboy Industries, the largest gang-rehabilitation program in the country. Each chapter has a central theme supported by snippets from his experiences with the "homies". These interesting, funny, heart-breaking, and heart-warming stories support the overall message of how important it is to care for people, even people who are different than us. Father Boyle's words are at times a little shocking, but there is no denying that he has a deep connection with the homies.
There were several points that really stuck with me, one being that gang members do not choose this lifestyle. They are fleeing from something else – abusive families, homelessness, parents who are addicts, etc. They may have done horrible things in their lives, but they are still children of God. These gang members have survived horrible backgrounds and Homeboy Industries is a lifeline and family for them.
Father Boyle travels a lot, speaking around the country about his incredible organization. He often takes some of the homies with him on these trips. The reformed gang members he chooses are exposed to a new world, some traveling for the first time in their lives. Then they have the opportunity to speak to counselors, clergy, law enforcement, and medical personnel. By sharing their backgrounds and personal stories they humanize the gang member that these professionals deal with on a daily basis. These interactions have a profound impact on all involved.
This is a fantastic, eye-opening book. Even if you will never interact with gang members it's a great reminder that we should care about everyone.
It's Good to be Here by Christina Chase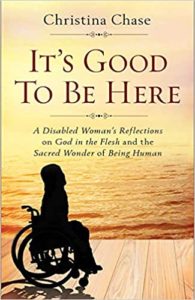 I was excited to read this book and expected to find it inspirational, but I was completely blown away. What a treasure! Christina Chase's It's Good To Be Here is bursting with incredible insights, amazing personal stories, and beautiful nuggets of faith.
Author Christina Chase is a woman who suffers from a debilitating disease. Maybe because of her own struggles, she brings unique thoughts and perspectives to Bible passages. This inspiring book is not necessarily aimed at teens, but I would highly recommend it for young people. She has such a wonderful ability of explaining concepts and ideas in a new way. This woman's incredible joy for life, despite the hardships she has endured, is truly inspiring. Witnessing her extraordinary faith through stories of her own life encourages readers to evaluate their lives in a new light. This book would be a phenomenal book to read as a family.
The Diaries of Joseph and Mary by Dennis McGeehan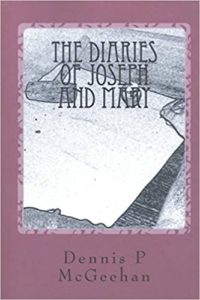 Looking for a book the whole family can read together? This novel is a fictional yet possible, unique look into the lives of Joseph and Mary. The story consists of diary entries beginning when they were children and ends right before Jesus' public ministry. The author uses his imagination but also Catholic tradition and historical facts to create this fascinating story. This book provides a look into that period of history, making you ponder what life must have been like for these two faithful servants.
Friends in High Places: Carlo Acutis by Corinna Turner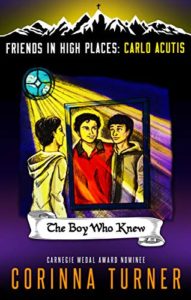 This short story by Corinna Turner is a fabulous introduction to the extraordinary life of Blessed Carlo Acutis. Carlo was an incredible, modern teen who died at the young age of 15 from leukemia. Amazingly, this young man is already on the road to sainthood. It's incredible for young people to have such an inspirational role model with who they can identify with. Carlo enjoyed playing soccer, video games, and hanging out with friends. He was also deeply devoted to his faith and even used his interest in computers to create a website about Eucharistic miracles.
Turner's fictional story revolves around another young teen who is also diagnosed with leukemia. Daniel, and his family, are struggling to deal with his devasting diagnosis. When his Priest shares with him the Carlo Acutis Novena, Daniel finally finds a special friend who understands what he is going through. With the help of the prayers of the Novena and learning more about Carlo's faith and kindness, Daniel is able to come to terms with whatever his future might hold. This story is a wonderful way for anyone to learn about Carlo and provides a powerful reflection on how we are living our own lives.
Saint Cloud of Gaul: The Prince Who Traded Kingdoms by Susan Peek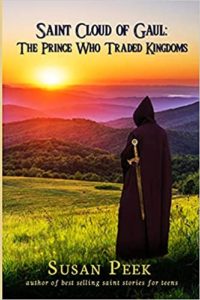 The Prince Who Traded Kingdoms is another masterpiece in Susan Peek's growing God's Forgotten Friends collection. The author's ability to bring to life the intriguing lives of little-known saints is an enormous blessing to our Catholic faith. This fascinating story about St. Cloud is her most heart-pounding story to date—truly a book that is impossible to put down.
Cloud was born a French prince, destined to rule his kingdom. However, when his cruel uncles change the course of events, he must flee for his life. As he grows, he must decide where God is calling him to be. Is he meant for a solitary life of prayer or to become a just ruler who can lead his people in a new direction? Humor, adventure, unparalleled faith, and miraculous events keep the reading turning the pages as Cloud discovers his destiny.
I didn't know anything about this fascinating follower of Christ but now I find him one of my saintly friends. Thank you, Susan Peek, for introducing these little-known saints to our generation. There is so much we can learn from the faithful servant of the past.
Maximilian Kolbe: The Saint of Auschwitz by Jean-Francois Vivier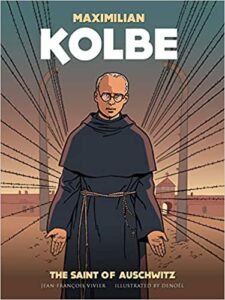 This graphic novel by Sophia Press is a fabulous look into the life of St. Maximilian Kolbe. I've enjoyed the entire collection of Saint graphic novels published by Sophia Press, but this one is my favorite. This one is a more in-depth endeavor, delving into the life of an incredible man. Maximilian Kolbe may best be known for his ultimate sacrifice while held prisoner at a Nazi concentration camp, but this faithful servant did so much for the Church during his life.
This comic-style book takes place during Kolbe's time at Auschwitz, letting readers experience a bit of the horrors and degradations perpetrated by the Nazis. Through Kolbe's discussions with his fellow prisoners, we learn about his life and amazing accomplishments. From starting the Militia Immaculatae, his years advancing Catholic publishing, to his missionary work in Asia, Kolbe's time on this earth, while cut much too short, touched so many as he lived his life for Christ.
Many of the Saints we read about lived centuries before us. While we can learn still learn so much from their fascinating stories, they can feel a bit removed from our lives. That's why I've always found the more modern Saints particularly intriguing. The idea that Saints are still living among us today is a fascinating thought. While the illustrations and text make this biography easy to follow, I especially appreciated the photographs included at the end of the book. The black and white images really added an extra element to this heart-breaking yet inspiring look into Maximilian Kolbe's life.
Saint Helena and the True Cross by Louis de Wohl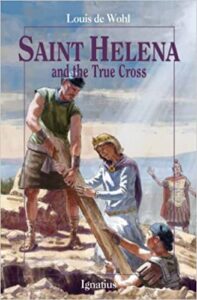 What a fantastic story about the lives of Saint Helena and her son Saint Constantine. While they are known as amazing early saints of the church, they weren't always believers of Christ. This older book tells the fascinating story of their lives during a very violent, pagan period when being a Christian could cost you your life. I knew just a little about Constantine and Helena, so I thoroughly enjoyed discovering more about this mother/son duo. While Constantine brought Christianity to the Roman Empire, Saint Helena brought many relics of Christ, including the cross on which he was crucified, from Jerusalem to Rome.
The author's descriptions brought the story to life. His portrayal of Helena as a strong, confident woman was wonderful. And Constantine's battles and epic journey across Europe were thrilling adventures. The details about Constantius, Helena's husband, and Constantine's father, really added a new layer of depth to their background. I always had a fondness for these two saints, but now, thanks to this book, these two are two of my favorites.
St. Nicholas the Wonderworker by Andrew Votipka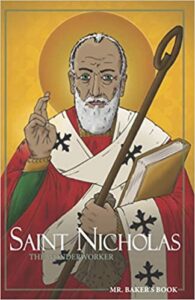 This is the second book I've read in The Mr. Baker's Book Series. These books, written for older elementary or middle school students, are fun adventures that introduce readers to saints. Mr. Baker's catechism lessons are literally brought to life with a special time-traveling book. In this newest story, one of Mr. Baker's students, Theo, is whisked away to discover more about the real St. Nicholas.
While the stories are light-hearted and are far from an in-depth biography, they offer a fascinating glimpse into the lives of some faithful servants of God. The books include some factual tidbits, along with plenty of humor around modern-day kids traveling back to ancient times. These books offer a great introduction to some interesting saints through thoroughly entertaining stories.
Lucia of Fatima by Kathryn Griffin Swegart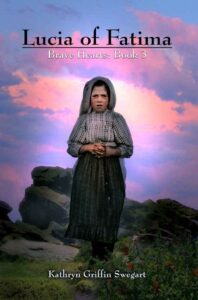 What an amazing story. I've enjoyed all of the books in Kathryn Griffin Swegart's Brave Hearts series, but this one is my favorite. These books about faithful servants of God are truly inspirational. I was familiar with Lucia and the incredible miracle that occurred at Fatima, but this book provided more details than I'd ever known before. Based on Lucia's memoirs, this story offers more insight into the Fatima events, as well as Lucia's life after the miracle. While this book is written as a middle-grade novel, I would recommend it for anyone interested in this incredible real-life story.
Through the beautiful writing, the reader feels like they know and understand Lucia. From the struggles she dealt with at home, to the sweet relationship she had with her cousins, and her unwavering devotion to her faith, Lucia was an inspiring woman. Thank you, Kathryn Griffin Swegart, for sharing this edifying story.
Child Unwanted by Corinna Turner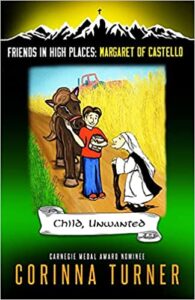 This is the third story in Corinna Turner's Friends in High Places series. This series of short stories introduces saints to readers through fictional tales about modern teens. Child Unwanted focuses on the life of Blessed Margaret of Castello. I had never heard of this faithful servant and her incredible life of hardship. The joy and faith that defined Margaret, despite the many difficult trials she endured, is truly inspiring.
Child Unwanted is all about not giving up and using your situation, no matter how painful, to pray for and bless others. This act of giving your pain up for others is a difficult concept to understand. This story about a boy name Miri, does an excellent job of explaining the process. I appreciated the pro-life aspect of the story as well as the cameo appearance of Daniel, a character found in each of the Friends in High Places books.
Saint Ignatius of Loyola: For the Greater Glory of God by Donna Giaimo, FSP and Patricia Jablonski, FSP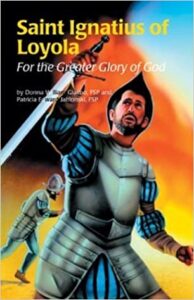 Having two children attend Jesuit high schools and colleges, I have long been curious about the founder of the Jesuits, Saint Ignatius of Loyola. In every classroom, the Jesuit phrase "Ad Majorem Dei Gloriam" was proudly displayed, and the AMDG symbol even graced their tennis and baseball uniforms. While I struggled at first to remember what the beautiful Latin words meant, I fully appreciated that my teens were constantly reminded to live their lives "For the Greater Glory of God." This Jesuit principle that our actions give glory to God, is the foundation of the Jesuit's incredible contribution over the centuries to education and missionary work around the world.
This book by Pauline Books and Media is relatively short but offers a wonderful depiction of this holy man's life. Inigo, who grew up in the early 1500s, came from a well-off family. As a boy, he longed for a life of adventure, defending his beloved country of Spain as a soldier. However, a serious battle injury changed this young man's life forever. During his long recovery, he was stuck with nothing to do but read. The only two books available to him were a book about the life of Christ and one about the lives of the saints. These books led him on an unusual journey of faith to change his name, give up his worldly possessions, and eventually become a priest who founded the Society of Jesus, also known as the Jesuits. I thoroughly enjoyed this introduction to the life of an incredible saint.
Power Priests by Greg Hendry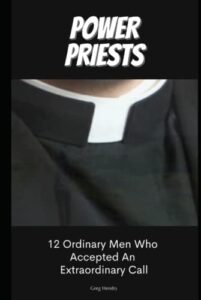 What a wonderful book! I thoroughly enjoyed learning about these twelve Holy men who answered God's call to the priesthood. Most of these individuals are modern-day priests, but there are a few intriguing stories from previous decades as well. This book is highly recommended for teens, whether they have an interest in religious life or not. The true stories of these dedicated servants are inspiring for anyone.