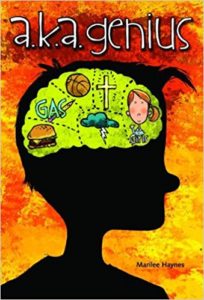 a.k.a. genius by Marilee Haynes
I loved this book! What a delightful middle grade book about finding yourself and fitting in. The story follows Gabe, a middle school student – smack dab in the middle of those difficult awkward years. Oh, and he just found out he's a genius.
I've never read the Diary of a Wimpy Kid books but this novel reminded me of the movies. A young boy making his way through the difficult years of middle school, in a humorous story with colorful characters. I was about halfway through the book when I was out of town and unable to read for a few days but I couldn't get Gabe, his friends and their predicaments out of my mind.
Haynes is a fabulous writer who expertly captures Gabe's voice. Though this book is fun it also has some powerful moments and inspiring messages. Warning: you many need to keep some tissues nearby to wipe away the tears of laughter and sadness.
I highly recommend this funny and touching book.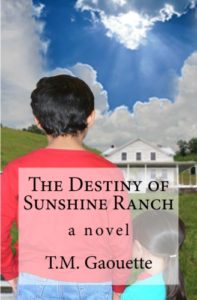 The Destiny of Sunshine Ranch by T.M. Gaouette
The Destiny of Sunshine Ranch by T.M. Gaouette is a lovely, heart-warming story. I've never read a book that focused on foster families and was extremely moved by this touching novel. This is a story that stays with you long after it's over. In fact, I finished the book a few weeks ago and haven't stopped thinking about the characters since.
The author creates an array of interesting characters that are flawed yet understandable and memorable. I think this book would be great for all kids to read, showcasing the power of love and family – no matter what that family might look like. As a mother, it was heart-breaking to hear the stories of these fictional children and how they ended up in the foster system. These characters were fortunate though and were placed with a family that loved and encouraged them.
I thought the author did a wonderful job of showing the trust and abandonment issues these children carried with them. This middle-grade novel is full of heart-wrenching realities, faith-filled moments, and a powerful hopeful message. I think it would be a fantastic book to read with your children. This is a story they can learn a lot from and to help them understand there are many children out there that might not be as fortunate as they are.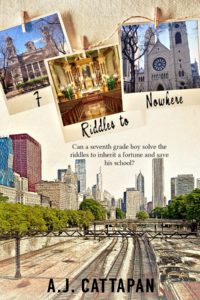 7 Riddles to Nowhere by A.J. Cattapan
A.J. Cattapan has done it again – created a beautifully written hard-to-put-down story. Seven Riddles to Nowhere is a wonderfully charming book perfect for older elementary students, middle schoolers, or for anyone who enjoys a great story. The main character Kam finds himself on a mission to save his beloved Catholic school from closing. This goal leads him on an adventure through Chicago deciphering riddles at beautiful churches while avoiding the school's bully along the way.
The characters of Kam and his supportive friends are so enjoyable I couldn't help but root for them as they made their way from church to church. Cattapan did an amazing job of not only bringing her characters to life but also describing Chicago in a way that the city practically became another character in the book. I also loved the element of the faith based riddles the kids had to solve.
This is a fantastic story of self-sacrifice for the good of others that delivers a beautiful message – kids can make a difference. I know this book will have great success.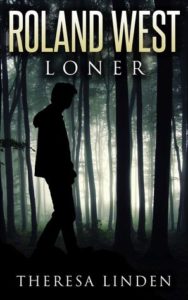 Roland West, Loner by Theresa Linden
Roland West, Loner is a Catholic YA novel centered around the relationships between brothers and friends. This book is especially great for Middle School and High School boys. Linden knows boys well and writes from this perspective perfectly.
I absolutely loved the development of the friendship between Roland and his neighbor Peter. I also enjoyed the character of Caitlyn and the sweet relationships she had with both boys. Even though it's titled Roland West, Peter had his own very interesting storyline and issues to overcome. The author fused the two boys' storylines together brilliantly through an adventure they embark on together.
There is a deeply religious part of the story, about saints and relics that was brought up in a very intriguing way. This is a subject I've never seen addressed before in YA fiction and I think the readers will find it as interesting as I did. Linden does a wonderful job of drawing the reader into Roland's life. At times I wanted to scream in frustration with how he was treated by his manipulative brothers.
The best news is that this is the first in a series of books for teens about Roland and his brothers.