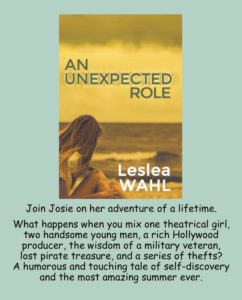 One year ago this month, my second YA novel – An Unexpected Role – was released.
There are so many things about this book that I love. While I always try to incorporate humor, faith, and romance into my mysteries, with this novel, I was able to really delve into those areas. Writing this story from the perspective of the very theatrical main character, Josie, was so much fun.
This book also reflects a bit more of my life than my first novel. Not that I'm anything like Josie, but all the musicals she talks about were ones either my kids or myself were involved in. The baseball scenes were near and dear to my heart as my sons both played baseball. And even a few incidents from our family vacations made their way into this story.
Oh, and one last little fun fact: One of the main characters in this book is related to a main character in The Perfect Blindside. So far, no has figured it out. Could you be the first?
This unexpected writing career of mine has been such a joy and I thank you all for your support.
If you aren't familiar with this fun story, you may want to check out the following links.
God's Blessings!
Leslea