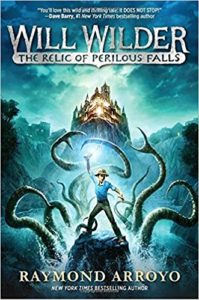 The Relic of Perilous Falls by Raymond Arroyo
Fans of Rick Riordan's Percy Jackson and the Olympians and Peter Lerangis's Seven Wonders series will embrace this epic adventure in a rollicking new series by a New York Times bestselling author.
 
Will Wilder didn't mean to unlock his otherworldly gift. But that is exactly what happens when Will "borrows" a sacred relic believed to protect the town of Perilous Falls for nearly a century. Even though his intentions are good, the impulsive twelve-year-old unwittingly awakens an ancient evil endangering all of Perilous Falls.
 
As boats sink and hideous creatures crawl from the rising waters, it is up to Will to confront a nightmarish enemy and set things right before it is too late. Along with his sweet—if lethal—great-aunt Lucille, the curator of a museum of supernatural artifacts, Will proves that the actions of one twelve-year-old boy can change the world.
If your child likes the Percy Jackson series they'll probably enjoy Raymond Arroyo's action-packed Will Wilder books. The Relic of Perilous Falls is the first book in this series about Will Wilder, a young boy with unique gifts. Will doesn't realize he has special powers but when he accidentally unleashes some demons in his hometown he learns that there is a secret society of believers that all have special powers to keep people safe from the dark side. There are many unique characters in this book that add a fun element – Will's Aunt, friends, siblings and parents all help to make this story fast moving and enjoyable.