Welcome to my monthly book review post!
March's theme is Contemporary Religious. What does that mean? I'm defining it as stories about modern-day teens that are a little more religious in nature. I chose this genre specifically for this season of Lent because this is a time of reflection and growing closer to God. All these books show that so beautifully.
In case you are new to my blog… every month I post about 3 YA books that I've read, each month in a new genre. So, if you're not interested in other teen books you can skip past this Book Review Post. I'll still be sending out posts marked UPDATES regarding news about my own work every other month.
But for those of you who have kids or grandkids or you yourself like teen books (like me!), each month I'll introduce some of my favorite Christian and Catholic YA books.
I've decided to provide more reviews because there are a few things I've learned since I had my first book published:
1 – So many of the teen books published by the big publishing companies contain messages that don't match the values of many families.
2 – There are a lot of fantastic, clean, faith based books out there. Books that are entertaining yet wholesome and reflect Christian values.
3 – These types of books can be really hard to find. So, I'd like to introduce you to a few new adventures.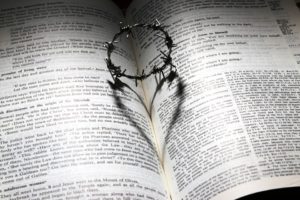 All the books this month are very similar in that they are about young people who are dealing with tragedy in their lives. These heart-breaking events have sadly created dysfunctional homes for each of the teens. All three of the main characters are hurting but are touched in some way by God and His infinite love. God is of course the great healer in our lives and can help us deal with the pain of life, whether through the power of prayer, being open to God's plan for you, or understanding we are not alone in our pain.
All three of these books are also powerful reminders of several things.
1 – No matter the struggles, we are not alone and God can help us.
2 – Our difficulties can be used to help others in need.
3 – Even if we are not facing major problems, we have the opportunity to be compassionate and sympathetic to those in our lives who are suffering.
Whether you read them during Lent or give them as gifts for Easter, these three books are all perfect for this Holy season.
Awakening by Claudia Cangilla McAdam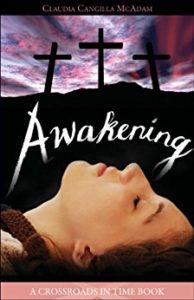 Awakening is one of those books that is hard to set aside. While reading, I had trouble putting it down, wanting to know what would happen next, and found myself wanting to read just one more chapter after one more chapter. Even after I finished the book, my mind couldn't put it aside, thinking about this powerful and imaginative story long after I devoured it.
In a "Wizard of Oz" type of moment, modern American teen, Ronni mysteriously awakens in 33 AD finding herself in Jerusalem during Passover as Jesus and his followers come to town. She watches helplessly, knowing the horrors that are about to transpire. She struggles with this knowledge. Can she stop it from happening? Should she?
This compelling story is such a unique and moving way to view the Easter story that I think will appeal to teens. The author seamlessly adds entertaining, modern items that teens will relate to – tenuous friendships, unrequited crushes, complicated relationships with parents – with the Passion story, creating a hard to put down novel.
I love the many elements highlighting the time period, the historical details of Jewish and Roman culture, and experiencing firsthand what the disciples might have felt. I even learned some things that I hadn't known about the Passion Story. Just when you think you know what will happen, some unique twists are thrown in to keep you wanting more, all while keeping to the facts of this Holy event.
A Single Bead by Stephanie Engelman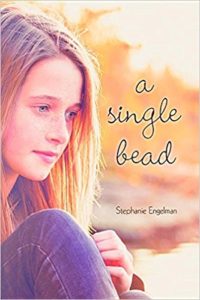 A Single Bead is about the power of prayer – most specifically the rosary.
This is a beautiful young adult novel that centers around a family in need and a special rosary that affects the lives around them. This engaging story touches on very real and difficult issues such as loss and depression while focusing on the power of prayer and the importance of family.
I was intrigued with the main character, Katelyn, and how she was influenced not only by the crisis of faith in her own personal family but also by the very strong beliefs held by her large, extended family. The journey that Katelyn is thrown into surrounding her grandmother's rosary is mysterious, thought-provoking, and moving. What a joyful message for anyone, that our prayers can be so powerful and life-changing. A Single Bead would make a wonderful Easter or Confirmation gift.
The Gate by Nancy Carabio Belanger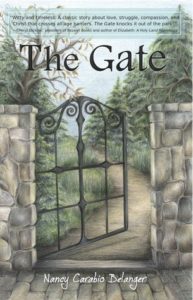 This YA novel is written from the perspective of the grown-up Joshua, as he looks back and remembers a life-changing time in his past. The way the story is written I assumed several key aspects of the story, but I just couldn't wait to see how it played out. I was so moved by the story of Josh and the elderly gentleman he reluctantly befriends, Pie.
The relationship between these two unlikely friends was incredibly touching. My heart went out to both of these characters – the snarky teen and the curmudgeony old man. The voice of the lead character, Josh, is fantastic. The smart aleck language – absolutely brilliant. I could just feel this young boy's angst and anger as he continued his struggle over the death of his father.
This is such a powerful book about healing and how God's love works within us and through those we meet. What an inspiring, thought-provoking novel.
All these books can be found on Amazon. I've set links – just click on the highlighted titles. For those who don't use Amazon you can also check Barnes and Noble online or www.indiebound.org where you can search for books and the local bookstores that might carry them or order them directly from the website. You can also ask your local bookstore to order the books for you.
Next month I'll be reviewing three more Christian/Catholic teen novels. But if you'd like more reviews before then you can always check out my recommendation section on my website: YA Recommendations.
If you've come across this post on Facebook and would like to get my monthly reviews sent directly to your inbox, you can sign up on my website – www.LesleaWahl.com.
Until next month – Happy Reading!