In case you are new to my blog… every month I post about 3 YA books that I've read, each month in a new genre. So, if you're not interested in other teen books you can skip past this Book Review Post. I'll still be sending out quarterly posts marked UPDATES regarding news about my own work.
But for those of you who have kids, or grandkids, or you yourself like teen books (like me!), each month I'll introduce some of my favorite Christian and Catholic YA books.
I've decided to provide more reviews because there are a few things I've learned since I had my first book published:
1 – So many of the teen books published by the big publishing companies contain messages that don't match the values of many families.
2 – There are a lot of fantastic, clean, faith-based books out there. Books that are entertaining yet wholesome and reflect Christian values.
3 – These types of books can be really hard to find. So, I'd like to introduce you to a few new adventures.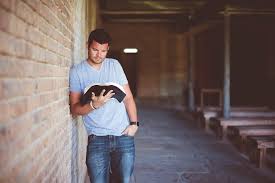 Are you searching for a way to keep your older teens occupied this summer? Maybe something that they will enjoy but will also reflect Christian values? Look no further, I've got some fantastic book suggestions for you.
Older teens have many distractions – sports, activities, video games, school, work – the list goes on. And it seems that older teen guys tend not to do a lot of reading. If you look at teen books in general, so many of the novels are aimed at girls. So, this month I'm focusing on some incredible books that older teen guys will enjoy. These three books are all so well written that all teens would enjoy them, but these books all have male lead characters with fantastic, exciting storylines that boys will especially appreciate.
Standing Strong by Theresa Linden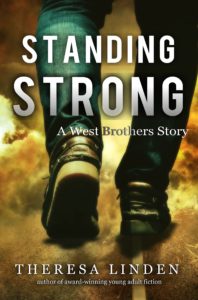 Theresa Linden is an amazing talent in Catholic teen fiction. I'm a huge fan of her writing and her ability to completely draw the reader into the moment with her outstanding descriptions. Standing Strong is part of her West Brothers series. These gripping, character-driven books are all extremely powerful.
The books in this series are all written from slightly different perspectives, whether from one of the three West brothers – Roland, Jarret or Keefe, from a friend – as in Life-Changing Love, or, as in Battle for His Soul – the demons and angels that are constantly battling around us. Standing Strong focuses on Jarret and Keefe West, the twin brothers who are struggling with very different aspects of their faith.
Linden has perfectly captured the heart and soul of the tough Jarret West in this novel. During the first book, Roland West, Loner, I couldn't stand his older brother Jarret, but as the series has continued, Jarret really developed into a fascinating character. This character that I loathed, transformed into one that I found myself rooting for. He's made lots of mistakes, did many horrible things, treated people badly, but in the end, realized his mistakes and the importance of his faith. Standing Strong finds Jarret struggling to keep his new found faith focused and strong, while his twin brother Keefe searches for answers to his own calling.
When authors write a series, they hope that all the books will be intriguing and connect with their readers. Linden has not only mastered this goal with her West Brothers series but as she continues with this powerful family saga, each book has been better than the last.
The Last Thing I Remember by Andrew Klavan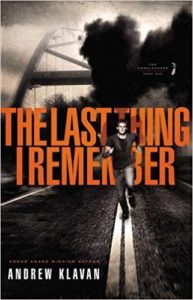 Wow. If you're about to read this book – hold on for a wild ride. This was such a fast-paced, edge of your seat, page-turner. In case, you hadn't figured it out yet – I loved this book. I've read one other book by Mr. Klavan and enjoyed it as well, but this one was truly fantastic. If you enjoy mystery adventures, this will be a series that you will get through quickly.
This book has a great main character who tries really hard to always do what is right. But when teen, Charlie West, wakes up strapped to a chair, bloodied and bruised, with no idea how he got there, well, you're just going to have to read the book to find out more.
While Charlie fights for his life, he thinks back to the last day he remembers. Through this reflection, we learn more about him, his family, the girl he has a crush on, and a troubled friend. The flashbacks work perfectly, and the action keeps the story moving quickly. This is a great Christian teen novel.
St. Magnus, The Last Viking by Susan Peek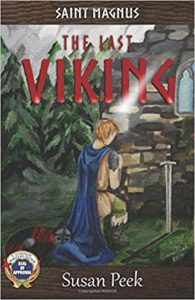 St. Magnus is one of the books in Susan Peek's series – Gods forgotten friends. First of all, where were these books when my own kids were learning about saints? This is just such a great idea, sharing the stories of little-known saints in exciting novels based on their lives.
Susan Peek did a masterful job of bringing to life this saint from the early 1100s and giving the reader an exciting look into the Viking way of life. She has woven the facts surrounding St. Magnus into an exciting story that makes this saint real and relatable while dropping the reader in the middle of a dramatic period of history. I especially loved Magnus, his brother Aerling, and their relationship.
This teen book is equal parts geography, history, and theology lessons expertly woven together into a thoroughly engaging fictional story. I found it so compelling and interesting that when I finished the book, I began researching St. Magnus wanting to know even more about this saint that I'd never heard of. I think any teen would enjoy this book, but boys especially will love the adventure, danger, and action that drives this novel.
All these books can be found on Amazon. I've set links – just click on the highlighted titles. For those who don't use Amazon you can also check Barnes and Noble online or www.indiebound.org where you can search for books and the local bookstores that might carry them or order them directly from the website. You can also ask your local bookstore or library to order the books for you.
Next month I'll be reviewing three more Christian/Catholic teen novels. But if you'd like more reviews before then you can always check out my recommendation section on my website: YA Recommendations.
If you've come across this post on Facebook and would like to get my monthly reviews sent directly to your inbox, you can sign up on my website – www.LesleaWahl.com.
Until next month – Happy Reading!