Every once in a while I get a chance to support my author friends and share about their new releases. Today I am featuring Theresa Linden's newest novel, Tortured Soul. This book is not a teen novel, but something intriguing for the adults.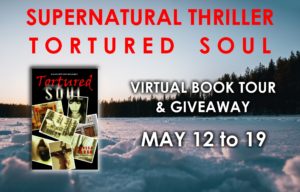 STORY SUMMARY:
A single woman evicted from her family home. A terrifying specter that only she sees. A dark connection between his past and hers…
After her father's tragic death and her mother's recent passing, loss leaves an emptiness Jeannie Lyons can't fill. Now she must leave her family home, the one place where her parents' memory still lives.
An old house on the edge of town becomes Jeannie's new home, one too big for her and her three-legged cat, but she soon gets the impression she's not alone. Her brother blames her overactive imagination. Her sister-in-law suggests counseling. Her would-be boyfriend is the only one who believes her, but can she trust him? With nowhere to turn, Jeannie must face her inner demons and confront this soul from beyond the grave.
Set in modern times, this supernatural thriller is inspired by the apparitions from souls in purgatory to Eugenie von der Leyen (1867-1929).
MY REVIEW:
Oh, my goodness – where do I begin? I've been a fan of Theresa Linden's writing for quite a while now. Her West Brothers series is one of my all-time favorites and her Chasing Liberty dystopian books are thought-provoking page-turners. And her recently released children's book Belt of Truth, is absolutely charming. However, despite my knowledge of her previous work, I was completely unprepared for her newest book.
While Tortured Soul is based on the experiences of a real person, Linden chose to place her version in a modern setting. Knowing this book is based on a true experience made the story even more intriguing. I honestly couldn't read it fast enough. I became consumed with needing to know what happened next. And in the end, this unbelievable tale made me think about the power of prayer in a whole new way.
The story is about Jeannie, a lonely young woman who desperately misses her deceased parents. In many ways she continues to live in the past, unable to let go of her heartache. When she must move out of her family home and into a new house, her troubles really begin. I don't want to give anything away, but strange things start happening that ultimately force Jeannie to confront the scars of her past.
Theresa Linden's writing just keeps getting better with each book I read. I've always known of her knack for creating unique characters and her seemingly effortless descriptions that have a way of putting you in the middle of the story. And now I know she's also a master of creating intense suspense. Only one warning – don't read this one before bed!
CHANCE TO WIN!  Enter Theresa's contest for a chance to win this book.
BUY LINKS:
AUTHOR BIO:
Theresa Linden is the author of award-winning Catholic teen fiction that weaves the natural with the supernatural. She has several published novels, including a dystopian trilogy, a contemporary young adult series, two short stories in Image and Likeness: Literary Reflections on the Theology of the Body, and a short story inSecrets: Visible & Invisible. She holds a Catechetical Diploma from Catholic Distance University and is a member of the Catholic Writers Guild. Her books can be found on CatholicTeenBooks.com, Catholic Reads, FORMED and Virtue Works Media. A wife, homeschooling mom, and Secular Franciscan, she resides in northeast Ohio with her husband and three teenage boys.