This month's books are all about friendships. The friendships in our lives help us to become who we are. They help shape us by making a profound difference in our lives. Often when we think of friends, we think of peers, people who are our own age and are similar to us. But sometimes the friends who have the biggest impact in our lives are people that are quite different from us. People of different ages or life experiences can bring new perspectives and change how we see situations and even ourselves. I'm sure many people can think of a friend that came into their life, possibly for only a brief time, that somehow made a huge, life-altering difference.
Before we begin…
In case you are new to my blog… every month I post about 3 YA books that I've read, each month in a new genre. So, if you're not interested in other teen books you can skip past this Book Review Post. I'll still be sending out quarterly posts marked UPDATES regarding news about my own work.
But for those of you who have kids, or grandkids, or you yourself like teen books (like me!), each month I'll introduce some of my favorite Christian and Catholic YA books.
I've decided to provide more reviews because there are a few things I've learned since I had my first book published:
1 – So many of the teen books published by the big publishing companies contain messages that don't match the values of many families.
2 – There are a lot of fantastic, clean, faith-based books out there. Books that are entertaining yet wholesome and reflect Christian values.
3 – These types of books can be really hard to find. So, I'd like to introduce you to a few new adventures.
Friendships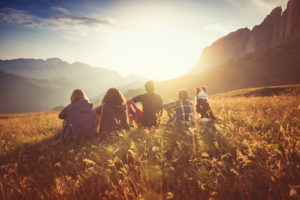 Sunflowers in a Hurricane by Anne M. Faye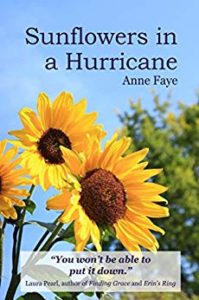 This is a multigenerational tale of heartache and forgiveness. I enjoyed this book so much that I kept neglecting the work I needed to get done, telling myself I'd just read one more chapter – over and over again.
Sunflowers in a Hurricane is told through three different characters. George, the elderly neighbor who is still grieving the wife he lost years before. Cheryl, the single mom who returns to the hometown that she fled as a teenager amidst scandal and trauma. And Ruth, the middle-school age daughter who struggles to understand her mother's anger and overprotectiveness. Circumstances meld the lives of these three characters as they each deal with painful family issues.
This story is mostly told from the young teen's perspective, which will connect with teen readers. However, I think it's wonderful for young readers to understand the inner thoughts and personal feelings of the elderly gentleman and the mom as well. To see that adults also struggle with issues and that they don't have everything figured out is a fabulous lesson. This is a thoroughly enjoyable book, with many fantastic discussion opportunities.
Spokes by Deanna Klingel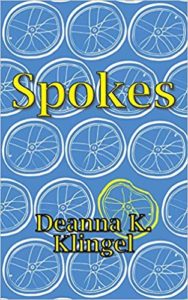 Spokes could be classified as an adventurous mystery, but the real heart of this story is the very special friendship that forms between the lead characters.
In the aftermath of a tragic accident, the lives of two very different teens. Kelsey, a homeschooled Catholic girl and Brendan, a Jewish boy who is dedicated to his faith, are intertwined. Their search for a mysterious sports car and a determination to compete in a triathlon leads these two on a summer adventure that will forever change them both. As the summer progresses and their training and search intensify, their friendship grows.
Besides the compelling storyline, there are several side stories that center around triathlon training, a group of friars, and the Special Olympics – all are quite interesting. I think this story could be the catalyst for some great conversations.
Catholic Reluctantly by Christian M. Frank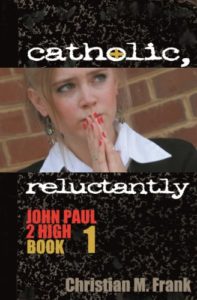 I'm so glad I stumbled across this book. Not only is the story extremely engaging, but the concept behind the book is equally intriguing. This series of books was written by a collaboration of authors.
The story is about a group of students at John Paul 2 Catholic High School. This is a new, small school. In fact, there are only 7 students. All the characters had unique voices and personalities. The authors did a great job blending together these characters from very different backgrounds. The friendships that blossomed between these teens was wonderful. I also liked how the distinctions between the public school, the large Catholic school, this tiny new school, and the homeschool community were dealt with. And, being a fan of mysteries, I thoroughly enjoyed the mysteries that were woven throughout the story.
The best part of this book, however, is the message of how hard it is to stand up for and live your faith in our society amid peer-pressure. This is a problem that is very relevant to all teens.
All these books can be found on Amazon. I've set links – just click on the highlighted titles. For those who don't use Amazon you can also check Barnes and Noble online or www.indiebound.org where you can search for books and the local bookstores that might carry them or order them directly from the website. You can also ask your local bookstore or library to order the books for you.
Next month I'll be reviewing three more Christian/Catholic teen novels. But if you'd like more reviews before then you can always check out my recommendation section on my website: YA Recommendations.
If you've come across this post on Facebook and would like to get my monthly reviews sent directly to your inbox, you can sign up on my website – www.LesleaWahl.com.
Until next month – Happy Reading!