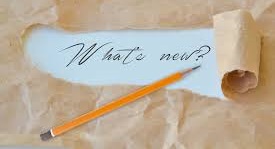 Quarterly Newsletter
Welcome to my Quarterly Update! This update is to share with you any new happenings regarding my books and work.
Perfect Blindside Sequel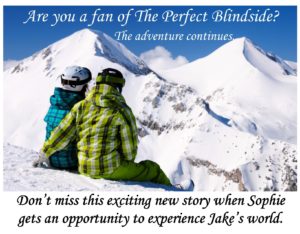 As many of you know, I have been working on the sequel to The Perfect Blindside. If all goes well with the final editing, the book should be released in early December – just in time for Christmas! It has been so much fun to once again write about Jake and Sophie. Over the next several months, I will reveal more about the story on Facebook, Instagram, and here on my blog. If you haven't had a chance to read The Perfect Blindside yet, now is a perfect time. Or you can catch up with their adventures with my novella, Unlikely Witnesses.
Formed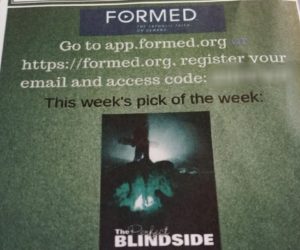 I recently found out that The Perfect Blindside is now available on FORMED. And, this week it happens to be the book recommendation of the week! If you're not familiar with FORMED, it is an online resource for parishes available through the Augustine Institute. They provide an online library with books and videos that subscribers can enjoy for free. If your parish does not subscribe to this great program, maybe you could inquire about them joining.
Ministry thru Mystery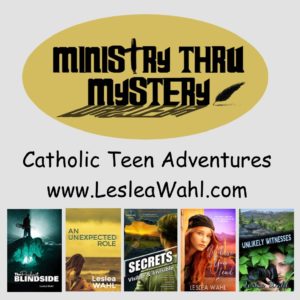 I am blessed to have a very creative mother who gave me a beautifully spelled name. I have always loved having a unique twist to my name, but it does make some things challenging, like when your name is your website address. Because I have started doing more interviews and podcasts, and there can be many ways to spell Leslea Wahl, I decided to start using my logo to help with this issue. I can now be found on Instagram as MinistryThruMystery. Also, people can now use MinistryThruMystery.com to reach my website.
AUR study guide
I am slowly working on creating intensive study guides for each of my books. These can be used for traditional classrooms or with a homeschool curriculum. Last year, I created one for The Perfect Blindside and have recently finished one for An Unexpected Role.
CTB Book Packs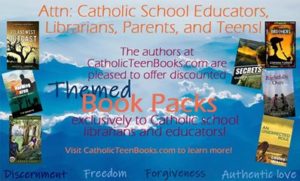 The joint website that I am part of – CatholicTeenBooks.com has created a program specifically for schools and libraries. We are now offering book packs at a discounted price. It is a fantastic way for schools to purchase more faith-filled books for their classrooms and libraries at a discounted price. We are trying to spread this exciting news so if you know of a school or teacher who might benefit from this program – please share this link which will give all the information. BookPacks
Well, that's it for this quarter! Thank you so much for your continued interest and support!