Welcome! Thanks for your interest in my books and ministry. It's been a while since I posted an update, so I have a few things to share.
Searching for a Christmas Gift?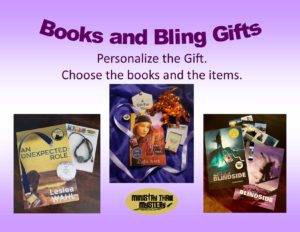 Looking for a fun personalized gift? Check out my Books and Bling Gift Packs.
To get you in the holiday mood: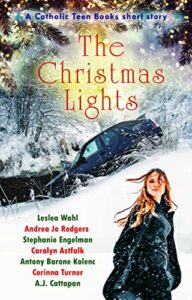 This collective story that I collaborated on with several other CatholicTeenBooks authors, is now available as an ebook. Last Christmas, a friend approached our group about writing a story that would be read on his podcast, Jedlie's Reading with Your Kids Podcast, on Christmas Eve. Jed gave us a prompt, and one by one each of us wrote a section as the story was passed from author to author. Only the final contributor knew the entire story until we read it for the podcast. We enjoyed the project and wanted to share this fun, short story with others. All proceeds from this e-book will be donated to Cross Catholic Outreach.
And, we were asked to participate again this year. So, if you're interested, listen to Jed's podcast on Christmas Eve for our next collective story. LINK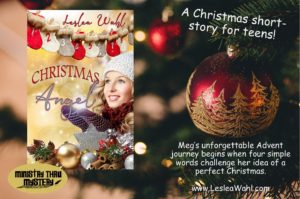 This is my story that appeared in the Gifts: Visible and Invisible anthology. Join Meg's unforgettable Advent journey when four simple words challenge her idea of a perfect Christmas. This short story was inspired by a true event that a friend once shared with me. I thought it was the perfect backdrop to this story about helping others.
2021 In-person Events
I was so excited to begin traveling to events once again during the last few months.
In August, I participated in several panel discussions at the annual Catholic Writers Guild conference in Chicago.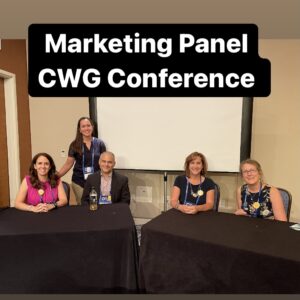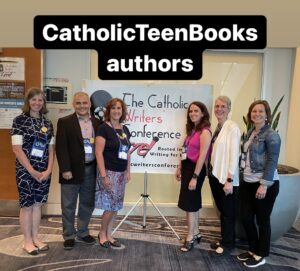 Also in August, I represented CatholicTeenBooks at the Midwest Catholic Family Conference in Wichita.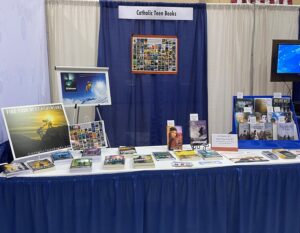 And, just a few days ago, I was in Dallas spreading the news about CatholicTeenBooks at the St. Nicholas Show.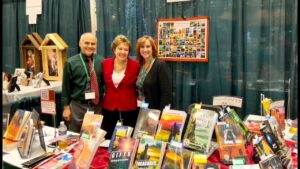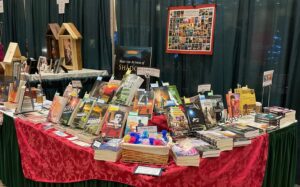 I'm hoping to attend more events in the new year. If you know of some great family or homeschooling events, please send me a message!
What to watch for in 2022:
Over the last many months, I've been working hard behind the scenes on a few projects. I finally have a few things to announce for the new year.
An Unexpected Role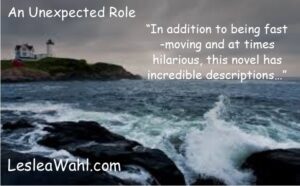 I have some exciting news about this fun story about theater enthusiast Josie -who is probably my favorite character to write about. Josie's story will soon be receiving a new name and cover art! I'm thrilled that this adventurous tale will be joining Where You Lead at Vinspire Publishing House.
The new title will be Into the Spotlight, and it will be the first in the Finding Faith series. The second book, featuring Josie's friend Liz, is already well underway. I did make a few changes to Josie's adventure but, overall, it is the same great story.
all for One Short Story Collection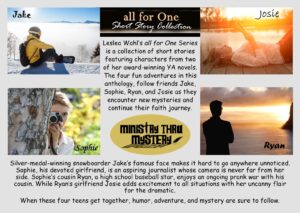 Some of you may have read a few of my short stories which combined the main characters from The Perfect Blindside and An Unexpected Role. After the new year, I will begin rolling out these four stories with new cover art under the series title, all for One.
To Serve and Protect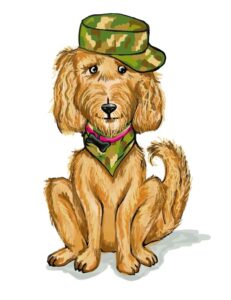 Also, in the next few months, keep an eye out for my first picture book! I've joined forces with Perpetual Light Publishing and my very talented friend, Amy Klein, to create a fun children's story about one of our family pets.
A Summer to Treasure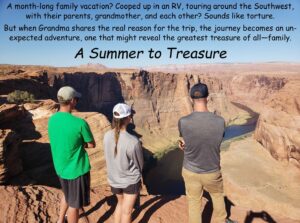 I've been mentioning this adventurous sibling adventure for a year now. I love this story and can't wait to share it with readers, but sometimes the publishing process is slow-moving. I'm not sure what God has in store for this book, but hopefully, it will find its publishing home soon, in the meantime, I'm learning some lessons in humility and patience.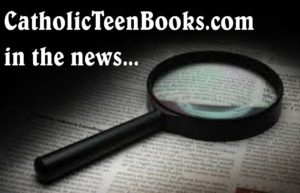 CatholicTeenBooks Updates
I wanted to share some exciting new programs we are offering over at CatholicTeenBooks.
First is our Perfect Match Quiz. Take a few moments to fill out several questions about what types of books you prefer, and we'll offer some great suggestions.
Our blog now features new articles twice a month. These articles written by our talented authors are topics geared toward teens and parents.
We have recently added our own bookstore! All our books can be purchased right on our site!
We also have created a beautiful new catalog with all the ordering information, it's the perfect tool to share with schools or bookstores. The digital version is on the website, but we are happy to send a physical copy out as well.
That is all for this update!
Thank you all for your continued support. I wish you all a very merry and blessed Christmas!
Leslea