I recently had the great privilege to read advanced copies of six Catholic teen novels. All the books happen to be new installments in series written by the authors. I eagerly agreed to support my fellow authors and host blog stops on their book release tours. So, for the next six weeks, I will have a new weekly post – Tuesday Treats: New Releases. I hope you'll be able to find some new adventures to cozy up with.
Today you are really in for an extra treat because Theresa Linden has created a fun game to play for chances to win a copy of her new book: Roland West, Outcast! Make sure you scroll to the end of this post to find the Saints Game!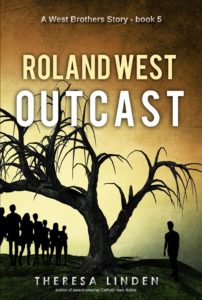 Story Summary for Roland West, Outcast
He's searching for the truth but is he ready to proclaim it?
Shy Roland West, who fears speaking up, attends high school with gossips and troublemakers. After panicking in speech class and becoming the subject of gossip, his best friend, Peter Brant, pushes him to uncover the vandals of an outcast's house before they strike again. With the Catholic youth group, he helps repair the damage to the outcast's house and questions fellow students, but he draws more negative attention to himself. In his search, Roland finds himself ridiculed and challenged about his beliefs, becoming more of a target. As he draws closer to uncovering the perpetrator, his friend Caitlyn is threatened. Once Roland discovers the sinister reason behind the vandalism, he must overcome his fear of speaking out to confront and expose the perpetrators.
My Review:
I think I can sum up this book in one word – Wow!
Theresa Linden's West Brothers series of books is absolutely incredible, every book a treasured gift. There are several things that I particularly love about this series. I appreciate how the author adds unique Catholic themes to the books. I admire how she is unafraid to tackle difficult topics. And I enjoy how she changes up the point of view. These stories have unfolded through many different viewpoints – Roland, Jarret, Keefe, Caitlyn, Peter, and even demons and angels!
Roland West, Outcast is told from Roland and Peter's perspectives. It is actually set during the same time period as Linden's novel, Standing Strong. This made for an extremely enjoyable read, to see the same scenes but from a different viewpoint. I'm always fascinated by how much a story can change depending on who is telling the tale.
This book also provides some incredible insight into saints and martyrs. One line about a particular martyr sums it up perfectly – "…had a lot of courage. All the way to the stake. I admire that. Makes me think there must be something to what she believed." So true. There are many things we can learn from these incredible faithful servants.
But, my favorite part of this particular book is the subject matter. This is one of the most powerful and impactful books for teens regarding morals that I've ever read. Roland West, Outcast is about how to befriend and love people who are living in a way that goes against your beliefs. In our society, certain lifestyles that are in contrast to biblical teaching have become widely accepted. This book tackles this topic in a beautiful, faithful way.
There are so many incredible truths in this novel that everyone should hear and be reminded of – especially teens. In this world where we are told to accept everyone and everyone's choices, it's so refreshing to have a book that addresses this from a scriptural perspective. We can be kind and caring but still stand by our beliefs and the church's teachings, which do not change just because the world wants it to. The church is here to change the world not be changed by the world.
People are so afraid of offending someone that we often don't share the message that needs to be heard. When you truly care for someone as a friend, the truth and the fate of their soul is more important than if you offend them. By having the courage to speak the truth you can lead people to Christ and to understand the Catholic church and its teachings, which come directly from Christ through Peter and the popes.
One last thing, I have to include this quote from Theresa Linden because I think it is so beautiful and powerful. "Sometimes you can't stay silent. No matter what others think. No matter who hates you for speaking. No matter the label they give you. No matter what friends you lose. Because the truth is important. The truth is a person. Jesus Christ."
SAINTS GAME created by Theresa Linden
I love the saints! God has raised up men, women, and children through the years to show us how to live in the fullness of charity even while here on earth.
They are the heroes of our faith! They show us that heroic virtue is possible. It is possible to overcome sin and follow the straight and narrow path that leads directly to heaven. They show us that true joy and utter happiness can only be found only in a deep relationship with Our Lord. And they make us want that for ourselves.
Play this "Saints Game" for several entries in the second giveaway of Roland West, Loner.
5 chances to enter to win!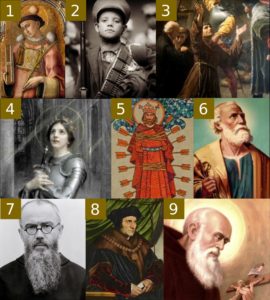 Can you identify the saints shown here? If you can, list the names next to the appropriate numbers, email your answers to [email protected]. If you get 5 or more correct answers, you will be entered to win a copy of Roland West, Outcast!
Here are a few clues:
This saint is mentioned in the Acts of the Apostles, and those are not juggling balls but stones in the picture.
This Mexican saint did not make it to his fifteenth birthday. He is one of the characters portrayed in the movie For Greater Glory.
This little-known Franciscan saint lived in Holland from 1534-1572.
This French saint heard the voices of St. Michael, St. Catherine, and St. Margaret when she was a teen.
This saint became a king in England at the age of fourteen in the year 855.
This saint is mentioned in the New Testament. A lot. Take a good look at what he's got in his hand.
This modern-day saint had a vision of the Virgin Mary when he was 12. She offered him 2 crowns, one white and the other red.
This saint thought about joining a monastery but ended up becoming a lawyer and getting married. He also wrote a book about a fictional, idealistic island society.
This Franciscan saint was a porter, answering the door at a friary in Altoetting for 41 years. The children sometimes teased him but soon came to love him.
Get a 2nd entry if you know what all these saints except for one have in common.
Get a 3rd entry if you can name the one saint who does not have the same thing in common with the others.
Get a 4th entry if you can name which West Brothers book the above-mentioned saint plays a role in.
Get a 5th entry if you can guess which of one of these saints inspires Roland in Roland West, Outcast.
Note: On the last day of the Blog Tour, the winner will be chosen using an online "winner picker." Winner will receive a paperback of Roland West, Outcast if they live within the continental US and an ebook (mobi, EPUB, or PDF) for everywhere else (unless the author feels that the shipping cost is not too bad). You will find more ways to enter on every blog stop during the tour. Winner will be announced here: http://www.theresalinden.com/outcast-blog-stops
Connect with author Theresa Linden:
website: www.theresalinden.com
blog: Things Visible & Invisible
Twitter: @LindenTheresa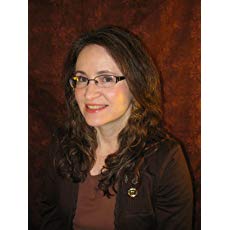 Author Bio:
Theresa Linden is the author of award-winning faith-filled fiction that weaves the natural with the supernatural. She has eight published novels, including a dystopian trilogy, contemporary young adult fiction, a short story in the anthology Secrets: Visible & Invisible and two short stories in Image and Likeness: Literary Reflections on the Theology of the Body. She holds a Catechetical Diploma from Catholic Distance University and is a member of the Catholic Writers Guild. Her books are featured on CatholicTeenBooks.com, Catholic Reads, and Virtue Works Media. A wife, homeschooling mom, and Secular Franciscan, she resides in Elyria with her husband and three teenage boys.