I recently had the great privilege to read advanced copies of six Catholic teen novels. All the books happen to be new installments in series written by the authors. I eagerly agreed to support my fellow authors and host blog stops on their book release tours. So, for the next six weeks I will have a new weekly post – Tuesday Treats: New Releases. I hope you'll be able to find some new adventures to cozy up with.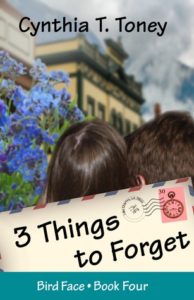 Cynthia T. Toney's writing is such a breath of fresh air and always reminds me of enjoying a glass of lemonade on a beautiful summer day. Refreshing, sweet, and delightful.
3 Things to Forget is the wonderful conclusion to Cynthia T. Toney's heart-warming Bird Face series. To witness Wendy, grow in her faith and mature into a lovely young lady through this series has been a treat. This character's journey through middle school and into high school has been full of obstacles which she faced with exuberance, determination, kindness, and a strong faith. I think there are many positive lessons for young people throughout these books.
I especially love how the author brings unique characters and interests to all her stories. In this series, readers can easily relate to issues many students face but are also introduced to things they might not know as much about such as – Cajun-Americans, Alzheimer's, American sign-language, Jewish culture, blended families, and animal rescue organizations. Toney's writing is full of wonderful discussion opportunities to explore.
So, relax, pour a delicious glass of lemonade (or since it's November – snuggle up with a mug of cocoa), and treat yourself to 3 Things to Forget.