In case you are new to my blog… every month I post about 3 YA books that I've read, each month in a new genre. So, if you're not interested in other teen books you can skip past this Book Review Post. I'll still be sending out quarterly posts marked UPDATES regarding news about my own work.
But for those of you who have kids, or grand-kids, or you yourself like teen books (like me!), each month I'll introduce some of my favorite Christian and Catholic YA books.
I've decided to provide more reviews because there are a few things I've learned since I had my first book published:
1 – So many of the teen books published by the big publishing companies contain messages that don't match the values of many families.
2 – There are a lot of fantastic, clean, faith-based books out there. Books that are entertaining yet wholesome and reflect Christian values.
3 – These types of books can be really hard to find. So, I'd like to introduce you to a few new adventures.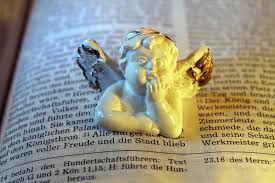 November's Reviews – Speculative
This month's genre might need an explanation. The three books I'm reviewing this month all "speculate" on what is happening around us on a spiritual realm.  The authors' imaginations all provide interesting possibilities into how angels, and even demons, could possibly be interacting with us each day. To me, that's an interesting idea, that my guardian angel might be protecting me and keeping me safe through the day. Does she ever have to fend off the demons that are trying to draw me off-track? Does she interact with other angels? These three books delve into this idea and will definitely have you pondering such possibilities as well.
Battle For His Soul by Theresa Linden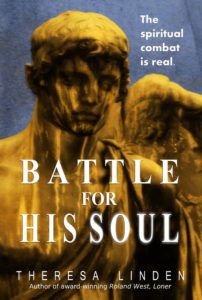 Battle for His Soul is the third book in the West Brother's series by Theresa Linden. This book focuses mostly on Jarret West – the brother who has spent his life bullying his younger brother Roland, controlling his twin brother Keefe, and engaging in many dangerous and self-destructive behaviors.
Not only do we see the story from several different character's perspectives, but this novel has a very interesting twist that the first two books in the series do not. We get to see this story unfold from a spiritual realm. We actually experience the fight between angels and demons that surround not only Jarret and his decisions but all the characters. It's a fascinating concept to think about what could be happening around us as we go about our lives.
Though this book is about a teen boy, it would be great for all older teens – there are plenty of great female characters. This intriguing story illustrates the struggles and temptations that teens face and how they can protect themselves from those temptations. One thing I love about Linden's books are the interesting Catholic topics she includes, and this novel is no different with the idea of being called to a religious vocation. What a fascinating chapter in the West Brothers saga.
Angelhood by AJ Cattapan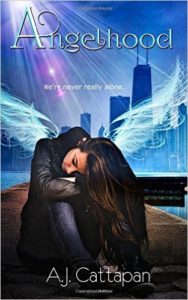 Angelhood is a captivating YA novel for older teens that tackles an extremely difficult, yet relevant, subject while putting an intriguing and heartfelt twist to it. Cattapan is a talented writer who has effortlessly created a story about teen suicide which is moving, positive, and uplifting. This hard to put down book encourages readers to think about the good in their lives and how much they'd miss, and be missed if they did the unthinkable and gave it up.
Angelhood has been described as a modern version of "It's A Wonderful Life" for teens. That's a pretty good description. The lead character, Nanette, is completely relatable and likable. As readers we empathize with the despair she feels in her life as well as the painful realization of the damage her decisions have on others. As the title suggests, this book deals with angels and the possibility of them trying to protect us and guide our decisions.
The intriguing premise, subplots, and twists fill this award-winning novel with important topics of discussion.
Agnes' Gift by Kristelle Angelli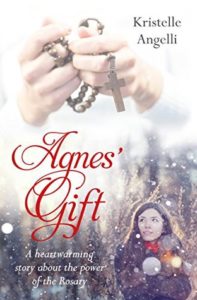 I found this book to be quite unique. As a fictional story, there isn't really a huge plot but this book overflows with deep poignant messages. This young adult novel would be perfect for anyone wanting to deepen their Catholic faith or someone with questions regarding the Rosary. There are so many fantastic discussion points throughout the book that make this a fabulous book for a book club, a youth group, or to read as a family.
The story centers around Jenna, a modern-day teen, who is struggling through some very tough family issues. Unfortunately, the one person in her life who was there for her during those difficult times, her neighbor Agnes, recently died. Now Jenna finds herself in more despair than ever and sitting alone on Christmas Eve.
Before Agnes passed away she left Jenna a Christmas gift. While Jenna contemplates the unopened package her guardian angel appears to her. He leads her on a miraculous journey to experience firsthand all the mysteries of the Rosary.
I thought this was a really beautiful way to explore the Rosary. Experiencing the moments in the lives of Jesus and Mary this way was very unique. Pondering how they and everyone around them might have felt during these mysteries of our faith was quite powerful.
My favorite experience was the second Luminous Mystery, the wedding feast in Cana. The portrayal of this scene made me think about the relationship between Mary and Jesus in a slightly different way and in turn how Mary cares for and understands all of us.
This is not a light read. There are a lot of ideas to ponder and messages to dwell on but it's a wonderful book to help you grow in your faith.
All these books can be found on Amazon. I've set links – just click on the highlighted titles. For those who don't use Amazon you can also check Barnes and Noble online or www.indiebound.org where you can search for books and the local bookstores that might carry them or order them directly from the website. You can also ask your local bookstore or library to order the books for you.
Next month I'll be reviewing three more Christian/Catholic teen novels. But if you'd like more reviews before then you can always check out my recommendation section on my website: YA Recommendations.
If you've come across this post on Facebook and would like to get my monthly reviews sent directly to your inbox, you can sign up on my website – www.LesleaWahl.com.
Until next month – Happy Reading!