I recently had the great privilege to read advanced copies of six Catholic teen novels. All the books happen to be new installments in series written by the authors. I eagerly agreed to support my fellow authors and host blog stops on their book release tours. So, for the next six weeks, I will have a new weekly post – Tuesday Treats: New Releases. I hope you'll be able to find some new adventures to cozy up with.
First up is Charlotte's Honor by Ellen Gable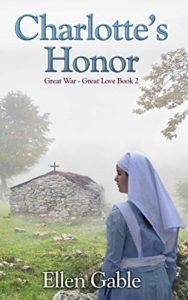 Book Blurb: After receiving news that her brother – and only relative – has been killed in action during the Great War, 21-year-old Charlotte Zielinski enlists as a medical volunteer. She eventually begins working in the death ward of the field hospital near Soissons, France, holding dying men's hands and singing them into eternity.
Dr. Paul Kilgallen is a Canadian surgeon working at the field hospital. During a siege by the enemy, everyone evacuates except for Paul and Charlotte, who volunteer to remain in the basement of the chateau to care for the critically ill soldiers.
During those three days, Charlotte sees a side of Paul that very few have seen and finds herself falling in love with him. Before Paul leaves for the front, he abruptly tells her that he cannot love her, and it would be best to "forget him."
Just when the war is coming to a close, Charlotte is surprised by two events that are destined to change her life forever.
My Review:
This is the second book in Ellen Gable's Great War Great Love series. I thoroughly enjoyed the first book, Julia's Gifts and was so excited for the opportunity to read Charlotte's Honor. These love stories are clean, refreshing, and such a joy to read. Combine these faith-based romances with a touch of history and mystery and you've got a winning novel. Charlotte's Honor is about a young American, Charlotte, who has traveled to France to work as a nurse during World War I. Reading Julia's Gifts is not necessary to thoroughly enjoy Charlotte's Honor, but fans of the first book will be happy to know that some of the same characters also appear in this story.
There are so many themes that I appreciate in these books: good can come out of the destructive tragedies of war, small moments of our time can make an enormous impact on another person, love and friendship can happen at the most unlikely times, and a strong faith is the foundation to get you through difficulties. I look forward to the next Great War Great Love book.
Author Interview: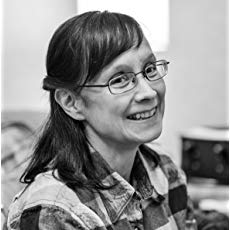 What was the inspiration for Charlotte's Honor?
Since one of the themes of Charlotte's Honor is preparing and being with soldiers who are close to death, the inspiration came from being with two close people in my life in the hours before their deaths. These experiences served as inspiration for Charlotte's Honor.
Eleven years ago, when my mother was close to death, my sister called me in Canada and urged me to come right away (to New Jersey, my home state), that Mom didn't have much time left.  I arrived before she passed, but by the time I got there, she was unconscious.  My sister and I prayed the Litany of the Saints (which she requested) as well as the Divine Mercy Chaplet. In the middle of the night, I got up to sit with her. I held her hand and prayed for her, talked to her and told her she was loved, and that it was okay to go.  When she did pass away, I was grateful and honored that I was present at the moment of her passing. And an interesting experience happened. My stepdad, siblings, and I were all sitting by my mom's bedside and all of a sudden, I felt like my mom was on the ceiling staring down.  I lifted my head to look up, but at that point, my brother patted my arm and said, "Hey, El, I have this strange feeling that Mom is on the ceiling looking down at us."  I believe that we were given a great grace at that moment.
Last year, my mother-in-law passed away. She had both dementia and cancer.  She was surrounded by those she loved and, although unconscious, we prayed the Rosary, the Divine Mercy Chaplet and other prayers for her in the last few days of her life.  It was a good death, a holy death. It's the kind of death I hope to have: others praying the Rosary and Divine Mercy Chaplet for me as I'm close to death.
Why World War 1?
I've always been interested in history and I knew very little about this war.  I decided to focus the bulk of my research on the last year of the War (after the United States entered).  Because I am American, and my husband is Canadian, the female protagonists in this series are American and the male protagonists are Canadian. So for Charlotte's Honor, Charlotte is American, and Paul is Canadian.
Why is the name of the series Great War Great Love?
I owe my gratitude to the son of a friend of mine, Ian, for coming up with the title. The reason for the title is that World War 1 was called the "Great War" by the Allies before the USA entered the war, and is still often called the "Great War," by the British, Canadians and Australians. And Great Love because there are many examples of how couples met and fell in love during times of war.
Can you tell us about the first book in the series and next book of the series, Ella's Promise?
Julia's Gifts (Book #1 Great War Great Love) As a young girl, Julia began buying gifts for her future spouse, a man whose likeness and personality she has conjured up in her mind, a man she calls her "beloved." Soon after the United States enters the Great War, Julia impulsively volunteers as a medical aid worker, with no experience or training. Disheartened by the realities of war, will Julia abandon the pursuit of her beloved? Will Julia's naïve 'gift scheme' distract her from recognizing her true "Great Love?" From Philadelphia to war-torn France, follow Julia as she transitions from unworldly young woman to compassionate volunteer.  Julia's Gifts is now available in Italian and French and will soon be available in Portuguese and Spanish.
Ella's Promise (Book #3 Great War Great Love) The daughter of German immigrants, Ella is an American nurse who, because of the time period, was discouraged from continuing her studies to become a doctor.  During the Great War, she travels to Le Treport, France, to work at the American-run hospital. She meets her own "Great Love" in the last place she would expect to meet him.  Ella's Promise will be released in mid-2019.
Ellen Gable is an award-winning author of nine books, editor, self-publishing book coach, speaker, publisher, NFP teacher, book reviewer and instructor in the Theology of the Body for Teens. Her books have been downloaded nearly 700,000 times on Kindle and some of her books have been translated into Portuguese, Italian, Spanish, and French. The mother of five adult sons, Ellen (originally from New Jersey) now lives with her husband of 36 years, James Hrkach, in Pakenham, Ontario, Canada.