Every once in awhile, I get the opportunity to help another author with the launch of a new book. Today, I'm excited to share about Ellen Gable's new book, Ella's Promise. Scroll down for my review and an excerpt of this wonderful book.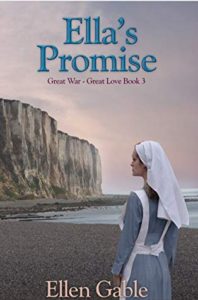 Blurb:  When she joins the war effort during the Great War, American nurse Ella Neumann doesn't see allies or enemies. The daughter of German immigrants, Ella sees only human beings in need of care. A promise to herself and a promise made to her by an enemy officer become the catalyst for the life she plans to lead after the war. But a handsome Canadian soldier may complicate her plans. In this third installment of the Great War – Great Love series, join Ella in a tale of promises, betrayal and unconditional love.
My Review: 
This is the third book in the Great War, Great Love trilogy by Ellen Gable. While this book is part of a series about young couples who meet amid the heartbreak of war, it is a standalone book as well. There are a few characters that are in each of the books, but this story is mostly about Ella, a young American woman working at a field hospital during World War I.
It's hard to know for sure, since I enjoyed each of these wonderful books, but I do believe this is my favorite of the three. I adored the strong, competent, faithful Ella. I also enjoyed the secret agent intrigue of the story.
Each of these books highlights a beautiful, Catholic love-story but they also showcase interesting historic elements as well. I think these pieces will be quite interesting for today's teens – such as medical advancement, roles of men and women, communication technology, etc. This would be a great supplement to a lesson on the Great War.
While the books can be read without having read the other stories, the author also provides a nice conclusion to the series for those fans that have read them all.
Please visit my Book Recommendations for reviews of Julia's Gifts and Charlotte's Honor.
Excerpt:
Ella's head snapped up. She turned and saw that the lavatory door was still open.  Where is Major Schmidt?
She stood up, then took mental attendance of the cots. The occupied cots all seemed occupied, even the major's cot.  But that couldn't be.  He couldn't have finished his business in the lavatory and covered himself up and gone to sleep that quickly.
No, someone had left the barrack.  A feeling of dread came over her, and she raced across the barrack to the back door.  It was unlocked!
Ella pulled the door open and stepped outside into the warm spring evening air. She could just make out the silhouette of a soldier creeping along the side wall of the barrack.
"Excuse me, sir?" she called out loudly in German, her heart pounding.  "Please step into the light."
The man didn't move.
"Sir?  Step into the light so I may see who you are."
Still no movement.
Instead of waiting for him to comply, she straightened, took a breath and walked toward him. It was only then that the man inched forward, a shadow on his face. She couldn't see him, but she was certain it was Major Schmidt.
"I…uh…was…uh… just stepping out for some… fresh air," he said in German, waving his hands.
Ella scowled.  I don't think so.  She continued in German, "I don't remember you asking for permission to come outside. You asked permission to go to the lavatory."
"Oh, I'm sorry."
"Well, I will remain with you while you finish breathing in the fresh air, then I will accompany you back into the barrack. You must understand that I will be reprimanded if I allow a POW soldier to be outside."  She paused. "Why did you unlock the door?"
The man smiled, but it seemed forced. Then he replied, this time in English, "I don't remember unlocking it. I suppose I should just go with you back inside. I've had enough fresh air for the evening."
"I should say so."
This man had no German accent when he spoke English and certainly no English accent when he spoke German.  His smooth voice sounded kind and gentle.  Ah, yes, she remembered him: this was the man with the large birthmark on his shoulder.
***
Now what? He could run, but she would call the nearby guards to apprehend him.  He tried to appear nonchalant, but he balled his fists in frustration.  He'd have to wait until a future date and try again.
Garrett considered reaching for the gun tucked in his waistband.  Collins had given it to him. He could use it to threaten her so he could escape.
The girl folded her arms across her chest, smiled, her foot tapping, waiting for him to comply. She was brave, but he was twice her size and could easily overpower her.  He could knock her unconscious, leave her in the shadows and take off.  She'd be reprimanded for letting him escape.  She—the sweetest and most intelligent girl he'd ever met – would get in trouble because of him.
Strange that he'd never considered the repercussions for the person in charge when he had escaped the other POW camp.  Truthfully, he'd never cared.  Even so, this camp was one with little security.  He should have known that this nurse would be so aware of everything going on around her.
He would have to contact Collins in the morning to inform him that it was not going to be as easy to escape this time. Until then, he would bide his time and do nothing.