Monthly Book Reviews – Value-Based Fiction
Welcome! Did you know that a FREE short story, monthly book reviews, and my quarterly updates can be sent directly to your inbox if you sign up for my newsletter? Join today so you don't miss a single review!
This month's theme is Value-Based Fiction. What does that mean? Well, each of this month's books deal with issues and topics from not only a Christian viewpoint but specifically a Catholic one. I'll introduce you to a short story collection that teens of all ages will enjoy, a middle-grade theology of the body story, and a pro-life YA/New Adult novel.
Before we begin…
In case you are new to my blog, besides writing YA novels, I love reviewing them as well. Every month I post about 3 YA books that I've read, each month in a new genre. So, if you're not interested in other teen books you can skip past this Book Review Post. I'll still be sending out quarterly posts marked UPDATES regarding news about my own work.
But for those of you who have kids, or grandkids, or you yourself like teen books (like me!), each month I'll introduce some of my favorite Christian and Catholic YA books.
I've decided to provide more reviews because there are a few things I've learned since I had my first book published:
1 – So many of the teen books published by the big publishing companies contain messages that don't match the values of many families.
2 – There are a lot of fantastic, clean, faith-based books out there. Books that are entertaining yet wholesome and reflect Christian values.
3 – These types of books can be really hard to find. So, I'd like to introduce you to a few new adventures.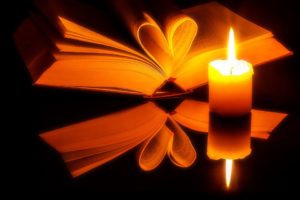 For Eden's Sake by TM Gaouette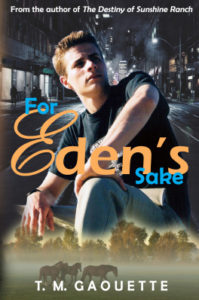 Author TM Gauoette's collection of faith-affirming Catholic teen novels has a new addition, For Eden's Sake. I'm impressed with how unique, and different all Gaouette's books are, from her heart-warming middle-grade story, her exciting contemporary YA series, to this newly released powerful pro-life novel for older teens.
After a night he desperately wishes he could change, college graduate Isaac finds himself fighting for the life of his unborn child. While the characters are a little older, I think this is a fantastic book for teens to read with an important message. When our teens leave the protection of our homes and move on to college and the working world, they will probably find themselves in situations where they will need to defend their values and beliefs. Sadly, out in the real world, the foundation we teach our kids at home is often questioned, ridiculed, and attacked. It takes a strong person to hold true to Christian values.
I love the message that even when the decisions we make might throw our goals off track if we trust in God, we will get through any troubles. Even in the darkest of times, God has a plan for us. For Eden's Sake is a powerful story about fighting for what is right, believing that God is with us even in the darkest of times, and trusting that He will get us through any situation.
10 Commandments of Kissing Gloria Jean by Britt Leigh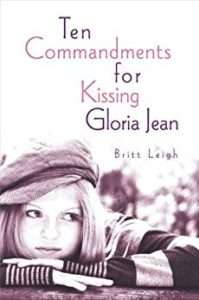 First of all – a little background. I grew up in a household that didn't really discuss uncomfortable topics. So, maybe that is why I found the first part of this book a bit cringeworthy. In fact, I put it down a few times thinking, there was no way I could recommend a book that mentioned so many awkward topics. But, alas, it won me over.
This middle-grade novel is about a girl named Gloria Jean who is obsessed with thoughts of kissing a boy. She doesn't have a specific boy in mind but is curious and wants to experience her first kiss. To prepare, she comes up with rules and questions about how this moment might happen and what to do if it does happen. During this same time, her public-school class is covering sex education and she is attending Confirmation classes at church. On top of all that, she has just learned she has celiac disease and the last thing she wants is to be different in any way.
You can imagine the multitude of uncomfortable topics that are brought up in this book. The author does a really wonderful job of discussing these topics from a middle school girl perspective. She did such a great job in fact that memories of those awkward years came flooding back. That's when I realized the beauty of this book. Middle school kids, full of developing hormones, have so many questions about their bodies and members of the opposite sex. Because these topics are tough to talk about, kids often are left to seek answers from friends (who usually don't have very accurate answers or provide exaggerated information) or nowadays – on the internet (not necessarily a place you went them searching such topics).
In an enlightening contrast, this book shows what public schools teach in sex education courses alongside what the church teaches through Theology of the Body. What a stark contrast. While this book might not be for everyone, if you have a child questioning some topics, or are wondering how to broach such topics, or you're concerned about the way your child's school teaches these topics, this might be a fabulous book to read. The lessons this character learns are beautiful. Gloria Jean discovers so much about herself, about true friendships, the perils of peer pressure, respect of herself, and who she wants to be. All this is why I ended up thoroughly enjoying this book that at times was uncomfortable to read. Certain topics are tough to discuss, specifically because of that, it's wonderful to have a book that presents them from a faith-based perspective.
Secrets: Visible and Invisible from the authors at CatholicTeenBooks.com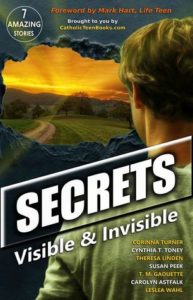 Secrets is a collection of short stories from seven of the authors at the joint website – www.CatholicTeenBooks.com. I am one of the authors of this anthology and working with all these talented authors was such a joy. All the stories involve a secret of some sort and all are new original tales. Some are stories that involve characters that can be found in the author's previous novels, some are new characters, and all are faith-based stories for teens. My story, More Precious Than Gold, is a summer adventure with the characters from my YA novels The Perfect Blindside and An Unexpected Role. One of the most wonderful parts of this book is that it provides readers with a taste of seven different author's styles and genres. Who knows, you may find a new favorite author!
As described by Mark Hart of Life Teen International, who provides the foreword, "Each story reveals something different about the human heart and our constant (though, often veiled) desire for truth and virtue."
In a dystopian future, an innocent picnic turns deadly!
Elijah knows nothing of the elderly stranger's secret past–until her disappearance changes everything.
A mysterious, ever-changing painting alarms a group of teens.
The cannonball took Dario's legs . . . Will he lose his soul too?
The arrival of a mysterious girl challenges everything about Jason's life.
An unlicensed driver. His dad's truck. What could possibly go wrong?
An old tale of murder and forbidden love leads to a modern-day treasure hunt.
All these books can be found on Amazon. I've set links – just click on the highlighted titles. For those who don't use Amazon you can also check Barnes and Noble online or www.indiebound.org where you can search for books and the local bookstores that might carry them or order them directly from the website. You can also ask your local bookstore or library to order the books for you.
Next month I'll be reviewing three more Christian/Catholic teen novels. But if you'd like more reviews before then you can always check out my recommendation section on my website: YA Recommendations.
If you've come across this post on Facebook and would like to get my monthly reviews sent directly to your inbox, you can sign up on my website – www.LesleaWahl.com.
Until next month – Happy Reading!