Welcome to my monthly book review! A FREE short story, monthly book reviews, and quarterly updates can be sent directly to your inbox if you sign up for my newsletter. Don't miss a single review!
This month I'm reviewing books for the college-age kids. Don't worry, teens (and their parents) will still love these books. But since the main characters are all out of high school, I thought I'd give them their own category. All of the books are fantastic with strong female protagonists, and each made an impact on me in some way. One is a contemporary, finding-yourself romance, one is a pro-life mystery, and one is a dystopian tale that really makes you think.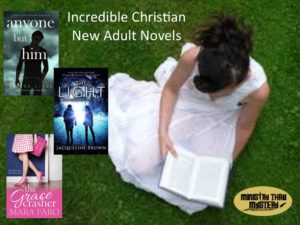 Before we begin…
In case you are new to my blog, besides writing YA novels, I love reviewing them as well. Every month I post about 3 YA books that I've read each month in a new genre. I also send out quarterly posts marked UPDATES regarding news about my own work.
But for those of you who have kids, or grandkids, or you yourself like teen books (like me!), each month, I'll introduce some of my favorite Christian and Catholic YA books.
I've decided to provide more reviews because there are a few things I've learned since I had my first book published:
1 – So many of the teen books published by the big publishing companies contain messages that don't match the values of many families.
2 – There are a lot of fantastic, clean, faith-based books out there – books that are entertaining yet wholesome and reflect Christian values.
3 – These types of books can be difficult to find. So, I'd like to introduce you to a few new adventures.
Anyone But Him by Theresa Linden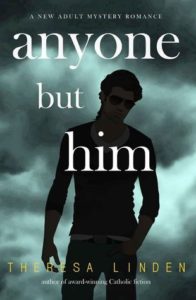 Theresa Linden has quickly become one of my favorite authors. She is certainly one of the best Catholic YA authors out there today. Through each of her novels, her writing keeps getting better and better. The series of books that she has created about the West Brothers is simply spellbinding. These novels differ from most series in that each of the books is written from the perspective of different characters. Each book is very unique and great on their own but put the entire collection together, and it becomes extraordinary.
My favorite in the saga of the West family, Anyone But Him, is so fantastic that I've read it a few times. I don't often re-read books, but once in a while, one touches me, and I become so connected with the characters that I must revisit them from time to time. Anyone But Him is that kind of book.
When the main character wakes up and realizes she is married to someone she can't stand, she has to piece her life back together to discover how this possibly could have happened. The author has a lot of elements going on in this story – mystery, romance, amnesia, and a pro-life message. How she intertwines and weaves all these pieces together is perfection. There were so many scenes that I read numerous times because they were so captivating.
In this book, we are reunited with some of the characters from the West Brothers series, but they are now a few years older. Amnesia can sometimes be used as a convenient tool, but Linden uses her character's memory loss to slowly reveal the past to us. In this story, the amnesia is a powerful and moving way to bring the love story and the mystery to life.
The Light by Jacqueline Brown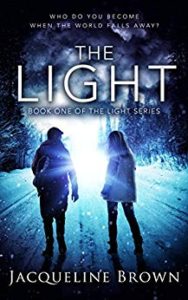 The Light is a contemporary post-apocalyptic story about college student Bria and the life-altering events she encounters. As Bria and her friends are driving down a highway late at night, a flash of light changes everything. Immediately, the car stops working, the cell phones are useless, and everything electronic fails to work.
Stranded on this dark road, trying to figure out what they should do, Bria and her friends are approached by two people their own age. This duo, a brother and sister, invite the stranded travelers to join them on their long trek home.
The characters soon learn that an attack on the country and a massive EMP, electromagnetic pulse, has changed life as they know it. This family and group of friends must somehow learn to survive in this new reality. Not only does Bria have to deal with an unexpected future, but the events also cause her to reevaluate the past. This suspenseful book does discuss some sensitive topics, so it is recommended for older teens.
A few years ago, my family experienced an EMP event from a lightning storm. All the electronics in our house and even one of the vehicles were affected. It took months to get everything repaired and replaced. Ever since then, I've thought about what would happen if a massive EMP occurred, and the electricity in the entire city or country was destroyed. Think about a world with no electricity—no lights, no heat, no cars, no running water. All of that would mean, no grocery stores, no banks, no water supply. How would people survive? How would people react? How quickly would chaos turn to violence? This premise is quite frightening but makes an excellent backdrop for a novel.
The Grace Crasher by Mara Faro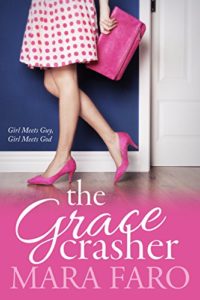 Most of the reviews I've read for this novel focus on the humor. There are plenty of humorous lines, but that is not what stood out for me. There was a lot going on in this thoroughly enjoyable book. A young adult searching for love. An alcoholic father. A dependent mother. A difficult parent who won't let go. Discovering out who you are. Figuring out what you believe. And moving away from home for the first time.
I could relate to the main character in a few ways. First, I embarrassingly admit to seeing my younger self in this character—not the horrible family life that she had but the dreaming of the perfect relationship part. I'm sure many young women have tried hard to fit a crush into their ideal of a romantic partner. I could also relate to the difficulty that Julia and her love interest had in reconciling their faith. My husband and I also had this struggle when we first met.
In her light-hearted style, the author shows, and takes a few jabs at, the beliefs of both evangelical Christians and devout Catholics. In doing so, she does a superb job of highlighting the dangers of judging others and the importance of trying to understand one another. I don't know why there is sometimes a divide between the churches because despite the differences, we are all Christians. We all believe in Christ and that through Him, we have eternal salvation. Our shared beliefs should be stronger than our disagreements. I often think how sad God must be to see such divisions within His Church. Disparaging each other is the exact opposite of what Christians should be doing.
Whether you are curious about a different faith perspective or have a friend who attends a different church than you, this might be a good book to use to open up a dialogue. This book probably won't change anyone's church-going experience, but I think it has the potential to start some meaningful conversations. But be prepared for a few laughs in the process.
All these books can be found on Amazon. I've set links – just click on the highlighted titles. For those who don't use Amazon you can also check Barnes and Noble online or www.indiebound.org where you can search for books and the local bookstores that might carry them or order them directly from the website. You can also ask your local bookstore or library to order the books for you.
Next month I'll be reviewing three more Christian/Catholic teen novels. But if you'd like more reviews before then you can always check out my recommendation section on my website: YA Recommendations.
If you've come across this post on Facebook and would like to get my monthly reviews sent directly to your inbox, you can sign up on my website – www.LesleaWahl.com.
Until next month – Happy Reading!