Welcome to my monthly book review! A FREE short story, monthly book reviews, and quarterly updates can be sent directly to your inbox if you sign up for my newsletter. Don't miss a single review!
This month I'm reviewing books about strong friendships. The three books I'm highlighting this month are all amazing books, and all are part of a series. They are each about teens who realize how important good friends can be. This is a perfect theme since all the books happen to be written by friends of mine!
Friendships are interesting to think about. I don't know about anyone else, but at least for me, the friendships that are the most precious are the ones with people who share my same values and faith beliefs. Good friends can understand what we are going through and offer support. They are people we can confide in and turn to when we seek advice. They are people we can ask to pray for us. They are people we enjoy being around and can share our accomplishments and good news with. Good friends are there for us during the good times and the bad.
For those teens who feel they don't have good friends at the moment, don't despair. There were times, especially when I was young, that it was hard to find loyal friends. Other people seemed to have best friends, and I remember feeling quite lonely. I'm sure most people have times like that. There were also times when people I thought were my friends did not have my best interest at heart. If that is how you feel, don't despair, God will lead good people into your life. Be open to those you meet, but focus on your faith and who you are, and the people who share your values will make their way into your lives.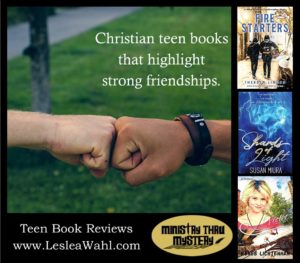 Before we begin…
In case you are new to my blog, besides writing YA novels, I love reviewing them as well. Every month I post about 3 YA books that I've read each month in a new genre. I also send out quarterly posts marked UPDATES regarding news about my own work.
But for those of you who have kids, or grandkids, or you yourself like teen books (like me!), each month, I'll introduce some of my favorite Christian and Catholic YA books.
I've decided to provide more reviews because there are a few things I've learned since I had my first book published:
1 – So many of the teen books published by the big publishing companies contain messages that don't match the values of many families.
2 – There are a lot of fantastic, clean, faith-based books out there – books that are entertaining yet wholesome and reflect Christian values.
3 – These types of books can be difficult to find. So, I'd like to introduce you to a few new adventures.
Violet by Renee Lichtenhan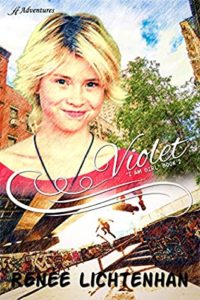 Violet was such a joy to read. I really couldn't put this one down. From the start, I was completely engaged in Violet's story and had to find out what would happen next. There is a lot going on in the middle-grade book that would be great for teens of all ages.
Violet is the second book in the I Am Girl series by Renee Lichtenhan. I thoroughly enjoyed the first novel, Carabelle, and now am a huge fan of this second installment as well. Each book is an entirely different storyline, but all are faith-based novels featuring strong female characters.
Violet seems to lead the perfect life – her father is a Senator, she lives in a beautiful brownstone in New York, and she attends a prestigious private school. But there are two things in Violet's life that don't fit in that perfect mold. Her autistic brother, Oliver, and her secret passion for skateboarding.
I loved how the author wove this story together, showing that God really does work in mysterious ways. He leads us on unexpected paths as we touch the lives of those we meet. We often don't see how God uses us to help others, but this book showed how one decision can start the spiral effect of grace.
This novel has some fantastic characters from very different walks of life. I enjoyed how these characters learned a lot about themselves and serving others. I also loved the spiritual elements. There are so many interesting issues and topics in this story that would make for fantastic discussions in a book club, classroom, or as a family.
Fire Starters by Theresa Linden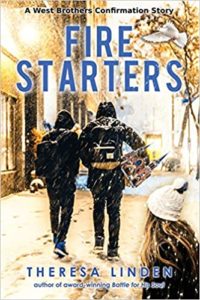 Fire Starters is the final book in Theresa Linden's West Brothers series. If you haven't had the chance to read the previous books, don't worry, this book can definitely be read as a standalone. Although, I have a feeling one book won't be enough and you'll want to spend more time with these amazing characters. And, for those who have enjoyed the entire series, you'll be happy to know that many characters you've grown to care about over the years are in this story. One of the unique aspects of this series is that the books are written from different unique points of view. The West brothers themselves, friends, and even angels have spurred this series along! This final book is told from the perspectives of Caitlyn and Peter, two of Roland West's friends.
Theresa Linden is a truly gifted writer who boldly tackles topics that aren't often seen in YA literature. The strong Catholic viewpoint from which she writes fill her books with truth, knowledge, and faith. I'm also always impressed how her descriptions leave me feeling like I'm right there in the moment with the characters. No matter the genre, contemporary YA, dystopian teen novels, adult suspense, or children's books, Linden's ability to bring to life the characters and the worlds they live in, set her novels apart.
Fire Starters is set around the sacrament of Confirmation. Due to previous circumstances, the West brothers have never been Confirmed, so now they must prepare for the sacrament with younger students. When their friends hear about this, they decide to show their support by attending Confirmation class with the boys. This reviewing of the sacrament brings some surprises. The deepening of faith for each of the characters was really beautiful. I'm sure readers will relate to the different feelings that are portrayed through the various characters. Besides the moving faith-based premise, there are also several side stories that add emotion, intrigue, and fun to the novel. Fire Starters would make the perfect gift for the teen in your life.
Shards of Light by Susan Miura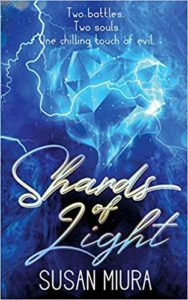 Shards of Light is the sequel to Susan Miura's Christian YA novel, Healer. This story not only revisits the main character from Healer, Shilo, but also tells the story of her best friend Melody. We are also introduced to several new intriguing characters. Besides being a gifted storyteller, Miura always includes diverse characters in her books. The different ethnicities and backgrounds that are represented are always quite interesting.
Shards of Light begins where Healer left off. For various reasons Shilo, who recently found out she possesses healing powers, is sent to Italy to spend the summer with her great-grandmother. Who wouldn't want to spend the summer in the Italian countryside? Well, Shilo because she must leave behind her best friend, her family, and her boyfriend to live at a convent. But quickly she finds that spending time with her nonna, the nuns, an injured man being cared for at the convent, a houseful of mysterious girls, and an attractive Italian boy lead to a summer that is far from dull.
Back at home, Shilo's best friend is dealing with her own life-altering situations. Melody was in the last book, but we get to know her much better in this sequel. An unexpected event in her life leads to an uncertain future, new relationships, and revelations from the past.
Interestingly, these two best friends, while thousands of miles apart, are each touched by the horrors of human trafficking. This is such a horrific topic that unfortunately is part of our society. Miura has done a masterful job of bringing attention to this awful reality without it overwhelming the story. Shards of Light is a powerful story about looking for goodness amid the pain and difficulties of life. What a beautiful message for teens. Everyone faces disappointments and the pain of unattainable dreams, but God can use those times in life to lead us on an incredible new path that we never could have imagined.
All these books can be found on Amazon. I've set links – just click on the highlighted titles. For those who don't use Amazon you can also check Barnes and Noble online or www.indiebound.org where you can search for books and the local bookstores that might carry them or order them directly from the website. You can also ask your local bookstore or library to order the books for you.
Next month I'll be reviewing three more Christian/Catholic teen novels. But if you'd like more reviews before then you can always check out my recommendation section on my website: YA Recommendations.
If you've come across this post on Facebook and would like to get my monthly reviews sent directly to your inbox, you can sign up on my website – www.LesleaWahl.com.
Until next month – Happy Reading!