Welcome to my Quarterly Update!
New Release and Media Appearances!
The big news for this quarter is the release of CatholicTeenBooks' third anthology Treasures: Visible & Invisible. As is the case with all our anthologies, this book gives readers a chance to meet several different authors and their writing styles. Treasures would make a wonderful Easter or Confirmation gift.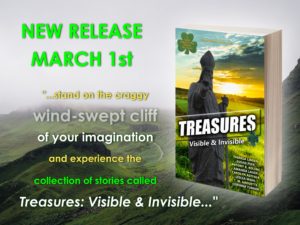 I'm so excited about this new collection of short stories as it is a little different than our other anthologies. This time, all the stories are connected through one item—a relic belonging to Saint Patrick. The anthology begins with a fictional story about Saint Patrick himself, continues through the centuries, and ends with a dystopian tale.
This book trailer will give you a little taste of each story.
And to celebrate, we are hosting a giveaway!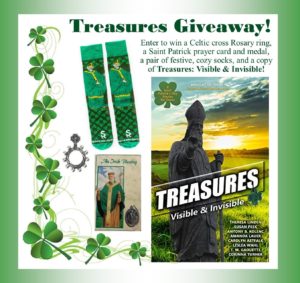 To enter, click HERE!
Since Saint Patrick is known for using the shamrock to describe the Trinity—Father, Son, and Holy Spirit, we took our inspiration from a fictional shamrock-shaped stone. Each author then chose a different time period in which to place our stories and we began to write—hoping the stories would somehow all fit together. This was a new process for us all and was so much fun to be part of. Each story in the collection is truly unique and inspiring.
I chose to create a flashback story set in the 1950s, giving me the chance to try my hand at historical fiction. My main character Grace is actually the Grandmother in my newest upcoming novel, A Summer to Treasure. The short story I created, Grace Among Gangsters, provided an opportunity to introduce Grace and her grandchildren as she shares with them a story from her childhood.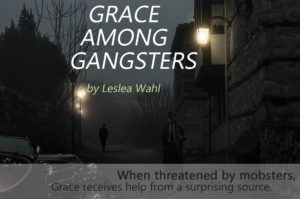 Click HERE for a little snippet!
To find out more of Grandma Grace's St. Patrick's Day story which involves a famous shipwreck, missing artifacts, and gangsters, please purchase your own copy of Treasures: Visible & Invisible!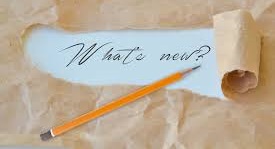 Also in the news…
Besides working on the anthology, February was a busy month with quite a few wonderful media opportunities.
I began this year praying that I would be willing to answer God's call for my life and have the courage to say yes to new opportunities, no matter how scary and uncomfortable they might be. And indeed, new marketing avenues opened up and I've been meeting some incredible new people. God is so good. I've included the links in case anyone is interested in these interviews.
1 – I had the unique chance to be part of an online Catholic Dating Conference for the fantastic organization Smart Catholics (a really cool social media site worth checking out). My presentation focused on the importance of faith-based fiction and how books can counter the harmful Hollywood messages about relationships that inundate our culture. I shared some great books that deal with various dating issues from a Catholic perspective. I also participated in a question-and-answer panel, bringing years of relationship experience to the discussion since my husband and I will be celebrating 30 years of marriage this year! (Yes, it made me feel a little old!) I've attached the link in case you would like to listen to the 6-hour online conference. Yes, quite long, but there were some fantastic speakers. My segments are at the 3:10 and 4:14 marks. (One participant sent me this photo from the panel discussion.)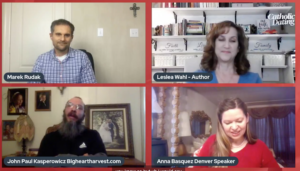 Smart Catholics Dating Conference
2 – I was also the guest on three different podcasts. The first was Danielle Bean's Girlfriends show—it's such a great show, like sitting around and chatting with your girlfriends! It was fun to appear with one of my own girlfriends, fellow CatholicTeenBooks author Carolyn Astfalk. We had such a fun discussion about the importance of faith-based books for teens.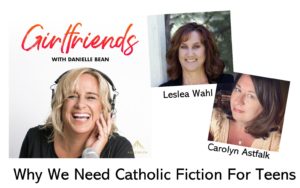 3 – Jedlie's Reading With your Kids podcast hosted several of the Treasures: Visible & Invisible authors to share about our individual stories and how the anthology project came together. This episode will air HERE on St. Patrick's Day.
By the way, Jed also hosted several of us CatholicTeenBooks author for a Christmas Special. He suggested a prompt and I started a story then handed it off to another author, who added to the story then handed it off, and so on. We all then appeared on his show to read the story aloud, hearing the entire story for the first time as we taped the episode. It turned out really well. You can check it out on the below link!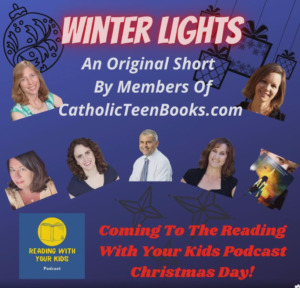 Reading With Your Kids Podcast Link
4 – Anne DeSantis and Bill Snyder invited me to join their inspiring Sewing Hope podcast to discuss my journey to become an author and about CatholicTeenBooks.com. This is another fantastic podcast that features lots of intriguing guests. Bill and Anne are wonderful hosts.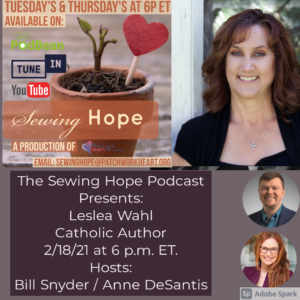 5 – And finally, I had the amazing opportunity to be on CatholicTV's This Is Your Day. Despite a few technical issues (God teaching me humility, I guess), it was such a pleasure to share about eXtreme Blindside and CatholicTeenBooks.com to a larger audience.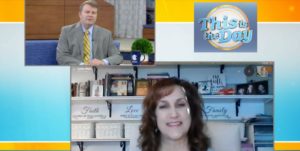 I'm excited to see where God leads me next on my mission to strengthen teen's faith through fiction.
Thanks for being part of this journey. Until next time – God Bless!
Leslea