Monthly Book Reviews – Christmas Stories
Each Christmas, I enjoy reviewing books for kids of all ages. I have such fond memories of reading Christmas stories to my children, so finding new treasures to share with others is always a joy. This month I'm highlighting one young adult novel, three short stories for teens, a middle-grade adventure, and three picture books.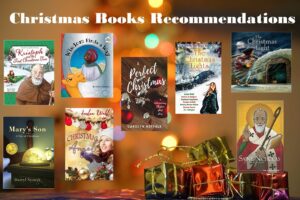 Before we begin…
In case you are new to my blog, besides writing YA novels, I love reviewing them as well. Every month I post about 3 YA books that I've read each month in a new genre. I also send out quarterly posts marked UPDATES regarding news about my own work.
But for those of you who have kids, or grandkids, or you yourself like teen books (like me!), each month, I'll introduce some of my favorite Christian and Catholic YA books.
I've decided to provide more reviews because there are a few things I've learned since I had my first book published:
1 – So many of the teen books published by the big publishing companies contain messages that don't match the values of many families.
2 – There are a lot of fantastic, clean, faith-based books out there – books that are entertaining yet wholesome and reflect Christian values.
3 – These types of books can be difficult to find. So, I'd like to introduce you to a few new adventures.
Mary's Son by Darryl Nyznyk
Mary's Son is a fantasy tale for teens that combines Jesus and Santa. That may sound odd, but it is a sweet story with a beautiful message. This Christmas tale has the old-fashioned feel of Miracle on 34th Street – one of my favorite holiday movies – maybe that is why I enjoyed this book so much.
The story revolves around an elderly gentleman, Nicholas, who, with powers given to him by God, is able to show two teens from opposite sides of town the real meaning of Christmas. Spoiled and self-centered Sarah is the only child of the wealthiest widower in town. Angry and defensive Jared is the oldest child of a poor family who is still reeling from the abandonment of their father.
Both teens are heading down a destructive path until Nicholas arrives and takes them on a magical journey – one they will never forget. Their adventure will not only reveal what Christmas is truly about but will ultimately change their lives forever.
A Perfect Christmas by Carolyn Astfalk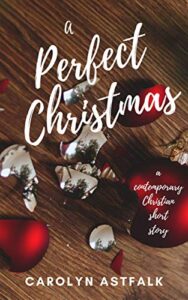 This Christmas short story first appeared in the CatholicTeenBooks anthology, Gifts: Visible and Invisible. No tree, no cookies, no gifts. Not a single flake of snow. With sick siblings, Dad stranded, and Mom overwhelmed, will Christmas come at all to Marigold's topsy-turvy home? This is a sweet story about finding joy amidst the chaos.
The Christmas Angel by Leslea Wahl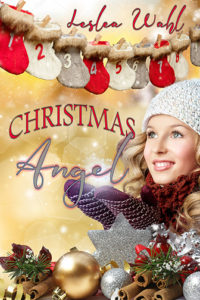 This is my story that appeared in the Gifts: Visible and Invisible anthology. Join Meg's unforgettable Advent journey when four simple words challenge her idea of a perfect Christmas. This short story was inspired by a true event that a friend once shared with me. I thought it was the perfect backdrop to this story about helping others.
The Christmas Lights by CatholicTeenBooks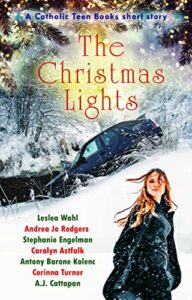 Last year, six Catholic Teen Books authors and I read wrote "The Christmas Lights" for the Reading With Your Kids podcast. We each wrote a section as the story passed from one author to the next. Only the last author, A.J. Cattapan, knew the ending until we read it for the episode. We had such a fun time with the project that we decided to make it available as an e-book this Christmas for only 99 cents. All proceeds will go to Cross Catholic Outreach to help the poorest of the poor around the world.
When a blizzard puts Camilla and her family in jeopardy, she must brave the snowstorm to get help. Lost and alone, all she can do is search for Christmas lights, which is either a direction from her dead grandma or a delusion. Help does come, in completely unexpected ways.
Saint Nicholas the Wonderworker by Andrew Votipka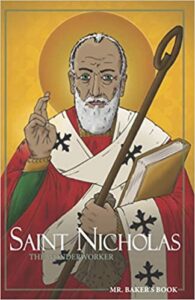 This is the second book I've read in The Mr. Baker's Book Series. These books, written for older elementary or middle school students, are fun adventures that introduce readers to saints. Mr. Baker's catechism lessons are literally brought to life with a special time-traveling book. In this newest story, one of Mr. Baker's students, Theo, is whisked away to discover more about the real St. Nicholas.
While the stories are light-hearted and are far from an in-depth biography, they offer a fascinating glimpse into the lives of some faithful servants of God. The books include some factual tidbits, along with plenty of humor around modern-day kids traveling back to ancient times. These books offer a great introduction to some interesting saints through thoroughly entertaining stories.
Kristoph and the First Christmas Tree by Claudia Cangilla McAdam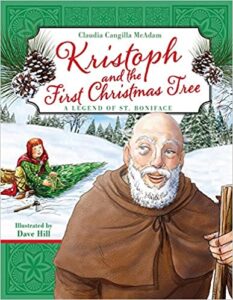 St. Boniface's fascinating tale is brought to life through this delightful picture book as Kristoph, a young orphan, and the missionary priest venture out one Christmas Eve. St. Boniface's imagery of the evergreen—it's perpetual green branches which reflect endless life as they point toward heaven—is sure to inspire readers. As you gather as a family around your Christmas tree this advent, may this book be a beautiful reminder of the true meaning of Christmas.
The Christmas Light by Claudia Cangilla McAdam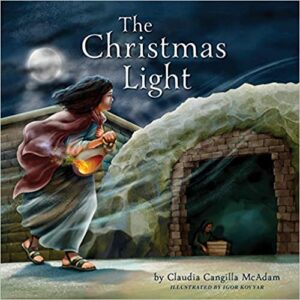 Another fabulous book by Claudia Cangilla McAdam! I thoroughly enjoyed experiencing the Nativity through the eyes of a little girl from the town of Bethlehem. I love the beautiful message that encountering Christ can change a life forever. You'll want to add this one to your Christmas story collection!
Wisdom Finds a Way by Cathy Gilmore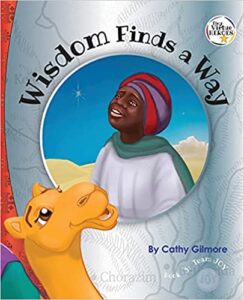 Wisdom Finds a Way is an adorable story about the Nativity as experienced by a surprising observer—Amel the Camel. The Virtue Heroes series written by Cathy Gilmore and illustrated by Jeanie Egolf is a delightful picture book series that shares biblical stories told from the perspective of animals. The stories and illustrations are precious and provide a fantastic introduction to the wonders of our faith.
All these books can be found on Amazon. I've set links – just click on the highlighted titles. For those who don't use Amazon you can also check Barnes and Noble online or www.indiebound.org where you can search for books and the local bookstores that might carry them or order them directly from the website. You can also ask your local bookstore or library to order the books for you.
Next month I'll be reviewing three more Christian/Catholic teen novels. But if you'd like more reviews before then you can always check out my recommendation section on my website: YA Recommendations.
If you've come across this post on Facebook and would like to get my monthly reviews sent directly to your inbox, you can sign up on my website – www.LesleaWahl.com.
Until next month – Happy Reading!