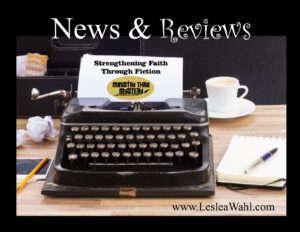 Welcome to my June Edition of News and Reviews!

Scroll down for all the details and reviews.
News:
Picture Book Update!

To Serve and Protect is now available. We're having a lot of fun showing furry friends enjoying Siena's new book. If you'd like to join the fun, send me a picture of your pooch and the book, and I'll post it on FB and Instagram. Enjoy this short book trailer.
Podcast Appearance!
  
This week, I joined Author A.J. Cattapan on her podcast, Cath-lit Live, to share about To Serve and Protect. This fantastic podcast highlights newly released Catholic books in all genres. You can watch the short interview HERE!
Catholic Homeschool Conference!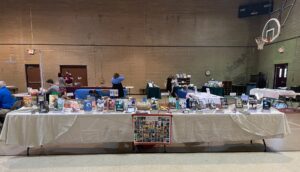 This past weekend, I had a fantastic opportunity to sell books by Catholic Teen Books authors at the Kansas City Homeschooling Conference. If you know of any conferences or events that might be interested in CTB books, send me a message.
School Presentation!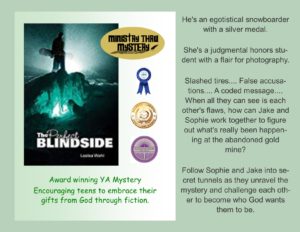 In early May, I was able to do a zoom presentation with an 8th grade class in New Hampshire that read my novel, The Perfect Blindside. It was so fun to discuss the book with these students. Recommending books to teachers or librarians is a wonderful way to ensure great, faith-based books in your child's school.
Reviews: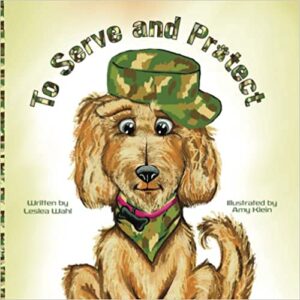 To Serve and Protect, my first picture book, is inspired by my dog's quirky personality. Our sweet Goldendoodle, Siena, tries to be brave, but she tends to be scared of everything. However, this doesn't stop her from trying her best to protect her family from all sorts of dangers – including snowmen and animals on television.
I'm so honored that my friend Karen Kelly Boyce has written a clever little story to help me promote this book. Karen's story not only highlights my book but introduces folks to the quirky Sisters from her delightful chapter book series, Sisters of the Last Straw.
Enjoy her story! Thank you, Karen!!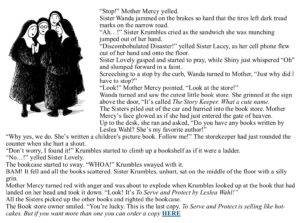 Speaking of the Sisters of the Last Straw, this chapter book series is so much fun. This group of kind-hearted women long to be nuns but because they struggle with some bad habits, they have been unable to make their dreams come true. So, these spunky women join together to create their own order. The madcap adventures that these Sisters encounter are sure to delight the whole family. I've read several of the books and adore them. The stories are funny yet offer wonderful moments of grace amid teachable situations as the Sisters overcome the various obstacles they face.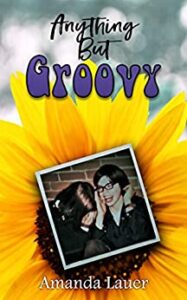 I've been a fan of author Amanda Lauer for quite a while. Her captivating writing completely immersed me in the Civil War through her Heaven Intended series. In Anything But Groovy, Lauer brings her writing talents to a more contemporary story. She expertly captures the details of the 70s in this coming-of-age novel with an intriguing Freaky Friday type of storyline.
No matter what era we grow up in, there are certain issues that all teens must deal with—families, friendships, and bullying. While technology and circumstances change, relationship fundamentals remain the same. I thought this glimpse into a parent's childhood was such a clever way to explore the walking-a-mile-in-another's-shoes theme. This book might be a fun one for mothers and daughters to enjoy together while sharing the differences and similarities of their own childhoods.
Fun little side note – Amanda and I had a chance encounter a few weeks ago while we were both on vacation. It was so fun to catch up with her.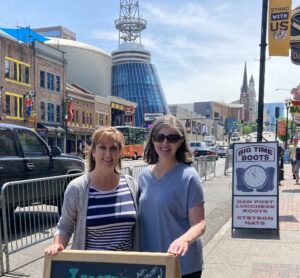 Beckoning by Claudia Cangilla McAdam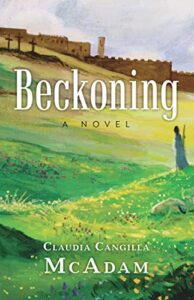 This story and the previous one in this series, Awakening, are fascinating glimpses into the time of Christ. McAdam creates modern-day characters who are mystically transported back to when Christ was crucified. The fascinating part of these stories is that these modern-day characters become actual people from the Bible – Mark, Tabitha (Dorcas), Veronica, Stephen, the Centurion guard. This twist not only puts a unique spin on these stories but gives the reader a whole new appreciation of the events by seeing the Passion story through the eyes of people who were actually there.
The main character in Beckoning is a teenage girl who is struggling with her faith after a tragedy in her family. A teacher suggests that she pray by imagining herself in a Bible story. She tries this approach while at the Adoration Chapel and experiences a life-altering moment.
The historical elements of the story were also fascinating—such as how hard life was back then, Jewish traditions, and the difficulties the early Christians faced. I think both Awakening and Beckoning would be fantastic books to assist with school lessons since there is so much to discuss. These novels are a powerful way for teens to delve into the Crucifixion, Resurrection, Pentecost, and the early days of the church.
Peregrine by Erica Richardson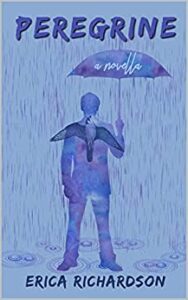 While the book may be short, this powerful story will stay with me for a very long time. The author's beautiful writing brought to life two fabulous main characters, Miles and Trisha. While my heart ached for Miles and his tremendous burden, Trisha's inspiring kindness shone through the pages. Kudos to Erica Richardson for creating an engaging novella that brings awareness, garners empathy, and highlights a difficult topic—mental illness. Will fear of the unknown keep this couple apart, or do they have the courage to take a chance on one another? I highly recommend picking up this story to find out.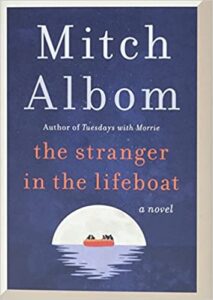 The Stranger in the Lifeboat is the newest book by acclaimed author Mitch Albom. You may be familiar with some of his other books – Tuesdays with Morrie and The Five People You Meet in Heaven. I thoroughly enjoyed this book and the many moral and philosophical questions that arose.
What would happen if we called on God for help and God actually appeared? In Mitch Albom's profound new novel of hope and faith, a group of shipwrecked passengers pull a strange man from the sea. He claims to be "the Lord." And He says He can only save them if they all believe in Him.
Once a year, my book club invites the husbands to join us for a fun couples book club evening. Not only do we discuss a book, but we also play games and dress as characters from the book.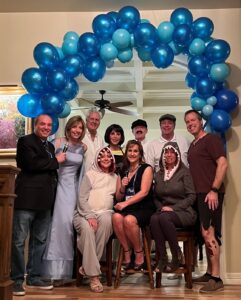 It's always a fun evening full of laughs. This year though, we ended up having some really deep discussions that arose from this particular book. Everyone loved the book, and, interestingly, each person perceived the true story in a slightly different way.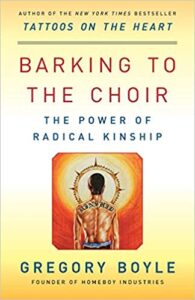 This book is sort of a memoir by Father Gregory Boyle, who runs Homeboy Industries, the largest gang-rehabilitation program in the country. Each chapter has a central theme supported by snippets from his experiences with the "homies." These interesting, funny, heart-breaking, and heart-warming stories support the overall message of how important it is to care for people, even people who are different than us. Father Boyle's words are, at times, a little shocking, but there is no denying that he has a deep connection with those he serves.
There were several points that really stuck with me, one being that gang members do not choose this lifestyle. They are fleeing from something else – abusive families, homelessness, parents who are addicts, etc. They may have done horrible things in their lives, but they are still children of God. These gang members have survived horrible backgrounds, and Homeboy Industries is a lifeline and family for them.
Father Boyle travels a lot, speaking around the country about his incredible organization. He often takes some of the homies with him on these trips. The reformed gang members he chooses are exposed to a new world, some traveling for the first time in their lives. Then they have the opportunity to speak to counselors, clergy, law enforcement, and medical personnel. By sharing their backgrounds and personal stories, they humanize the gang member that these professionals deal with on a daily basis. These interactions have a profound impact on all involved.
This is a fantastic, eye-opening book that could be read with your teens. Even if you will never interact with gang members, it's a great reminder that we should care about everyone.
Until next time, happy reading!