Welcome to Leslea's June update.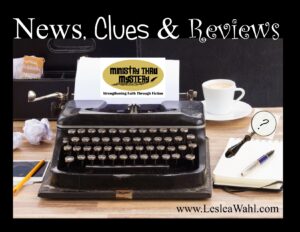 A new release, a giveaway, an online puzzle, news, tips, and book reviews!
Each bimonthly update provides news about my writing, faith-based book recommendations for the whole family, and, to bring out your inner detective, once in a while I include an online game or puzzle.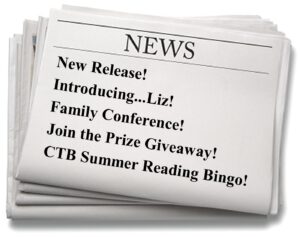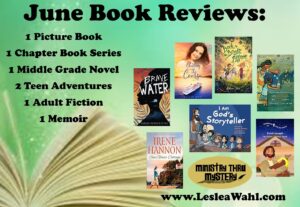 Scroll down for all the details and this month's book reviews. But first, for your inner detective…
Clues:
To discover more clues about my new book, Charting the Course, solve this puzzle.
News:
1. Quick Update
New Release! In two weeks, my newest book will be released! Charting the Course is the second book in my Finding Faith series. This is a fun adventure that is set on a cruise ship which will make a perfect summer read. The main character had a small role in my novel, Into the Spotlight (formerly An Unexpected Role). Liz is the best friend of Josie and was also featured in the short story, Finishing the Journey, which was featured in the CatholicTeenBooks anthology, Ashes: Visible & Invisible. Charting the Course is available for preorder HERE or you can join the giveaway for a chance to win the book (details below).
Catholic Family Conference! I will once again be attending the Catholic Family Midwest Conference. This amazing event takes place the first weekend in August in Wichita, KS. This year, I'll not only have Catholic Teen Books available, but I'll have a selection of children's books and some faith-based recommendations for adults as well! If you attend, please stop by my booth to say hello!
2. Introducing… Liz!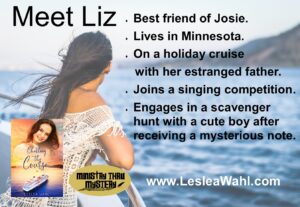 3. Giveaway!
You can enter HERE for a chance to win the prize pack. Signed copies of Charting the Course, Into the Spotlight, and Where You Lead. I'm also giving away a rosary bracelet, a prayer journal designed by CTB author Susan Peek, an inspirational t-shirt from Christian Oasis Apparel, a bookmark, a custom soap, and an inspirational magnet.
You also can help me name the lead character in the third book of the Finding Faith series. Whoever suggests a name that resonates with me will be acknowledged when the book is released. Your suggestions can be added to the Giveaway signup or feel free to message me!
4. CatholicTeenBooks News
Faith Through Fiction is back!
CatholicTeenBooks has started a new season of Faith Through Fiction videos! In each video, CatholicTeenBooks author T.M. Gaouette and I, along with a featured author, discuss topics relevant to today's teens and offer book suggestions related to the issue. The first episode can be found HERE.
Summer Reading Ideas!
Looking for a fun way to enhance your reading this summer? Check out these two CatholicTeenBooks ideas!
Reviews:
I Am God's Storyteller by Lisa Hendey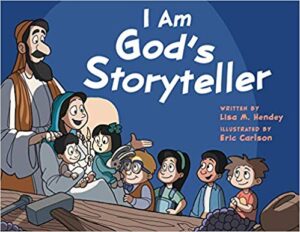 I am a huge fan of Lisa Hendey so was naturally curious about this book. Wow – what a beautiful encouragement for children that they have the power to use their own gifts and talents to share about God's love. This is something that I have believed for a long time, that we are to use our talents to lead others to Jesus. Lisa does an incredible job of sharing this message with children. The illustrations are so sweet, and the story delivers an important reminder for all, that we all have a role in sharing God's story to others.
Adventures with the Saints #1 Saint Joseph: The Foster-Father Saint by Maria Riley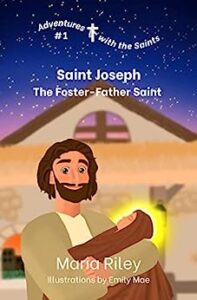 This is a delightful chapter book series that will introduce children to various saints. In this first book, we are introduced to Joshua and his new foster siblings, Luke and Becca. The three siblings have a unique experience that takes them to meet Saint Joseph, which provides them with answers to their questions regarding foster families. Readers will not only learn about foster care, but about this incredible saint as well.
Back to the Bright Before by Katherin Nolte
When a tragic accident causes eleven-year-old Perpetua (Pet) Martin's family to fall apart, she decides to take matters into her own hands. The Martin family was once a happy, loving family, but one event changed everything. Pet's father is now unable to provide for the family, her mother, who can no longer stay at home, is constantly exhausted from working as many hours as possible, her brother has stopped speaking—except for the word "cheese," and Pet feels responsible for it all.
Determined to make things right, Pet sets out with her brother, a horse, and a chicken, in search of a hidden treasure. They face many challenges along the way, including becoming lost in the woods, fending off the brute who is also searching for the treasure, and each sustaining injuries. Through the experience, Pet discovers that they are never alone as they are helped along the way by some very special heavenly helpers.
This was a very enjoyable story, full of adventure, humor, and elements of fantasy and faith. I appreciated the main character's fierce love for her family. The way she cared for her parents and her brother was so sweet. I also liked her feisty spirit as she refused to feel sorry for herself or become angry at her situation. Instead, Pet was determined to make her family whole once again.
This book for older elementary students is filled with quirky characters and brims with beautiful messages about the importance of family, love, and prayer. Back to the Bright Before is a brand-new release that is available for preorder now.
Brave Water by Sarah Robsdottir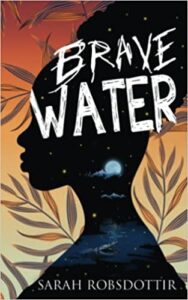 Brave Water is a moving tale about a single day in the life of a teenage girl from a remote African village. This book highlights many difficult topics that sadly are daily struggles for many people around the world. This unique story is told through multiple viewpoints, as well as numerous flashbacks, but mainly unfolds from Talitha's point of view. During her long daily trek to the only fresh water source for her village, Talitha experiences a day that completely alters her life.
In this one story the author skillfully highlights the life-saving importance of clean drinking water, the horrors of human trafficking, the vital yet dangerous role of Christian missionaries, the brutality and corruption of wealthy mine owners, heart-breaking poverty, and the beautifully rich culture of an African village.
Living in an abundance of food, water, and medicine, it can be easy to forget that there are still places in this world that have none of that. The author has created an intriguing story that doesn't shy away from these difficult topics but addresses them in a sensitive way at a teen level. Brave Water is a gripping story about redemption, forgiveness, love, and faith that will stay with you for a very long time.
Charting the Course by Leslea Wahl
A ten-day Caribbean cruise might sound like a fabulous way to spend the holidays, but Liz would rather be anywhere than stranded on a ship with her estranged father for his high school reunion. While an anonymous note, an onboard mystery, and a cute boy help turn the tide on the unwanted trip, Liz and her father drift even further apart. However, when Liz's reckless actions create a tsunami of unintended consequences, she recognizes that she's drowning in pent-up hurt and anger. As her carefully created façade begins to ebb away, she turns to her faith and sets off to chart a new course for her life.
Set amid the beauty of the Caribbean islands, Charting the Course delves into the topics of fractured families, generational high-school dramas, taking responsibility for your actions, and focusing on faith to keep us anchored. The twists and turns in this high-seas adventure will keep the reader bracing for the next wave of intrigue.
Sea Glass Cottage by Irene Hannon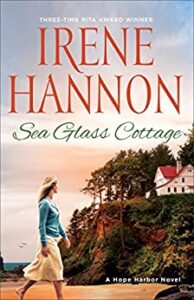 This book is part of Irene Hannon's Hope Harbor series. As with another one of her series that I had read, it doesn't seem to matter which book you read first. Each novel is from a different character's perspective, with a unique storyline. While some of the characters from previous stories make appearances, leaving you with the feeling of visiting an old friend, she provides the perfect amount of background information.
The setting of this series is simply wonderful—a seaside town on the west coast, full of kind, thoughtful people and small-town charm. Who wouldn't want to spend time in Hope Harbor? Hannon is an exceptional storyteller and I love how she seamlessly incorporates elements of faith into her storylines.
Sea Glass Cottage is about Hope Harbor resident Jack Colby. Jack is quite content with the life he has made for himself—until she shows up. Christy Reece. A woman from his past. A woman he has spent years trying to get over. Has she changed, as she claims, or is her sudden appearance going to put his newfound happiness in jeopardy?
Encountering Signs of Faith by Allison Gingras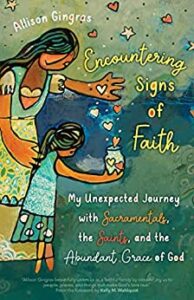 This was one of my Lenten reads this year. What a wonderful book, full of great insights into Saints and sacramentals. I've known Allison for a few years but didn't know all of her story. Understanding her faith and determination to answer a call from God is beautiful. I also enjoyed the practical tips and faith-deepening ideas she provides. I highly recommend this insightful book to help you understand the incredible tools that the church has given us to grow in our faith.
Until next time, happy reading!