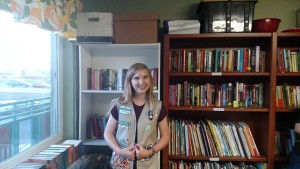 A few weeks back I introduced you to Cassidy Klein and her incredible project through the Girl Scouts of America to create a library at the Joshua Station transitional housing facility here in Denver. The Tattered Cover bookstore collected donated books for the project and even donated one new book for every 10 books brought in.
I had the wonderful opportunity last week to attend the Grand Opening of the library. I was so honored to be there. Cassidy worked very hard to create this special place filled with books and comfy couches.  The library is a beautiful space for families facing difficult times to share with their children. It was truly touching to see the joy on the faces of the children as they celebrated this event.
I'm so proud of Cassidy and the amazing work she has done. She's truly using her gifts to help other.