Today is the last in my Tuesday Treats series of blogs. And it just so happens that this is the only book of these new releases that I have not had the chance to read yet. However, it is on my to-read stack. I have read the first book in this series, I am Margaret as well as two of the related short stories – Brothers and Margo's Diary. In fact, I am Margaret is one of my all-time favorite YA books. I have also recently enjoyed three of Corinna Turner's other books – Elfling, Mandy Lamb and the Full Moon, and her short story Drive. So, even though I have not read this particular book yet, I was happy to take a turn on this very talented author's new blog tour.
If you are unfamiliar with Corinna Turner, you may want to check out one of her many novels. I honestly feel that few authors are as blessed with creativity as Corinna Turner. She is a master at creating new, unique worlds in all her dystopian and fantasy books. The details she includes, such as new words, complex technologies, and realistic histories, is truly impressive.
I look forward to reading this new chapter in her I am Margaret series and am sure this book will be a huge success.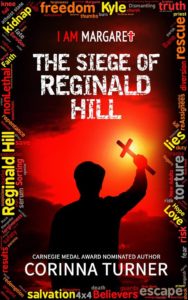 An odd surge filled my heart as I looked at him, sitting there in that chair: so old; so evil; so broken; so… alone. A warmth. A caring. A… love. I loved him. Just another poor sinner who need my care…
SAFETY IS NOT THE ABSENCE OF DANGER, BUT THE PRESENCE OF GOD.
Fr Kyle Verrall is living a quiet life as a parish priest in Africa when he's snatched from his church one night by armed assailants. He's in big trouble—his sister's worst enemy is hell-bent on taking revenge on the famous Margaret Verrall by killing her brother, just as slowly and horribly as he can.
What could possibly save him? The humble young priest is defenseless—or so Reginald Hill believes.
But Kyle has a powerful weapon Hill knows nothing about. And he's not afraid to use it.
Is Reginald Hill really the hunter?
Or is he the hunted?