Welcome to my monthly book review! A FREE short story, monthly book reviews, and quarterly updates can be sent directly to your inbox if you sign up for my newsletter. Don't miss a single review!
This month I'm reviewing middle-grade books. As this unusual school year is winding down, your kids might be searching for some great books to read over the summer. These choices range from fun and entertaining to serious and thought-provoking, but all include characters who realize the importance of faith.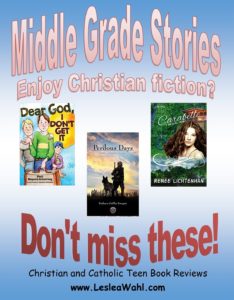 Before we begin…
In case you are new to my blog, besides writing YA novels, I love reviewing them as well. Every month I post about 3 YA books that I've read each month in a new genre. I also send out quarterly posts marked UPDATES regarding news about my own work.
But for those of you who have kids, or grandkids, or you yourself like teen books (like me!), each month, I'll introduce some of my favorite Christian and Catholic YA books.
I've decided to provide more reviews because there are a few things I've learned since I had my first book published:
1 – So many of the teen books published by the big publishing companies contain messages that don't match the values of many families.
2 – There are a lot of fantastic, clean, faith-based books out there – books that are entertaining yet wholesome and reflect Christian values.
3 – These types of books can be difficult to find. So, I'd like to introduce you to a few new adventures.
Carabelle by Renee Lichtenhan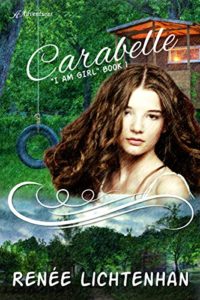 Carabelle, Book 1 in the "I Am Girl" series, is a beautiful middle-grade story about forgiveness. There are so many wonderful messages within this novel, such as the danger of making assumptions. This book is a fantastic reminder to readers that we have no way of knowing what is really going on in someone's life or understand the reason behind their actions. I especially loved how the story showed that the act of forgiveness has the power to free and heal no matter how horrible a situation.
The last day of school finds Carabelle looking forward to a lazy summer of hanging out at the pool with her best friend—three blissful months far away from the school bully. But a tragic event turns her world upside down, leaving her feeling abandoned and alone. Through interactions with some surprising individuals, Carabelle finds that she can overcome her tragedy and that even in the darkest of times, there is good in the world.
Dear God, I Don't Get It by Patti Maguire Armstrong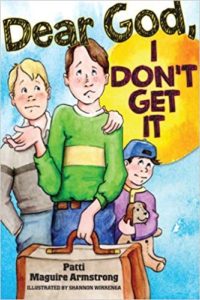 This is a cute book for younger middle-grade kids. It's about Aaron, a 6th grade boy whose family must move to another state. Aaron doesn't want to leave his friends and prays that his family will be able to stay put. When his prayers aren't answered, he begins to question God.
I enjoyed this character, his brothers, and the classmates he encounters at his new school. He learns some valuable lessons about telling the truth, being yourself, and understanding God's will. This would be a great book for any youngsters who are struggling to face a new situation.
Perilous Days by Kathryn Griffin Swegart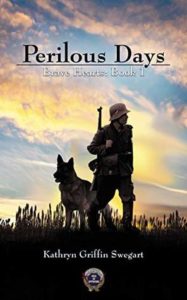 Perilous Days is a middle-grade novel set in World War II and is the first book in the author's Brave Hearts series. This story is about a young Catholic teen named Felix, who happens to be growing up in Hitler's Germany. His family sees the horrors that are unfolding around them but are unable to do much but try to survive. Things quickly change for Felix when he and his extremely smart German Shepherd, Rolf, are forced to join the German army. They are assigned to a special canine unit to search for injured soldiers. I have never heard about this unique group of soldiers and found it quite fascinating.
Felix has been struggling with his faith and questioning how God could let bad things happen. But witnessing the unwavering faith of those around him, amid so much devastation, changes him forever. The author does a wonderful job of showcasing some real German Catholics who risked their lives to do what they could to expose the evils of the Nazi regime and to save vulnerable citizens. This short book would make a fantastic supplement to lessons about World War II.
All these books can be found on Amazon. I've set links – just click on the highlighted titles. For those who don't use Amazon you can also check Barnes and Noble online or www.indiebound.org where you can search for books and the local bookstores that might carry them or order them directly from the website. You can also ask your local bookstore or library to order the books for you.
Next month I'll be reviewing three more Christian/Catholic teen novels. But if you'd like more reviews before then you can always check out my recommendation section on my website: YA Recommendations.
If you've come across this post on Facebook and would like to get my monthly reviews sent directly to your inbox, you can sign up on my website – www.LesleaWahl.com.
Until next month – Happy Reading!