Welcome to my monthly book review! A FREE short story, monthly book reviews, and quarterly updates can be sent directly to your inbox if you sign up for my newsletter. Don't miss a single review!
February always seems like the perfect month to share books about relationships and romances. All the books I'm featuring this month are set in bygone eras. Two are historical fiction and one is a fantasy novel. All three of these stories feature wonderful romances amid exciting adventures—perfect for cozying up with on a cold winter day.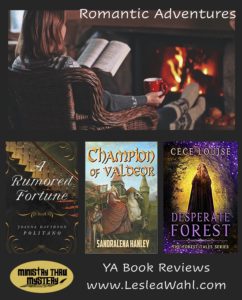 Before we begin…
In case you are new to my blog, besides writing YA novels, I love reviewing them as well. Every month I post about 3 YA books that I've read each month in a new genre. I also send out quarterly posts marked UPDATES regarding news about my own work.
But for those of you who have kids, or grandkids, or you yourself like teen books (like me!), each month, I'll introduce some of my favorite Christian and Catholic YA books.
I've decided to provide more reviews because there are a few things I've learned since I had my first book published:
1 – So many of the teen books published by the big publishing companies contain messages that don't match the values of many families.
2 – There are a lot of fantastic, clean, faith-based books out there – books that are entertaining yet wholesome and reflect Christian values.
3 – These types of books can be difficult to find. So, I'd like to introduce you to a few new adventures.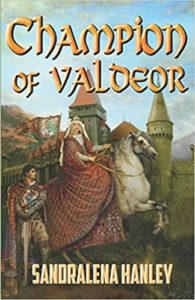 Champion of Valdeor by Sandralena Hanley
This fantasy story has a fairy-tale feel to it that swept me away. It is an epic adventure of good vs. evil that is perfect for any teen. A strong, smart female. A virtuous young man. Both characters have a deep faith.
This story revolves around Alloryn, a simple shepherd boy who is called to find the country's long-lost princess, Lauressa, in order to save the land from cruel leaders. While Alloryn is tasked with returning the princess to her throne, she is anything but a helpless heroine. Lauressa has been trained over the years to not only take care of herself but to be a wise, fair ruler for her kingdom.
There are many great scenes along the journey, but I particularly enjoyed a sequence toward the beginning where Alloryn's mentor uses chores and work to prepare the youth with the skills needed for his difficult mission. Alloryn learns his lessons well as he truly becomes the Champion of Valdeor.
This story is bursting with action but also has a wonderful relationship story. This couple is one that you are rooting for from the beginning. She's a princess from another time. He's a shepherd boy who becomes her champion. Together they must travel across the land, overcoming challenges, defeating villains, and facing tests of valor.
What a wonderful fantasy story for teens.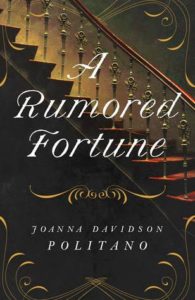 A Rumored Fortune by Joanna Davidson Politano
This novel is a lovely Christian historical romance with a fun treasure hunt. A Rumored Fortune takes place in Somerset, England in, 1866, reminiscent of Pride and Prejudice—which is always a good thing. The main character Tressa is a young adult and has recently parted ways with her suitor. While Tressa and her mother are away from their English vineyard estate, they receive the news that Tressa's father is missing and presumed dead after an accident at sea.
While still dealing with that devasting news, Tressa is shocked to discover that her father was in debt and had not paid his staff and vineyard workers in some time. Rumors of a buried fortune bring treasure hunters, frustrated field hands, and questionable relatives to the estate ready to search for the missing furtune. With the help of the newly hired vineyard manager, Tressa attempts to decipher her father's notes for clues to the elusive treasure—if it even exists. With so much at risk, Tressa struggles with who actually has her best interest at heart. But she is comforted that there is someone she can always trust—God.
Each chapter begins with excerpts from her father's notebook on how to cultivate the vineyard. These little snippets were wonderful. While they might very well be great advice for growing grapes, they also were sage words of wisdom for life. I enjoyed how the author paralleled our relationship with God with the vineyard using John 15:5 "I am the vine, ye are the branches: He that abideth in me, and I in him, the same bringeth forth much fruit: for without me ye can do nothing."
There are some wonderful messages in this story about pitfalls of wealth, not making pre-judgements, and the importance of caring for others.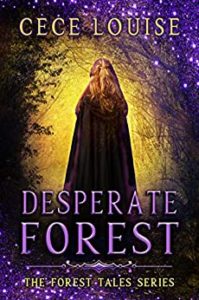 Desperate Forest by Cece Louise
The action begins quickly in this medieval tale as Princess Roselynn uncovers a sinister plot and must flee for her life. With the realization that she is in danger, she undertakes a desperate journey to reach her fiancée in a neighboring kingdom. Unsure who she can trust, she ventures into the dangerous Eternity Forest to make the journey alone. But when she is caught by a group of outlaws, things really get interesting.
This book has a lot to offer, action, humor, witty dialogue, and a feisty princess who is trying to protect her kingdom. I really enjoyed this clean historical romance with a great lesson of not jumping to conclusions.
Unlike most of the books I review, this book does not have specific Christian elements included in the story. Despite this, it was an enjoyable, clean romance. Joining Roselynn on her journey as she puzzled out the truth was a thoroughly enjoyable adventure.
All these books can be found on Amazon. I've set links – just click on the highlighted titles. For those who don't use Amazon you can also check Barnes and Noble online or www.indiebound.org where you can search for books and the local bookstores that might carry them or order them directly from the website. You can also ask your local bookstore or library to order the books for you.
Next month I'll be reviewing three more Christian/Catholic teen novels. But if you'd like more reviews before then you can always check out my recommendation section on my website: YA Recommendations.
If you've come across this post on Facebook and would like to get my monthly reviews sent directly to your inbox, you can sign up on my website – www.LesleaWahl.com.
Until next month – Happy Reading!