Monthly Book Reviews – Medieval Adventures
Welcome to my monthly book review! A FREE short story, monthly book reviews, and quarterly updates can be sent directly to your inbox if you sign up for my newsletter. Don't miss a single review!
This month I am reviewing three adventurous tales that are all set during medieval times. There are two middle-grade stories and one YA novel. One book is an intriguing mystery about a boy who has lost his memory. One story involves time travel. And one has elements of romance around the story of a lost girl. All three books are filled with adventure that are perfect to cozy up with on a cold, winter day.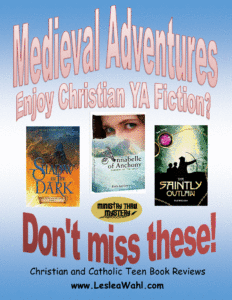 Before we begin…
In case you are new to my blog, besides writing YA novels, I love reviewing them as well. Every month I post about 3 YA books that I've read each month in a new genre. I also send out quarterly posts marked UPDATES regarding news about my own work.
But for those of you who have kids, or grandkids, or you yourself like teen books (like me!), each month, I'll introduce some of my favorite Christian and Catholic YA books.
I've decided to provide more reviews because there are a few things I've learned since I had my first book published:
1 – So many of the teen books published by the big publishing companies contain messages that don't match the values of many families.
2 – There are a lot of fantastic, clean, faith-based books out there – books that are entertaining yet wholesome and reflect Christian values.
3 – These types of books can be difficult to find. So, I'd like to introduce you to a few new adventures.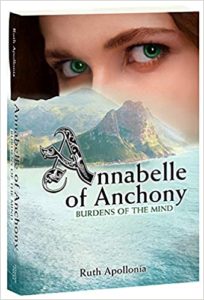 Annabelle of Anchony by Ruth Apollonia
A lost girl with an unknown identity. A savior that protects her and teaches her how to fend for herself. A mysterious island. A kingdom under attack. A blossoming romance.
This novel has many different elements that the author has blended together into a thoroughly enjoyable book. The very first few chapters felt a little disjointed and choppy, but then I realized this story was progressing from this lost little girl's perspective, and that style of storytelling perfectly captured this young child's overwhelming feelings of confusion and fear. As the story unfolded and Annabelle grew and matured, so did the narrative. It was a unique way to get to know the character.
The second half of the book, especially, kept my attention. I kept turning the pages waiting to see what would unfold next. The author did a wonderful job of keeping me guessing by throwing some great twists and turns into the story. I wish I could tell you more, but I don't want to give anything away. If you're intrigued, you'll just have to pick up your own copy to find out more about Annabelle of Anchony.
Shadow in the Dark: The Harwood Mysteries Book 1 by Antony Barone Kolenc
Shadow in the Dark by Anthony Kolenc is an exciting middle-grade adventure. The story, set in a medieval village, is about a boy who is injured and loses his memory. With the help of a group of Benedictine monks, Xan (short for Alexander) begins to heal and discover his identity. In the process, he uncovers a sinister plot that not only involves his past but places him, and those around him, in danger.
This novel has a lot to offer. Adventure, mystery, history, and an abundance of faith. Older elementary and middle school boys will especially enjoy this intriguing tale. While set in the past, there are plenty of issues modern day readers will relate to: scary tales of dark shadows, peer pressure, standing up for what is right, and discovering one's faith. This is the first book in The Harwood Mysteries and I'm excited to find out what is in store next for Xan and his friends.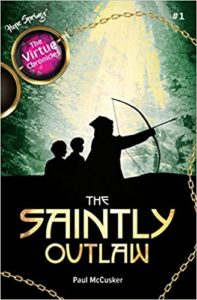 The Saintly Outlaw by Paul McCusker
The Saintly Outlaw is a middle grade story about the legendary Robin Hood. This is the first novel in The Virtue Chronicles which is a faith-based, time-traveling adventure series. These types of books are always fascinating to kids and this one adds an extra element – faith.
Andrew has been intrigued by the mysterious Eve for a while. The day she asks him to follow her to the back of the antique store she frequents, all things change. Andrew suddenly finds himself in the time and world of Robin Hood.
This swash-buckling tale will be one kids will love. A bit of history, a sprinkling of faith, and a touch of magic combine to create a great story. One note of warning, there is a bit of violence that matches with the time but still is appropriate for middle-grade readers.
Robin Hood has been a tale that has intrigued many through the years. I mean, who doesn't root for the hero who looks out for the little guy. I personally loved the animated version when I was little. This new version with modern friends Eve and Andrew will bring the story to life and creates new young heroes.
All these books can be found on Amazon. I've set links – just click on the highlighted titles. For those who don't use Amazon you can also check Barnes and Noble online or www.indiebound.org where you can search for books and the local bookstores that might carry them or order them directly from the website. You can also ask your local bookstore or library to order the books for you.
Next month I'll be reviewing three more Christian/Catholic teen novels. But if you'd like more reviews before then you can always check out my recommendation section on my website: YA Recommendations.
If you've come across this post on Facebook and would like to get my monthly reviews sent directly to your inbox, you can sign up on my website – www.LesleaWahl.com.
Until next month – Happy Reading!