This month I'm reviewing middle-grade books. Each of these novels follow characters on some sort of journey after a life-changing event. And each of these adventures could also be categorized as a fantasy novel. While the three suggestions have several things in common, these books are all very unique – one an exciting time-travel adventure, one a laugh-out-loud Hobbit-ish type of journey, and one veers from its silliness to delve into some deeper faith-based topics. All were completely enjoyable.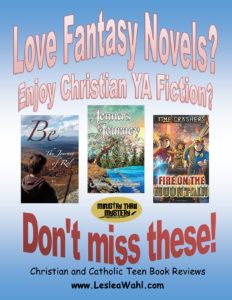 Before we begin…
In case you are new to my blog, besides writing YA novels, I love reviewing them as well. Every month I post about 3 YA books that I've read each month in a new genre. I also send out quarterly posts marked UPDATES regarding news about my own work.
But for those of you who have kids, or grandkids, or you yourself like teen books (like me!), each month, I'll introduce some of my favorite Christian and Catholic YA books.
I've decided to provide more reviews because there are a few things I've learned since I had my first book published:
1 – So many of the teen books published by the big publishing companies contain messages that don't match the values of many families.
2 – There are a lot of fantastic, clean, faith-based books out there – books that are entertaining yet wholesome and reflect Christian values.
3 – These types of books can be difficult to find. So, I'd like to introduce you to a few new adventures.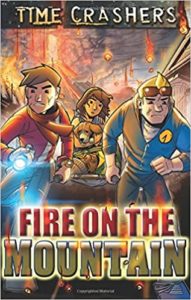 Time Crashers: Fire on the Mountain by Michael Brewer
If you're searching for a fun adventure that will keep your kids entertained for hours, this book might be for you. When my children were younger, my husband had tracked down a few old copies of some choose-your-own-ending stories that he had read when he was a kid. They loved being able to change the story and would read those books over and over to discover all the possible options. So, when I recently came across this Christian book with the same premise, I was quite excited.
Fire on the Mountain is actually the 2nd book in this unique series – I somehow missed that little fact – but it didn't matter at all. The premise of the series was easy to understand. The father of one of the main characters is a scientist who has invented a time machine. When something goes wrong and he disappears, the three friends begin time-traveling in search of him.
This book finds them in ancient Pompeii – the day of the fateful Mt. Vesuvius eruption. The many choices that the reader can make gives this book an extra element of fun. Through the different pathways, the reader learns about ancient Italy, gladiators, the persecution of early Christians, and the destruction of Pompeii. Besides the historical facts, there were Bible verses sprinkled throughout and a few puzzles to decipher along the way. This fun story has lots to offer.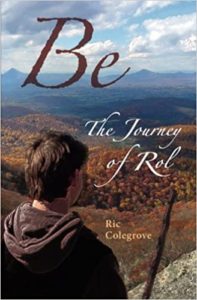 Be: The Journey of Rol by Ric Colegrove
I don't remember the last time I had so much fun reading a book. The author has quite the imagination. This story reminded me of the journey in The Hobbit with the humor of The Princess Bride. This fantasy novel is filled with humorous passages, silly descriptions, and several laugh-out-loud moments. And a few clever moments of breaking the fourth wall (that's probably not even a thing in books but I don't know how else to describe it).
I mean, who can't appreciate these descriptions on Rol's map:
The Straits of Straight-up Pain, the Cave of We'll Have None of That, and the River of Aaaaaaaaaaaagh . . . Splash . . .Ohnooooo.
And here's one of my favorite lines:
"What we need—us, right now—is an adventure song or ballad . . . a Salad. About our adventures so far," Rol added excitedly as they continued walking.
Rol was such a great character. I loved his decision to be happy and not to worry about things, even when things go horribly wrong. When his mentor is taken by a horde of grumblegoblins—yep, you read that right, grumblegoblins, he makes the decision to embark on an epic journey, with the help of his trusty map.
Along the way, Rol meets two traveling companions who make the journey with him. The unique villages and situations they come across challenge the three new friends in many unexpected ways. The trio relies on their smarts, faith, determination, dumb luck to overcome all obstacles. This would be a fabulous story to read as a family. There are some wonderful discussion topics about friendships, courage, and self-discovery hidden amid the humorous gems.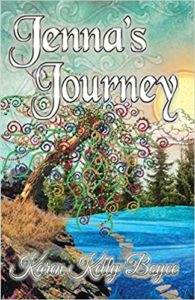 Jenna's Journey by Karen Kelly Boyce
What a delightful, heart-breaking, thought-provoking, and surprising read!
When young Jenna suffers a devasting blow, her entire life is forever changed. As Jenna tries to deal with her new reality, her estranged aunt makes an appearance, throwing Jenna's world into even more chaos. Feeling completely alone and abandoned, Jenna has an unusual other-worldly experience that gives her renewed hope.
Despite the horrible situation, Jenna finds herself in, the beginning and end of this book felt almost a little cartoonish. I certainly don't mean that in a bad way because I loved these parts. I just mean that the characters and situations were a little over the top. This style really grabbed my attention and kept me turning the pages.
I was delightfully reading along, curious where the story would lead when the plot suddenly took a twist taking me by complete surprise. Jenna is swept away from reality to a dreamlike world, reminding me a bit of The Wizard of Oz. The insights and allegories during this unexpected journey were truly powerful. During Jenna's quest, as she strengthens and grows in character, beautiful truths about our Catholic faith and devotion to Mary, Our Blessed Mother, were revealed.
This middle-grade book might be small, but it has a lot of depth to it. As I finished the last page, I wished I had someone to chat with about the story. Jenna's Journey would make an excellent discussion book for a classroom or youth group.
All these books can be found on Amazon. I've set links – just click on the highlighted titles. For those who don't use Amazon you can also check Barnes and Noble online or www.indiebound.org where you can search for books and the local bookstores that might carry them or order them directly from the website. You can also ask your local bookstore or library to order the books for you.
Next month I'll be reviewing three more Christian/Catholic teen novels. But if you'd like more reviews before then you can always check out my recommendation section on my website: YA Recommendations.
If you've come across this post on Facebook and would like to get my monthly reviews sent directly to your inbox, you can sign up on my website – www.LesleaWahl.com.
Until next month – Happy Reading!