I really enjoy delving into a part of history through historical fiction. Experiencing a time period through the eyes of a character really helps to bring it to life. This month's books all do a wonderful job of highlighting a dark time in American history – the Civil War. One of this month's choices takes place a few years before the start of the war. It is set on a Mississippi riverboat and gives a fascinating look into the Underground Railroad. One book is set in rural Wisconsin and is based on a real Marian apparition. And one is about a young teen boy who journeys alone across Virginia during the height of the conflict between the North and the South. Seeing the various aspects of that time period and how differently citizens were affected was quite interesting.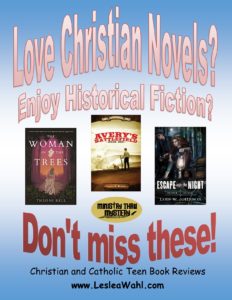 Before we begin…
In case you are new to my blog, besides writing YA novels, I love reviewing them as well. Every month I post about 3 YA books that I've read each month in a new genre. I also send out quarterly posts marked UPDATES regarding news about my own work.
But for those of you who have kids, or grandkids, or you yourself like teen books (like me!), each month, I'll introduce some of my favorite Christian and Catholic YA books.
I've decided to provide more reviews because there are a few things I've learned since I had my first book published:
1 – So many of the teen books published by the big publishing companies contain messages that don't match the values of many families.
2 – There are a lot of fantastic, clean, faith-based books out there – books that are entertaining yet wholesome and reflect Christian values.
3 – These types of books can be difficult to find. So, I'd like to introduce you to a few new adventures.
Avery's Battlefield by Deanna Klingel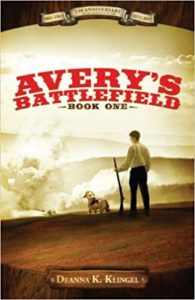 I've read several of Deanna Klingel's books and have enjoyed them all. I'm always amazed at the author's versatility. Her books range from picture books to teen novels, from historical to more contemporary. But all her stories have one thing in common – they are always enjoyable.
Avery's Battlefield is a sweet historical novel for middle school students. The story follows two years in the life of young teen, Avery, during the Civil War. This book would be a great way to introduce kids to that tumultuous time in American history. There were many historical elements that young readers would find interesting, from the rudimentary medical techniques to the rural ways of life in the mid-1800s. I even learned a bit about the founding of West Virginia.
Readers will thoroughly enjoy journeying along with Avery and his dog, Gunner, as they make their way across the state of Virginia. While some of the story seemed a little far-fetched, it was a sweet story full of interesting facts and unique characters. This book would make a great supplement for a history lesson about the conflict between the North and the South.
The Woman in the Trees by Theoni Bell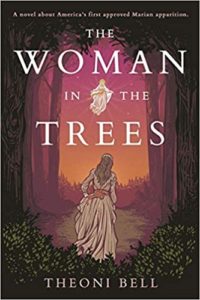 Historical fiction is always such an enjoyable way to learn. While this one is not specifically about the Civil War, part of the story does occur during that time period. I learned a lot through this book. The Woman in the Trees revolves around a Marian apparition that occurred in Wisconsin during the 1800s. At the time, there were many who did not believe that the Blessed Virgin Mary made an appearance in such an isolated land. However, some did believe Adele Brise's account and a chapel was built at the site where devout Catholics would gather and pray. I don't want to give anything away, but will say this land did become the site of a miracle that was witnessed by hundreds.
This fascinating true account is interwoven into a fictional story about a Belgium family who immigrated to Wisconsin searching for a better life. The book follows the life of Slainie, first as a child, then as a teenager, and finally as a young mother. Through Slainie, the reader experiences the difficulties of journeying to America and building a life from nothing. Besides the hardships of immigration, there are other fantastic discussion topics featured in the book such as the struggles of pioneer life, the heartbreak of the Civil War, and of course, Marian visions.
The author did a wonderful job of combining an intriguing fictional story with fascinating real events and individuals, creating a truly inspirational story.
Escape into the Night by Lois Walfred Johnson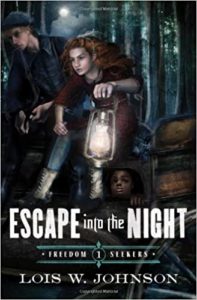 This novel takes place a few years before the beginning of the Civil War and delves into the topic of slavery and the dangerous risks many took to help free slaves through the Underground Railroad.
Since her mother's death a few years earlier, Libby has lived with her aunt and uncle in Chicago. But when her aunt believes Libby would be better off living with her father, she must leave the comforts of the big city to join her father, the captain of a riverboat. While happy to spend more time with her father, living on a riverboat and traveling along the Mississippi river is not her ideal living situation, especially when the only person her age is an unfriendly boy, Caleb, who seems to think he is better than her.
When her natural curiosity reveals that Caleb has a few secrets, she is determined to uncover whatever he is hiding. What she discovers changes her understanding of the world and how she sees herself. Libby thought she understood the growing conflict separating the nation, but it soon becomes apparent that her sheltered big-city life has ill-prepared her for the harsh realities of life along the river.
This story about doing what is right and treating others with respect is full of fantastic discussion topics. In fact, the back of the book has tips for educators and a very in-depth study guide with pages of discussion questions.
All these books can be found on Amazon. I've set links – just click on the highlighted titles. For those who don't use Amazon you can also check Barnes and Noble online or www.indiebound.org where you can search for books and the local bookstores that might carry them or order them directly from the website. You can also ask your local bookstore or library to order the books for you.
Next month I'll be reviewing three more Christian/Catholic teen novels. But if you'd like more reviews before then you can always check out my recommendation section on my website: YA Recommendations.
If you've come across this post on Facebook and would like to get my monthly reviews sent directly to your inbox, you can sign up on my website – www.LesleaWahl.com.
Until next month – Happy Reading!