This month's books all have characters who are dealing with difficult situations. At some point, we all will have to face tragedy in our lives. These books all show families and characters who turn to their faith to bravely face their difficult challenges.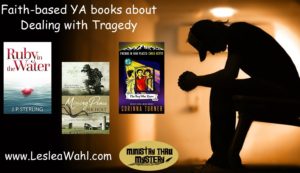 Before we begin…
In case you are new to my blog, besides writing YA novels, I love reviewing them as well. Every month I post about 3 YA books that I've read each month in a new genre. I also send out quarterly posts marked UPDATES regarding news about my own work.
But for those of you who have kids, or grandkids, or you yourself like teen books (like me!), each month, I'll introduce some of my favorite Christian and Catholic YA books.
I've decided to provide more reviews because there are a few things I've learned since I had my first book published:
1 – So many of the teen books published by the big publishing companies contain messages that don't match the values of many families.
2 – There are a lot of fantastic, clean, faith-based books out there – books that are entertaining yet wholesome and reflect Christian values.
3 – These types of books can be difficult to find. So, I'd like to introduce you to a few new adventures.
Missing Peace by N.K. Holt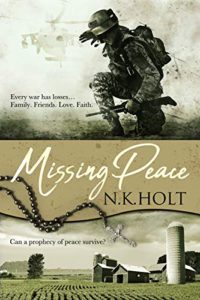 Wow. I could not put this one down. This story about a young soldier and his family is full of heartache, tragedy, miracles, hope, mystery, danger, love, acceptance, and finding peace. As you can tell, there is a lot going on in this book which is definitely one of my favorite books of the year.
When John McKay heads off to war, a series of miraculous circumstances leads this young soldier on a trajectory to fulfill an ancient prophecy, completely changing the lives of his friends and family forever. I haven't read many books about contemporary soldiers and the conflicts in the Middle East. I wish I could share more about this story, but I don't want to give anything away, so I'll just cryptically tell you that the ancient aspects of the saga were fascinating, the speculative moments were beautifully heart-breaking, the political issues painfully highlighted the complications of modern-warfare, and the present-day miraculous events offered inspiration and renewed faith. Missing Peace is a fantastic story for older teens.
Friends in High Places: Carlo Acutis by Corinna Turner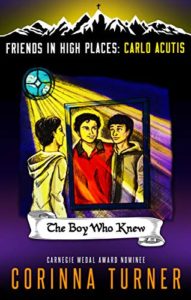 This short story by Corinna Turner is a fabulous introduction to the extraordinary life of Blessed Carlo Acutis. Carlo was an incredible, modern teen who died at the young age of 15 from leukemia. Amazingly, this young man is already on the road to sainthood. It's incredible for young people to have such an inspirational role model with who they can identify with. Carlo enjoyed playing soccer, video games, and hanging out with friends. He was also deeply devoted to his faith and even used his interest in computers to create a website about Eucharistic miracles.
Turner's fictional story revolves around another young teen who is also diagnosed with leukemia. Daniel, and his family, are struggling to deal with his devasting diagnosis. When his priest shares with him the Carlo Acutis Novena, Daniel finally finds a special friend who understands what he is going through. With the help of the prayers of the Novena and learning more about Carlo's faith and kindness, Daniel is able to come to terms with whatever his future might hold. This story is a wonderful way for anyone to learn about Carlo and provides a powerful reflection on how we are living our own lives.
Ruby in the Water by J.P. Sterling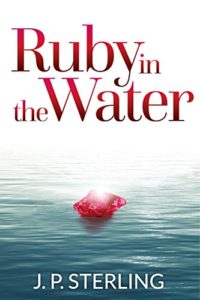 This faith-based novel is about Peter, an incredibly talented musician, and his family. Despite his acclaimed talent, Peter's life was not always easy. As a boy, he had difficulty fitting in at school and physically struggled with his cerebral palsy. The book begins as teenager Peter collapses and is rushed to the hospital. As his parents anxiously wait for him to recover, their story is revealed through flashbacks and ends with an intriguing twist.
Anyone who has struggled to fit in at school or has had a child or sibling who faced such difficulties will be able to relate to this novel. Even though the book is about an older teen, most of the story is told through his parents' memories of his childhood. I found it a compelling way for the reader to meet and understand Peter. While told from a unique perspective, teen readers may find it interesting to see the story develop from the parent's point of view.
I truly loved the message that not everyone is the same, and those differences actually make us who we are. Traditional learning environments may work for most students, but for many children, classroom settings can be a real struggle. Sadly, these students often feel that there is something wrong with them, which creates unnecessary heartache. I wish more schools could recognize that all children are uniquely created by God. We should celebrate the differences instead of trying to make everyone the same.
All these books can be found on Amazon. I've set links – just click on the highlighted titles. For those who don't use Amazon you can also check Barnes and Noble online or www.indiebound.org where you can search for books and the local bookstores that might carry them or order them directly from the website. You can also ask your local bookstore or library to order the books for you.
Next month I'll be reviewing three more Christian/Catholic teen novels. But if you'd like more reviews before then you can always check out my recommendation section on my website: YA Recommendations.
If you've come across this post on Facebook and would like to get my monthly reviews sent directly to your inbox, you can sign up on my website – www.LesleaWahl.com.
Until next month – Happy Reading!